San Jose Mayor Sam Liccardo isn't the only Silicon Valley lawmaker who uses private emails to conduct public business.
Santa Clara County Supervisor Cindy Chavez, one of the frontrunners in the mayoral race to succeed Liccardo next year, also appears to communicate with other elected officials—and lobbyists—using a private email account, records obtained by San José Spotlight show. San José Spotlight, represented by attorney Karl Olson, demanded the mayor's private emails after it exclusively revealed how Liccardo used his private email to skirt public records laws.
This news organization has reviewed 2,660 pages of records from Liccardo's private account since September. The in-depth review has shown how much the mayor relies on his Gmail address to conduct city business and how he potentially mixes city resources with his nonprofit Solutions San Jose.
But Liccardo, according to the latest batch of emails, is not alone in using private email—a practice questioned by open government and transparency watchdogs.
Chavez, a household name in South Bay politics, received several emails from influential lobbyist-turned-corporate-executive Carl Guardino about COVID-19 aid efforts, the state budget and emergency housing in the past year, records show. All of them went to a private email owned by Chavez.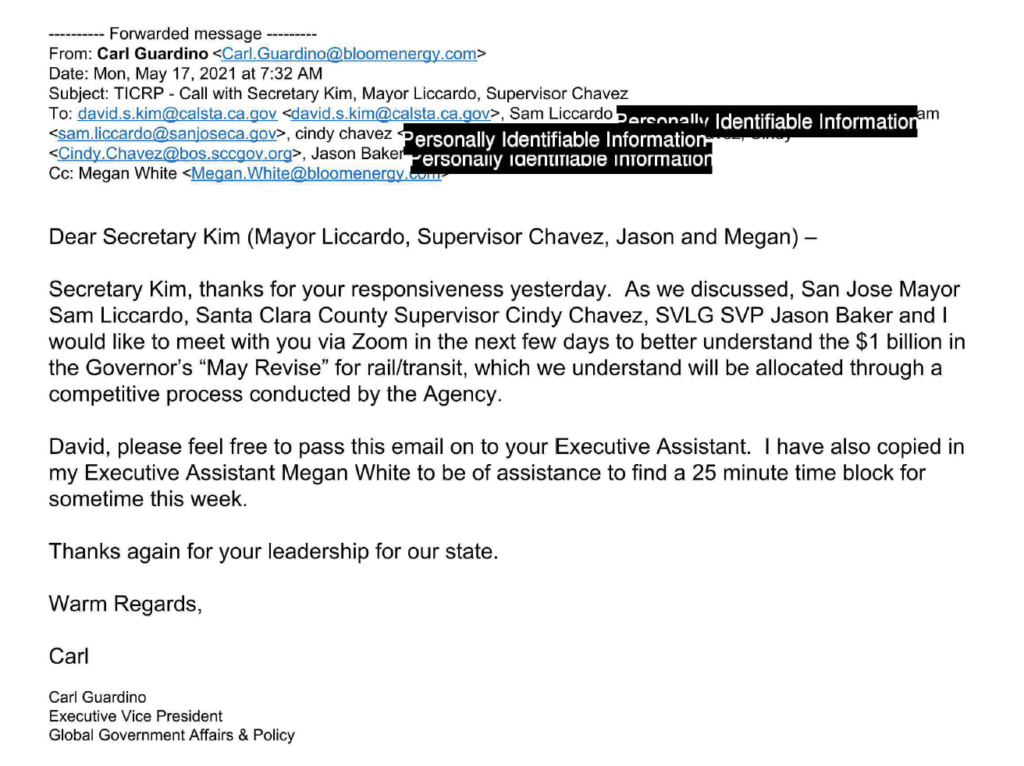 Communicating about public matters on private accounts or devices is a practice that raises concerns from First Amendment advocates and attorneys about transparency and accountability.
Chavez defended her private email use, adding she supports and follows the state's public records and transparency laws.
"For reasons of efficiency and connection reliability, I sometimes use a non-county device or account," Chavez told San José Spotlight. "I consider all communication I do concerning public business to be covered by the California Public Records Act, regardless of the device or account used."
Private communications dealing with public business must be disclosed under a public records request, the Supreme Court ruled in a 2017 lawsuit against San Jose. But that hasn't happened in San Jose, despite the fact that Liccardo was among several officials named in the case.
San José Spotlight found the mayor attempted to skirt public records law in July by directing a resident to contact him on his private Gmail and deleting their correspondence from his public government account. The city attorney's office said the mayor did nothing wrong, and Liccardo defended his use of private email by complaining about the city's Outlook system.
"The public and all the constituents of an elected official have the right to know how the person they have elected is making decisions," Brittney Barsotti, general counsel of the California News Publishers Association, previously told San José Spotlight.
It's not immediately clear how frequently Chavez uses her personal email account to conduct public business. San José Spotlight found these emails while reviewing Liccardo's personal emails.
The Guardino factor
The records do not include any response from Chavez. But they show Guardino, who publicly endorsed Chavez at her campaign launch in late September, has a direct line to the county supervisor.
The endorsement was a surprise for many, as the former Silicon Valley Leadership Group CEO often supports business-friendly candidates and those aligned with his close friend, Liccardo.
Records show Guardino emailed Chavez, along with Liccardo, once in March last year and twice in May this year about public issues.
In March 2020, Guardino connected Chavez and Liccardo to a San Francisco-based company BauHaus to explore the possibility of building emergency housing for the unhoused population—something the city and county are currently collaborating on.
"Thank you for joining today's call, and for your generous and important offer below," Guardino wrote to BauHaus' CEO Catherine Zimmermann. "I have copied in County Board President Cindy Chavez, as well as San Jose Mayor Sam Liccardo and his housing lead Nathan Ho."
Guardino, who left the Silicon Valley Leadership Group in January 2020 for a job at Bloom Energy in San Jose, did not respond to inquiries for comment.
An email from May shows Guardino updating Chavez, Liccardo and the acting executive director of Valley Medical Center Foundation Michael Elliott on a contribution of more than $220,000 his company, Bloom Energy, made to the foundation.
In another email last May, Guardino helped coordinate a meeting between him, the mayor, Chavez, Silicon Valley Leadership Group Senior Vice President Jason Baker and the Secretary of the California State Transportation Agency David Kim about the state's transit budget.
Guardino sometimes copied Chavez's official county email in his correspondences—but he always reached out to her on the private account.
Chavez, along with a handful of other candidates, is vying to replace Liccardo after he terms out in 2022, including Councilmembers Raul Peralez, Dev Davis and Matt Mahan and former congressional candidate Jonathan Royce Esteban.
Contact Tran Nguyen at [email protected] or follow @nguyenntrann on Twitter.