A day after Santa Clara Mayor Lisa Gillmor received a confidential report lambasting her political enemies, she forwarded it from her city account to her personal email. One legal expert says it raises questions about her intentions and whether she leaked the secret document—a charge that has landed her political rival in court.
This news organization obtained the email following multiple public records requests. A request for government emails forwarded by the mayor to her personal account turned up nothing of interest. But a separate request for the emails of Steve Ngo, then interim city attorney, turned up the missing document. While it is almost entirely blacked out, it confirms Gillmor sent the confidential report to herself.
In a 61-page report, the Santa Clara County Civil Grand Jury accused five members of the Santa Clara City Council—including Anthony Becker who was challenging Gillmor's reelection bid—of being too cozy with the San Francisco 49ers and engaging in unethical behavior. Court officials sent an unpublished draft of the report to city administrators on Oct. 5, 2022 with a warning against releasing it publicly. Ngo sent the report to Gillmor and her council colleagues, with the words "DO NOT DISCLOSE" in the subject line.
Gillmor forwarded the privileged report to her personal email account a day later on Oct. 6. The court made the final report public on Oct. 10.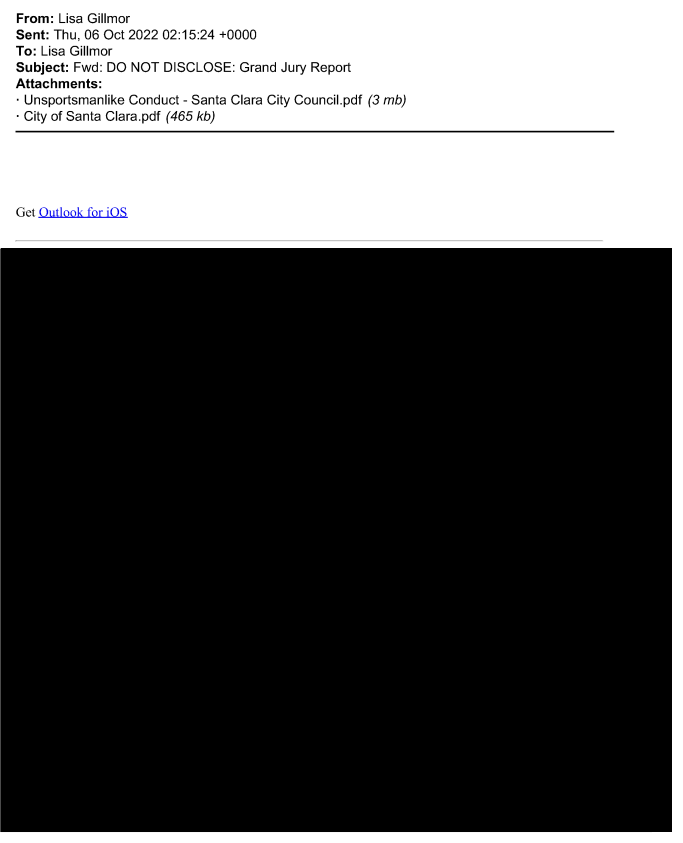 When the report appeared in news articles ahead of its public release, the Santa Clara County District Attorney's Office charged Becker for allegedly leaking it. He has pleaded not guilty and faces four years in county jail if convicted of perjury. Becker is due back in court Sept. 13.
But legal experts say Gillmor also appeared to cross an ethical boundary when she sent it to herself—and it could be proof that she did the same thing Becker is accused of.
"The fact that she forwarded it to her personal account, that is definitely circumstantial evidence that she released it," attorney Jim Sutton, a nationally-recognized government and ethics expert, told San José Spotlight. "It definitely shows a little lack of professionalism and foresight. It could be evidence used by the DA's office that she could be a leak."
Santa Clara's police union, a major supporter of Gillmor, began creating a scathing website publishing portions of the report blasting Becker and his allies—a day after Gillmor sent the report to herself. The police union's political arm spent thousands of dollars supporting the mayor and opposing Becker in the mayoral election last year. The union registered the domain, grandjuryreport.com, on Oct. 7—just two days after Ngo confidentiality shared the report with the mayor and city council. The website contained the name of the document and full paragraphs of incriminating details before it went public.
The police union's top leader earlier this year refused to say whether the group received a leaked copy of the report. "I can't answer that question," Jeremy Schmidt, police union president, told San José Spotlight in May.
Gillmor and police union officials could not be reached for comment.
Becker declined comment and his attorney could not be reached.
South Bay politicians in recent years have faced criticism over using personal email accounts or phones to conduct city business. The California Supreme Court determined in a landmark 2017 case born in San Jose that communications sent or received from private accounts or devices are public records if they deal with the public's business. Former San Jose Mayor Sam Liccardo almost exclusively used private email for city business and in at least one case directed a resident to use his Gmail account to skirt public disclosure. This news organization sued Liccardo and the city for withholding public records and failing to adequately search private accounts and devices, as the law requires.
"I think the fact that she transferred it to her personal email is not a legal problem per se. The problem is, did she send it to anyone else?" Sutton said.
Gillmor admitted to forwarding the report to herself in a testimony to the grand jury, according to transcripts from the highly-politicized case. She testified that she sends work emails to her personal account "all the time"—especially if she needs to print things out. She said she printed the draft report in her business office because she is "old school" and likes hard copies. She denied leaking it.
The DA's office declined to comment on the situation.
"This office does not preview legal decisions, analysis or investigations," said Assistant District Attorney Brian Welch.
Sutton said Gillmor forwarding the email to herself also exposes the city to risk because her private account could be compromised or accessed by third parties.
"When you transfer something confidential to a personal email account, it can more easily be shared or hacked. The city attorney has told you to keep it confidential," Sutton told San José Spotlight. "Why would you do it? It almost raises a professionalism concern."
Contact Ramona Giwargis at r[email protected] or follow @RamonaGiwargis on Twitter.