It's been four months since Sajid Khan's name appeared on a ballot. Yet his face is popping up in campaign mailers across Silicon Valley.
In many ways, he's become the "boogeyman" this campaign season—his own words to describe the bizarre and hateful ads inundating voters weeks before Election Day. Khan, a deputy public defender who mounted an unsuccessful campaign for Santa Clara County district attorney in June, has been plastered on at least two political mailers demonizing him and his affiliation with current candidates.
Radical. Anti-police. Shocking.
Those are the words the mailers use to describe Khan—a Muslim attorney whose family immigrated from South India —and two other candidates of color who are linked to him: California Senate candidate Aisha Wahab and San Jose City Council hopeful Omar Torres.
"It's shameful and hurtful to be cast as a boogeyman," Khan, a father of two boys, told San José Spotlight. "I can't imagine what a parent would think if they saw that about me or what my kids might be told about their father—to be painted as dangerous and violent. It makes me ashamed to walk in our community."
The first ad, funded by San Jose City Council candidate Irene Smith's campaign, shows Torres—her opponent in the race for the downtown seat—standing next to Khan. The ad calls Khan the "defund the police" candidate and radical. The mailer was denounced as racist in an open letter by nine Silicon Valley women leaders. The letter garnered more than 100 signatures in a few hours.
Smith said she's not racist and is "heartsick" about the blowback.
A second mailer funded by pharmaceutical companies and rideshare giant Uber took an even bigger leap.
It featured Khan's photo in black and white next to that of Wahab, an Afghan woman running for Senate District 10. The mailer calls her support for Khan "shocking" and concludes that Wahab is "not for us." It was one of several mailers with similar messaging.
Khan said it's an example of "otherizing" minorities, particularly Muslims and Middle Eastern people.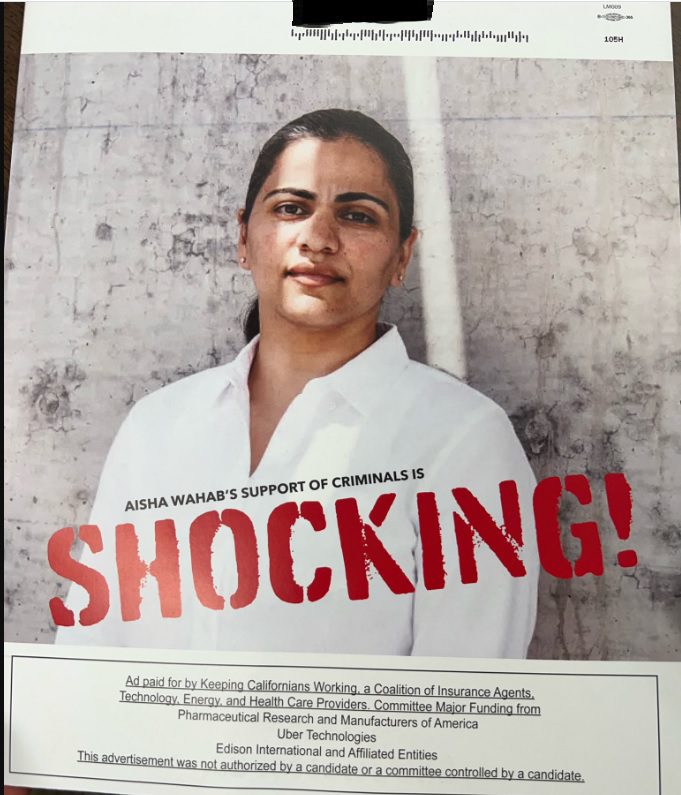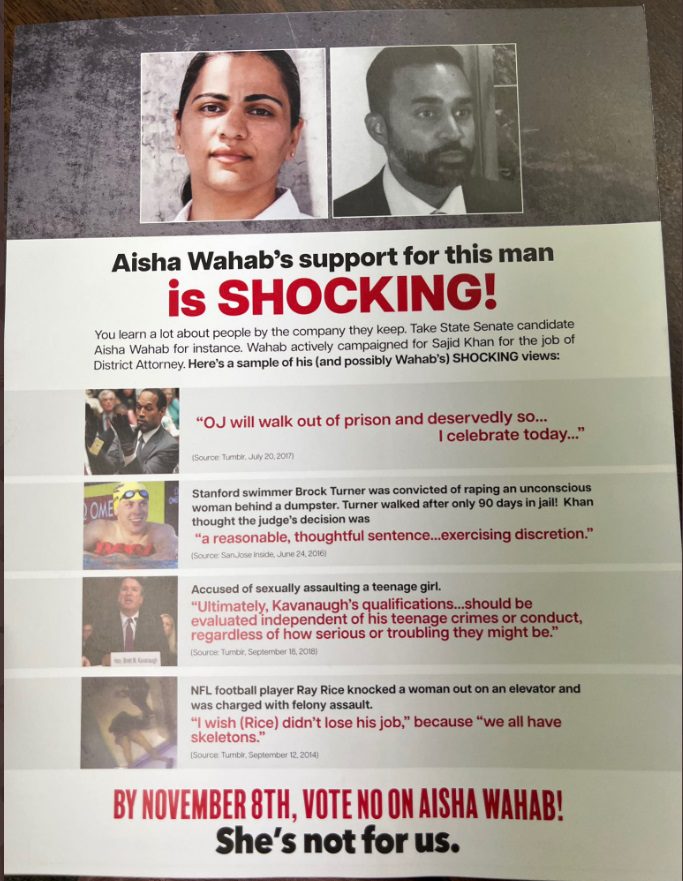 Wahab, a Hayward councilmember, grew up in the foster care system. If elected, she would become the only renter in the state Legislature.
"I was a little surprised because I never endorsed Sajid," Wahab told San José Spotlight, adding that she's faced death threats since the mailers went out. "He's not in this race. The fact that they take a dark-skinned Indian man with a beard who is Muslim and tie his communication—much of it out of context—is quite disgusting to see. These are dog whistles. At the end of the day, the damage is done."
Troubling cycle
The two mailers are the latest chapter in racist and troubling rhetoric this election cycle.
Democratic leaders denounced an East San Jose school board member this month for making "racially-charged" comments against San Jose mayoral candidate and Santa Clara County Supervisor Cindy Chavez.
One of the region's most powerful business-backed political action committees collapsed in 2020 after it faced an avalanche of backlash for posting a digital ad of Black people in the streets of South Africa with a caption, "Do you really want to sign on to this?" The same committee faced criticism that year for darkening a photo of a Latina candidate.
But for Khan, these attacks are nothing new.
Just two years ago, Khan wrote a blog post calling for the district attorney's office and police to be held accountable for arresting and prosecuting Black and Latino people at higher rates than others. Santa Clara County District Attorney Jeff Rosen dubbed Khan a threat and filed a whistleblower complaint, which he subsequently retracted.
Then when he ran for district attorney against Rosen, the local police union launched a site saying "the Khan is on," a play on his last name. The hateful rhetoric, Khan said, is not a coincidence.
Now it's bleeding into the November election, seeking to implicate two other candidates of color.
Khan said it's because a status quo that existed for decades in America—where police and wealthy corporations aren't held accountable—is being threatened.
"Then come along people like myself, Aisha, Omar and others who are trying to disrupt and undo the status quo and to do things like hold police accountable and return power, rights and privileges to workers," he said. "When there is that threat to the status quo, police unions and companies like Uber and pharmaceutical companies will try to fight back."
Khan worries it won't stop with the mailers. He's concerned the racist attack ads could lead to ethnically-motivated hate and violence.
The vitriol could also lead to minorities and people of color—like Khan, Wahab and Torres—being deterred from running for office.
Khan has been recovering from a tough loss in June, reflecting and spending time with his family. But seeing his face pop into mailboxes across San Jose has awoken him. He's ready to fight back.
"It has reminded me that I and others who are committed to systemic reform have to keep getting up and have to keep fighting," Khan said. "I don't know what's next for me, but I know I'm going to keep using my voice, talent and energy to keep fighting against systemic racism which includes these types of ads."
Contact Ramona Giwargis at [email protected] or follow @RamonaGiwargis on Twitter.