Tears fell from the eyes of a mother of a detained immigrant who has been on a hunger strike for 14 days.
Eighty-four detained immigrants, including four from Santa Clara County, continue their hunger strike in protest of abhorrent treatment at the Mesa Verde Immigration and Customs Enforcement Processing Center in Bakersfield and the Golden State Annex in McFarland. Nearly two dozen advocates in support of the detainees protested outside Congresswoman Zoe Lofgren's San Jose district office on Friday.
The hunger strike comes on the heels of a 10-month labor strike by the detainees who are being paid $1 a day for work at the facilities. The strikers want improved living conditions and fair wages, the release of detainees and to shut the detention centers down.
In September, Lofgren and other legislators sent a letter to ICE after receiving a complaint of disturbing conditions and abusive behavior toward detainees at the Mesa Verde Detention Facility and Golden State Annex, requesting an investigation.
Lofgren said she asked the for-profit prison companies used by ICE to be closed because they have a history of abusing detainees. They also charge exorbitant fees, she said.
"We're asking these individuals be reviewed, and at a minimum, that their safety and humane treatment adheres to the requirements outlined by the Department of Homeland Security itself be assured," Lofgren told San José Spotlight.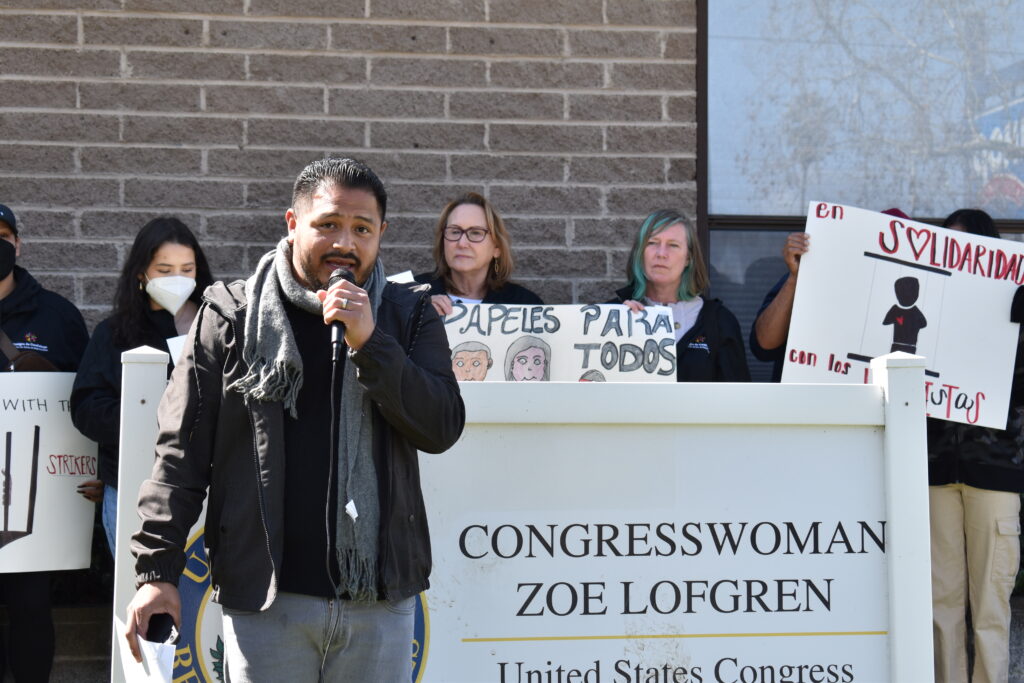 Jesus Ruiz, rapid response network coordinator for Pangea Legal Services, said the striking detainees are physically and emotionally broken. While fighting to improve living conditions, he said they were retaliated against by not being let out of their cells and being blasted with cold air.
Many have been detained for more than a year because they're undocumented, Ruiz said.
"Those folks that are detained are human beings," Ruiz told San José Spotlight. "We're here to bring light to what is going on inside. What ICE wants is for no one to hear about the mistreatment and no one to know about the injustices and the hunger strike. We want to put a voice to that pain and that struggle."
Gabriel Manrique, a community organizer with LUNA, said forcing detained immigrants to work for $1 a day is slavery.
"We're here in solidarity," Manrique told San José Spotlight. "We are here to pressure Zoe Lofgren, but also the federal government for immigration reform and freedom for our brothers inside."
Nonprofit leaders from Amigos de Guadalupe joined the fight to demand closure of the detention centers.
"There is a lot of injustice going on in the detention centers," said Misrayn Mendoza, community navigator with Amigos de Guadalupe. "It's not a detention center, it's a concentration camp. People told us they're fed rotten food, bread and water."
Cecilia, who declined to give her last name, was brought to tears while protestors listened to a call from a detainee at the Golden State Annex. She is the mother of one of the detainees.
"We deserve to be home with our loved ones…not in here, being assaulted, being abused, being deprived of medical necessities," the detainee on the phone said. "It's just not right what they're doing."
Contact Lorraine Gabbert at [email protected]