Some Bay Area federal workers say they won't get a penny of back pay after being forced off the job during the longest government shutdown in history.
"It's a big impact on us, I was delayed on my rent. I asked my landlord to just give me a delay," said Angelina Mariano, one of 43 custodians at NASA who missed two paychecks while the government shutdown over funding for President Donald Trump's border wall between the U.S. and Mexico. "What can I do? I can't do anything."
The bills keep coming, she said, even if you're not getting paid.
Federal contractors who staff many government agencies, including NASA's Ames Research Center in Mountain View, were among 800,000 workers across the country impacted by the shutdown.
Despite claims from Trump that federal employees who were furloughed for more than 30 days would be backpaid, maintenance and custodial staff at Moffett Airfield told San José Spotlight they will not see it. That's because the contract employees signed with Lockwood Hills Federal LLC — one of NASA's contractors — which doesn't pay workers for days they are furloughed under a government shutdown.
Lockwood Hills Federal LLC did not respond to requests for comment.
The shutdown caused anxiety and stress for the contractors as they faced mounting bills after Christmas and looming taxes in April.
Mariano and the other custodial staff, members of SEIU-USWW, received food essentials from Second Harvest Food Bank at their union office in San Jose last month. Rebeca Armendariz, the union's community organizer, had called Second Harvest to help the employees put food on the table and feed their families.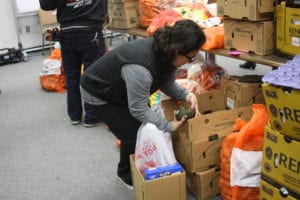 Zegay Siyoum, a maintenance worker for NASA for 30 years, has been through furloughs under previous presidents when budget talks stalled. But what made this one different, he said, was that it extended past the two weeks of the previous government shutdowns, and it looked like there was no end in sight.
While trying to keep up essential costs like car insurance, he had to make cuts to other things — like tutoring for his daughter. Siyoum said he lost sleep while furloughed because of the stress of paying his bills and taking care of his family.
Diego Martinez, a NASA contractor for over 20 years, said he depended on his family for help while he was furloughed. He said it was hard to look for a temporary job because he could've been called back to work any day when the government reopened.
The custodial staff returned to work at NASA on Jan. 28, after Trump signed a bill on Jan. 25 to keep the government funded until Feb. 15. However, they expressed apprehension about the government shutting down again, less than one month after they returned to work.
"No more. No more shutdown, it's not helping," Mariano said. "Those especially impacted by the shutdown is us — the small person like me — we are the only ones impacted by that shutdown, not those rich people."
If the government shuts down again on Feb. 15, Mariano says she can no longer afford rent and will probably have to live in her car. She hopes lawmakers keep that in mind as they return to the negotiating table to fund the federal government through the rest of the year.
Mariano added that if lawmakers were living paycheck-to-paycheck and not getting paid when the government was shutdown, they would've ended the stalemate quickly.
Anyone looking to help the furloughed NASA employees can donate at https://act.wpusa.org/support_furloughed_janitors.
Contact Aliyah Mohammed at [email protected] or follow @Aliyah_JM on Twitter.