East Side Union High School District was handing out 6,000 free lunches daily after COVID-19 shut down schools earlier this year. Now, with classes back in session, that number has dropped to about 120 a day.
When the pandemic hit, the federal government issued a waiver allowing schools to distribute free lunches without checking to see students qualified — no questions asked. Now, schools have to make sure kids qualify.
"We actually have computers out in the parking lot scanning student ID barcodes to determine eligibility for a free lunch," said Julie Kasberger, director of child nutrition for East Side Union. "We just want to feed the kids."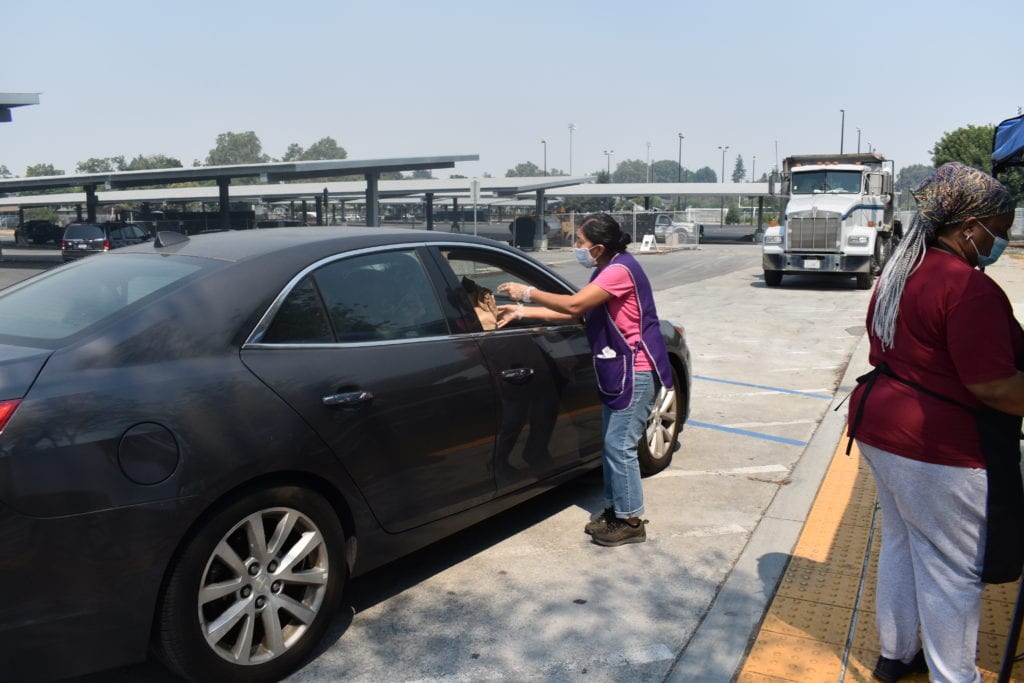 In an effort to convince the U.S. Department of Agriculture to extend the waivers through this school year, more than 1,300 food banks and school districts nationwide sent a petition Aug. 11 to USDA Secretary Sonny Perdue. The USDA runs the National School Lunch Program.
The petition says extending the waivers would "limit overt identification; reduce the administrative burden" and "allow efficient meal distribution at the location that makes the most sense for families."
It also calls for providing free meals in communities that do not meet the requirements to reach "children who may be newly eligible during the pandemic."
None of Santa Clara County's 31 school districts signed the petition and none who were asked about it for this story would say why. Some indicated they hadn't heard about it; others speculated it was a higher-level policy decision.
The food bank Second Harvest of Silicon Valley, however, did sign.
A popular way of distributing meals to distance learners is the grab-and-go method. Parents drive up to a school's parking lot and pick up pre-packaged breakfasts, lunches and even dinners handed out by PPE-protected staff.
Under the waivers adopted in April, East Side was providing free meals to all who came to pick them up — even adults — at the nine district campuses supplying them. During the summer, they were providing free lunches to anyone 18 and under. District staff even went out to eight low-income apartment buildings to distribute food.
"Kids didn't have to go to a place for them. They were right there," said Kasberger.
Despite the drop in lunches, East Side Union has seen an uptick with its At Risk Supper program that provides dinner to low-income students 18 or younger. Currently they are serving the dinners — picked up at the same time as the lunches from 11:45 a.m. to 12:50 p.m. — to 1,000 students.
"We would love to do a lot more," said Kasberger.
Over at the San Jose Unified School District, there also is a decline in the number of free meals being distributed. Grab and go is available at several schools. The district provides three breakfasts and three lunches every Monday and two breakfasts and two lunches every Thursday.
The meals are free to all who attend Provision 2 schools, where at least 40% of the student body is comprised of foster, migrant or homeless children, among other qualifications. Nine schools in the district fall under the classification.
Students at other schools who qualify for free meals can pick them up at any school providing them and students who qualify for reduced-price meals are not charged. SJUSD currently is not providing any paid meals.
To pick up the meals, parents need to bring either their child's student ID or ID number. For a list of SJUSD schools providing meals, click here.
Spokesperson Ben Spielberg said the district is "extremely proud" to have provided hundreds of thousands of free meals to families in need during the pandemic.
"We will continue to do everything we can within the parameters of the National School Lunch Program to support families' food needs during this challenging time," he said.
The Santa Clara Unified School District is offering pick-up of free and reduced price meals to those who qualify at several schools and even at bus stops. Those who don't qualify have to pay the full price of $31.50 per week.
To speed up the pick-up process, participants must obtain a Family Meal Pass that allows staff to quickly identify if a student qualifies for a free meal.
Not every school district is using the grab-and-go method. Alum Rock Unified School District is preparing to launch meal delivery to students in the next few weeks.
For the latest updates on free school lunch programs during the pandemic throughout Santa Clara County, visit the County Office of Education website.
Contact Paul Kilduff at [email protected]