Google representatives unveiled an early look at the company's mixed-use development framework for the Diridon Station in San Jose amid tension from some residents who chanted and held signs about displacement from the massive development.
The Mountain View-based tech giant's plans didn't include detailed renderings or building heights, but did outline a breakdown of the approximately 6 million- to 8 million-square-foot development the company has been alluding to for the past two years, marking some of the most detailed plans shown publicly to date.
That breakdown shakes out to about 6.5 million square feet of office space, between 3,000 and 5,000 residential units, 500,000 square feet of retail, cultural, arts, education, hotel and other "active uses." The Diridon area would also include about 15 acres of parks and green space.
"We heard loud and clear that you don't want to step out of what will be the second biggest regional transit center in the country into a Google campus," Alexa Arena, director of real estate development at Google, said Thursday night. "And we don't want that either."
In all, about 50 percent of the 60 acres that Google would redevelop would be set aside for office, while the other half of the land would be for everything else. That accounts for roughly one-third of the land included in the Diridon Station Area Plan.
Google representatives focused on what they called six key objectives for the project. Among those:
Create jobs near transit
Build housing alongside jobs
Create opportunity pathways
Build a place that is "of San Jose"
Create a place that connects people to nature and transit
Better Together
And while those high-level objectives may not say much on their own, Google leaders shed light on what they meant by some of those priorities Thursday night.
For instance, when it comes to creating opportunity pathways, the company is planning to turn the existing Orchard Supply Hardware building in the area into an interim job training center prior to starting construction.
The company has set aside space directly abutting Diridon Station to be "cultural space" that would be open to everyone. It has envisioned extended creek trails and new greenways along the Guadalupe River and the Los Gatos Creek.
Google's presentation was met with positivity from some, including Teresa Alvarado, the San Jose Director for land use thinktank SPUR and a member of the Station Area Advisory Group to which Google was presenting Thursday night. Alvarado said she was "blown away" by the framework Google laid out.
"I think that was a very powerful presentation… in particular the commitments and the types of different activities," she said. "What we were hearing a year ago was eight to 10 million square feet of office. And here we are at 6.5 (million square feet) with a lot more space dedicated to cultural uses."
I am at San Jose City Hall where people are protesting the potential massive Google development in downtown San Jose. In about 45 minutes the Station Area Advisory Group was will see a preliminary concept for Google's vision. pic.twitter.com/ECs3Hp2UzZ

— Janice Bitters (@JaniceBitters) August 23, 2019
Even so, the presentation didn't quell the concerns of all residents, many of whom said they feared they and their neighbors wouldn't be around to enjoy the amenities that Google was offering due to rising rents and gentrification. Some residents were removed for protesting in the City Council chambers.
"If you don't have a place to lay your head at night, you can't enjoy these things," said San Jose resident Milt Krantz after Google's presentation.
He, along with some other speakers, advocated for the city to address the rising homelessness and displacement happening before welcoming Google into the city. Several speakers confronted Google representatives in the crowd and asked them to "give back" the land the company had purchased from San Jose last year.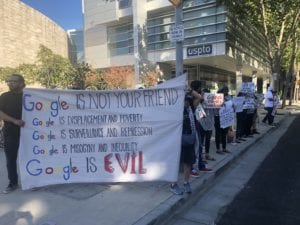 What's next? 
Google will submit its formal application for the mixed-use plan to the city in October, which will kick-start the formal review process for the city, including creating a development agreement and community benefits plan.
The formal process is set to extend through most of 2020 and the San Jose City Council is expected to vote on the project by fall of next year.
That timeline is especially critical because Google has told city leaders it intends to use a 2011 law known as AB 900, which helps streamline large projects that meet specific requirements. But in order for Google to utilize the program, the governor must approve the project's eligibility by Jan. 1, 2020 and the city would need to vote on the project by Jan. 1 2021.
To qualify for the AB 900 program, the Google project will need to meet a list of requirements, including represent at least $100 million in investment, generate no net new greenhouse gas emissions and create both construction and high-wage, highly skilled jobs.
San Jose officials said in a recent statement that participating in the AB 900 program wouldn't absolve Google from going through all of the normal environmental and planning approvals. But if there are legal challenges to the project, those challenges are filed with a court of appeals and that court will aim to render a decision within nine months.
In a memo released this week the city noted that "the city does not have to comply with the AB 900 timeline if it determines there is more work to do before taking the project before City Council for consideration."
Contact Janice Bitters at [email protected] or follow @JaniceBitters on Twitter.