Despite the growing fear and anxiety from the rapid spread of the coronavirus and shelter-in-place orders across the Bay Area, a slew of local business owners are stepping up to make things a little brighter.
Tony & Alba's, a family-run San Jose gem that serves pizza and pasta, last weekend offered free pizza and free delivery to quarantined seniors over 70 years old. The move was met with an overwhelming amount of positive reactions… and pizza orders.
Al Vallorz, co-owner of Tony & Alba's, was running to and from the kitchen to his delivery truck to fulfill the orders. The response has been "astronomical," Vallorz said, and the restaurant has received enough donations to start including a salad with every meal.
"I went to my wife and said, 'Hey hon, what do you think about doing this?' And she looked at me and said, 'Do it, let's do it now,'" Vallorz told San José Spotlight. "My kids grew up a mile away from the restaurant. So when we say it's a community, it's not just a community. It's our community."
With this commitment comes a challenge: Vallorz urges other local businesses to step up and give back during this turbulent time. He draws inspiration from a Mother Teresa quote: "Not all of us can do great things. But we can do small things with great love."
Valloz said Tony & Alba's plans to keep the promotion going for "at least three weeks." Customers can order by calling 408-246-4605.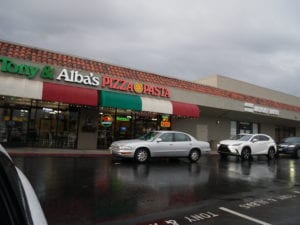 Zanotto's Family Markets, a family-owned grocer that's still run by three generations and 70 members of the Zanotto family, is another local business that's giving back.
Khadija Zanotto, the market's vice president of marketing, recalls standing on milk crates and bagging groceries as a 5-year old, getting quarters from customers for her trouble.
"We all grew up in the store," Zanotto said. "It's so nice to have such a big supportive family who are ready to help us whenever we need it."
The family immigrated from Italy and got their start running gas stations, Zanotto said. When it was time to expand, opening a grocery store was a no-brainer with so many mouths to feed.
"They grew up on a lot of the old expiring products," Zanotto said, "My nonna would make pasta salads, everything from scratch… and now we have four locations in the Bay Area."
Zanotto's announced a decision Monday to reserve the first hour of business — 8 a.m to 9 a.m. — for seniors and shoppers at high risk of contracting COVID-19 at all its locations. But the demand for groceries was so high, the shop opened its doors at 7:30 a.m. Wednesday morning – half an hour early.
Local residents packed the family-owned business' aisles gathering their items, many donning masks, gloves and military veteran hats.
"Have you disposed of the question, 'Did you find everything you're looking for?'" Howard Myers asked the grocery checker at the Rose Garden location with a hearty laugh. "It's more like 'Did you find anything you were looking for?'"
The 74-year-old Santa Claran, who heard about the senior hour on Facebook, was able to find Cheerios, celery for soups and lactose-free milk, which he was happy about because it "lasts forever."
San Jose resident Debbie Horita, 62, joked that being old finally paid off.
"I'm so glad for Zanotto's. It was nice; No one was pushy, and we all helped each other, especially reaching groceries like avocados," Horita said, adding that she's surprised larger outlets like Whole Foods and Sprouts haven't created similar measures yet.
"We could not be more thankful for our family decision to do this because it was so rewarding to see," Zanotto said.
The grocery stores will also do the shopping for elderly residents in quarantine — they simply have to email at [email protected] ahead of time — and employees will bring the food out to the curbside.
But by Wednesday afternoon, big box stores like Safeway and Target followed suit, announcing measures such as closing stores early for cleaning and sanitation or designating specific hours for seniors and other vulnerable customers to shop.
Target officials announced their stores will close every day at 9 p.m. for deep cleaning, as well as reserve the first hour from 8 a.m. to 9 a.m. each Wednesday morning for vulnerable shoppers.
Safeway stores will reserve each Tuesday and Thursday morning — 7 a.m. to 9 a.m. — for shoppers. Both stores will run the promotions at every location.
"We have a lot of neighbors, seniors, those with vulnerabilities of various kinds who don't have a lot of opportunity to stand in line, to wait, or to come back repeatedly," San Jose Mayor Sam Liccardo said during a news conference with Safeway executives on Wednesday. "It's important that food be available to everyone who needs access to food when they are able to go to shop."
"This is our moment as a community," Liccardo added.
Contact Loan-Anh Pham at [email protected] or follow @theLoanAnhLede on Twitter. Contact Katie Lauer at [email protected] or follow @_katielauer on Twitter.