San Jose officials and homeless advocates celebrated Wednesday as the city broke ground on a new temporary housing project in a San Jose Police Department parking lot.
The City Council unanimously approved the prefabricated housing project last October. Officials hope residents will be able to move in by the fall.
"It's not a secret to anyone that we suffer from a shameful scourge of homelessness in this valley," Mayor Sam Liccardo said Wednesday. "Our path forward will be some combination of innovation and aspiration."
The 76-unit project, located in a parking lot at the San Jose Police Department headquarters along Guadalupe Parkway, will include 16 prefabricated structures. It will serve as a temporary housing site with a shared kitchen and laundry rooms, a community room, bathrooms, outdoor common areas, space for dogs, security offices, fencing and a smoking area. The site will be managed by LifeMoves.
"We know we need to build a lot more housing," Liccardo said. "We certainly need permanent supportive housing, but we also need housing that can be built more quickly and more cost effectively."
Officials say the project will take six months to build at a quarter of the cost of traditional housing. It's part of San Jose's ongoing efforts to address the city's homelessness crisis. The city has seen its unhoused population skyrocket in the last few years. A 2019 survey showed there were 6,100 homeless residents in San Jose—a number local advocates suspect has grown since the pandemic.
As COVID-19 engulfed the area, homeless encampments grew in size and visibility. San Jose attempted to control the sprawling issue through sweeps, while advocates logged a record number of 250 people who died on the streets last year.
San Jose built and opened three emergency housing sites in 2020, lifting more than 300 people off the streets. Last September, Liccardo also announced an ambitious goal of reducing homelessness by 20% by the end of this year through prefab housing construction and converting motels and hotels into housing. Earlier this week, Santa Clara County committed funding to build four new housing projects in San Jose.
"We need to create solutions like this to get those individuals out of the streets and into housing," Councilmember Raul Peralez said. "This is the solution that is going to help our entire community and we really need to continue to get our community involved in those solutions."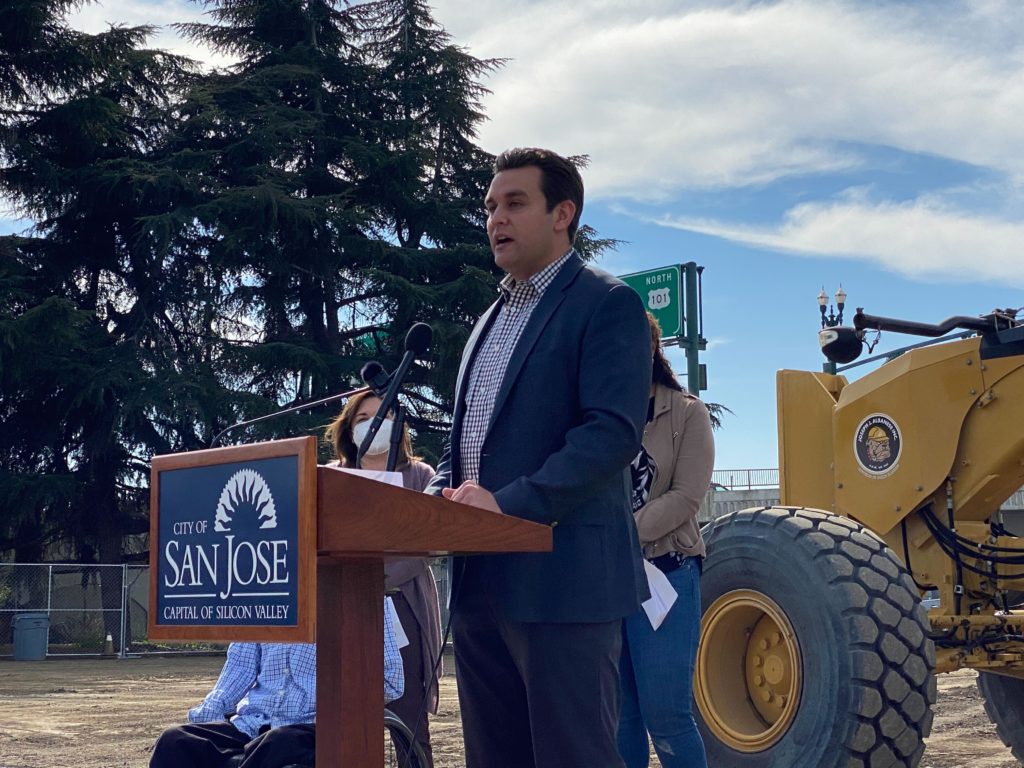 The housing project in the police parking lot comes as the city is under a tight deadline to clear out one of the Bay Area's largest encampments located in Columbus Park. The encampment sits under the flight path of the Mineta San Jose International Airport, which violates Federal Aviation Administration mandates. If the encampment is not removed, the city risks losing FAA funding.
The parking lot project is estimated to cost roughly $7.7 million, officials said. San Jose will pool approximately $2.5 million from the American Rescue Plan, $3 million from a 2017 housing discrimination lawsuit filed on behalf of 180 disabled individuals against the Santa Clara County Housing Authority, $500,000 from the state and a $1 million grant from nonprofit Destination: Home to pay for the project.
"We are very excited to see the much faster and cheaper build for sites like this," said Chad Bojorquez, chief program officer of Destination: Home. "The city is really raising the bar and a new threshold for how we incorporate lived experience into our work around solving homelessness."
The site will also feature San Jose Bridge, a city-run program that hires unhoused people to pick up trash in neighborhoods, to help people get back on their feet, officials said.
Contact Tran Nguyen at [email protected] or follow @nguyenntrann on Twitter.