San Jose took another step to alleviate its homeless housing shortage by breaking ground Monday on the first of three emergency interim housing sites that will accommodate more than 100 beds each.
Citing building restriction waivers that made it easier to get the project off the ground, Mayor Sam Liccardo said the houses are being built quickly because of "a combination of generosity, innovation and leadership."
Liccardo said the compact, modular dwellings built off-site that resemble small shipping containers will cost about $85,000 each as opposed to what they would normally cost: $750,000. "We're able to build in four months rather than four years. That's the kind of progress we need to make," he said.
Initially, priority will go to people who are medically vulnerable, such as those at high risk of death if they contract COVID-19. "The most vulnerable will be served first," said San Jose Deputy City Manager Jim Ortbal.
Located at 1860 Evans Lane just off Almaden Expressway near the Carol Drive neighborhood, the property has long been designated as a homeless housing site. However, before building could begin a number of issues raised by nearby residents had to be addressed.
"The reason we're standing here today is because we've been working with the community for four years," District 6 Councilmember Dev Davis said at the ground-breaking. While some residents were initially against the project, Davis said she convinced them to embrace the idea after listening to their needs.
District 6 residents received concessions such as a community garden and speed  bumps along Evans Lane — something that, according to Davis, has long been needed.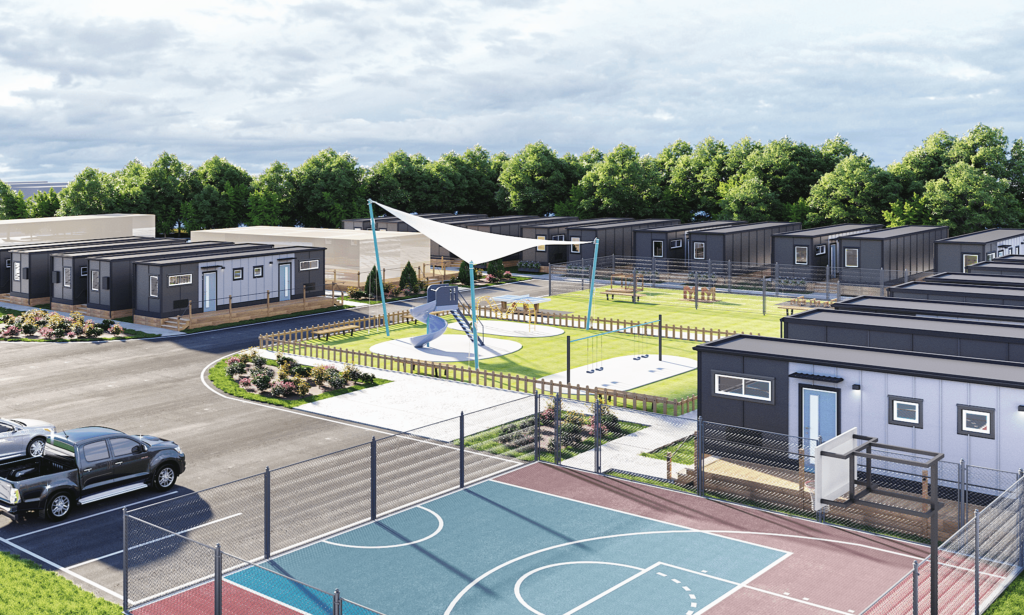 The housing project is an interim step to getting the homeless residents into permanent housing, another important part of the agreement to build housing on the site.
"I want this project to be a success for the residents who live at the site and the neighborhood as a whole," Davis said.
The units are being built by Habitat for Humanity which usually focuses on building affordable homes for people to buy, but Janice Jensen, the organization's East Bay/Silicon Valley chapter president, said her group got involved because "we have a massive homeless problem" and building houses is "what we know how to do."
"We build because it's the right thing to do," Jensen said. "Everyone deserves a decent place to live. In the middle of a health crisis it can literally mean life or death."
San Jose is more innovative and bold than the 52 other cities Jensen's organization works with, she said.
Funding for the units came from Peter and Susana Pau of the SHP Foundation. They did not pay for the project's community buildings and construction costs. Peter Pau runs Silicon Valley property development company Sand Hill Property.
The project's total budget is $6.4 million, of which $5.2 million is for construction. It is being funded by the State Housing and Homelessness Assistance Program (HHAP).
[optin-monster-shortcode id="clwxyttgowpqdkxcx4zy"]
According to Liccardo, Peter Pau told him he'd pay for the housing if the mayor and other city leaders would "just get out the way."
Peter Pau said he and his wife were motivated by their strong Christian faith and the example set by East Palo Alto pastor Paul Baines of Project WeHope, an organization that, among other things, provides mobile showers and laundry services for the homeless.
"We just follow a loving God. He told us to love him by serving his people," Pau said. "Well, some of those people are living on the street. They are our neighbors. We have to come outside of church to serve because faith without action is really useless.
"It's not about us," he added. "It's about the people who are not here yet. It's not just a shelter, it's a home. We hope they will find peace and comfort and safety here."
Residents are expected to move in at the end of September.
Contact Paul Kilduff at [email protected]