WASHINGTON, D.C. — The House this week held its first televised impeachment hearing on President Donald Trump's conduct with Ukrainian officials.
But San Jose Congresswoman Zoe Lofgren wasn't watching. She was sitting in a Judiciary committee hearing, doing something that felt oddly familiar — something she's done before.
"I keep doing these things that remind me of what I did here in the 70s," she told San José Spotlight. "It's just kind of eerie."
Lofgren was referring to her work on the ERA, or the Equal Rights Amendment. The proposed constitutional amendment passed both chambers of Congress in 1972, but has never reached the threshold of states required to be ratified as an amendment. The amendment would guarantee equal legal rights for Americans regardless of sex.
Instead, lawmakers have over the years extended the deadline for it to be ratified. As a congressional staffer, Lofgren worked on the extension in 1971, and again in 1978. One of the last states to hold out on passing the ERA is Virginia, which up until last week was controlled by Republicans.
With a newly-controlled Democratic Legislature in Virginia, the proposed amendment seems to have renewed promise. The Judiciary committee was holding procedural discussions before calling for a vote to do away with the deadline to ratify the ERA — which would increase its likelihood of succeeding. But as can happen when bills are marked up, the roster of congressmembers who want to have their say can drag on.
Lofgren on Wednesday kept checking her wrist watch, the clocks on the wall and glancing at her phone. She was running late for other meetings. And she was missing the impeachment testimony happening across the street in the Longworth building.
An aide in her office fielded calls from constituents, patiently explaining to one who called with a comment on the impeachment.
"She's not in the room. The congresswoman isn't on the Intelligence committee. But she is on the Judiciary committee…" the aide said politely.
Lofgren eventually asked Chairman Jerry Nadler if they were going to take a vote soon. He said yes.
Then the two started talking about the former chairman, Emmanuel Celler. Back in the day, Celler had opposed the ERA. And Nadler worked on the campaign of Elizabeth Holtzman, the woman who unseated Celler in 1973. The following year Holtzman was one of the Judiciary committee members who recommended articles of impeachment against President Richard Nixon.
But Lofgren has her own history with the Judiciary committee and impeachment. Lofgren is believed to be one of the only people on Capitol Hill who was present for the impeachment proceedings against Nixon and President Bill Clinton. So the congresswoman has quite literally done this all before.
Earlier this week, San José Spotlight caught up with the congresswoman to get her first impressions of the first day of public impeachment hearings.
"It was orderly," she said. "This is a serious issue facing the country and it would be really disappointing if people engaged in antics."
When asked about one of Congressman Devin Nunes' remarks to the witnesses, accusing them of agreeing to "participate in a drama" and saying "the main performance, a Russia hoax, has ended, and you've been cast in the low-rent Ukrainian sequel."
"I think that's not a high point," Lofgren responded, "but it could have been worse."
According to Lofgren and several other Democrats, the highlight from Wednesday's impeachment hearing was a revelation made by acting U.S. Ambassador to Ukraine, Bill Taylor. At the end of his opening statement, he said an aide told him about a conversation he'd overheard between Trump and the U.S. Ambassador to the EU, Gordon Sondland. The aide claimed to have heard Trump ask about investigations into Joe Biden and his son, and Sondland had replied that Ukraine was ready to move forward with those investigations.
The aide told Taylor that Sondland told him Trump cared more about investigating the Bidens. The aide in question is scheduled to meet with the select committee next week, but the top Republican in the House, California Congressman Kevin McCarthy, has downplayed the significance of that call.
"I think a picture is emerging of bad news for the president," Lofgren added.
While past impeachment proceedings have focused on high crimes and misdemeanors, Lofgren says it seems likely that Trump engaged in bribery. "I think to some extent some of my colleagues are trying to divert attention from this," she said. "But if it's true, this is not defensible behavior."
But unlike some of her other Democratic colleagues, Lofgren doesn't think there's enough evidence to impeach the president at the moment.
Lofgren's determination of what constitutes as impeachable behavior is important because articles of impeachment would be drawn by the Judiciary committee, on which she serves.
Back in the 70s, Lofgren worked on Capitol Hill for San Jose Congressman Don Edwards. She still recalls going to dinner with him and his fiancee at the time, Edith Wilkie. Edwards asked Lofgren whether she thought the committee should write just one article of impeachment, or one for each offense. The 27-year-old Lofgren was still in law school when she was assigned to write one of the articles of impeachment against Nixon.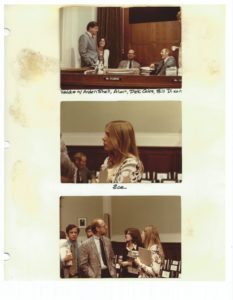 That experience is crucial now — should the Judiciary committee draw up articles of impeachment on Trump. Lofgren says she's imagined drawing up an article as a way of processing and evaluating evidence.
"That's how you really have to think. It focuses your mind on whether this actually meets not only the definitions but the severity of the action," said Lofgren.
There have been two times in recent history where Lofgren disagreed with impeachment. The impeachment of Clinton, where she, like many Democrats at the time, pushed for censure as an alternate form of reprimand for the sexual misconduct of the president. And again in 2008, when three of her colleagues suggested launching articles of impeachment against Vice President Dick Cheney.
"I am not hesitant to pursue the remedy of impeachment if a president's or vice president's conduct reaches this high standard, but I am not willing to proceed without clear and convincing evidence that the standard has been met," she wrote in a 2008 statement.
Her mantra seems to be that you can't rush impeachment.
The Nixon impeachment inquiry, for example, was preceded by more than a year of investigations. But other House Democrats seem determined to complete their investigation by the end of the year.
The anxiety on Capitol Hill has affected congressional staffers as well as journalists who stake out for hours outside the hearings.
On Wednesday, several people were happy to find therapy dogs on the hill. When asked if Lofgren had gone to see them, she let out a laugh.
"I didn't even know. I was too busy," she said.
Contact Elizabeth Mendez at [email protected] or follow @izziemae on Twitter.