Family and friends of the nine VTA workers killed Wednesday blanketed the plaza of San Jose City Hall on Thursday, surrounded by hundreds of other workers uniting as one—the "VTA family."
Many in the crowd of hundreds of people broke out in cries, sobbing as speakers went up to pay their respects to those who perished in one of the Bay Area's worst mass shootings. Family members shared stories about the victims' lives and their commitment to their work.
Amalgamated Transit Union members from San Mateo County, Oakland as well as members of other trade unions like San Jose's Pipe Trades Training Center stood amongst the crowd of local residents waiting to hear what their elected representatives had to say about Wednesday's tragic event.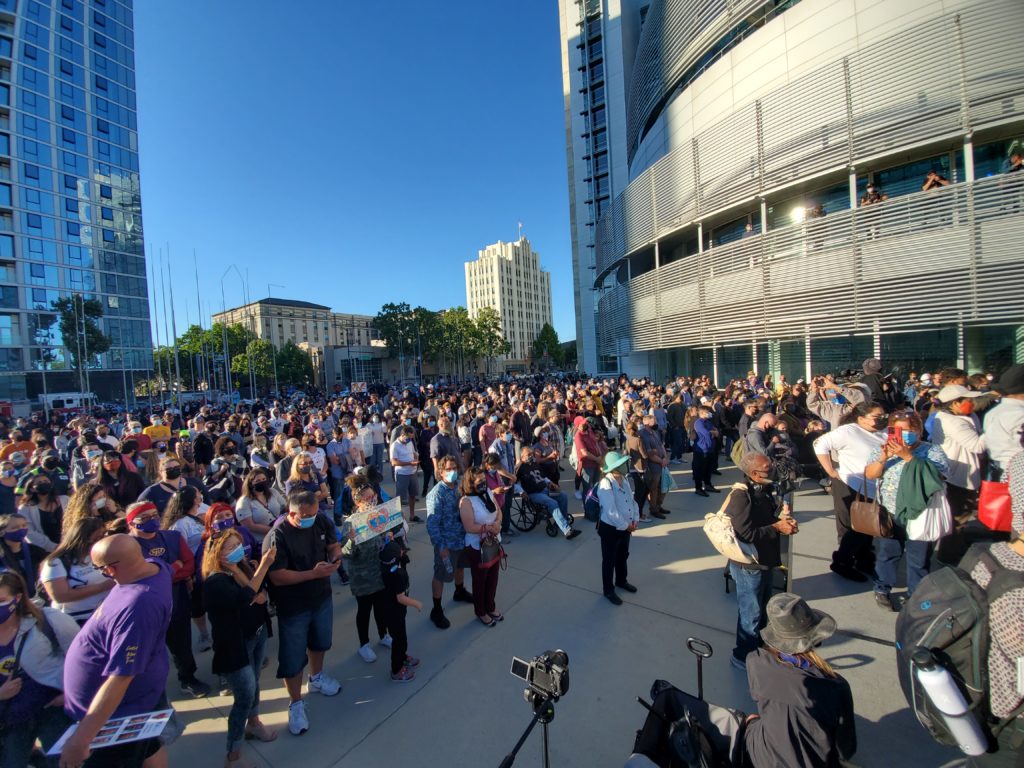 "We're here to express a singular message to the community, we will heal and we will heal together," said Mayor Sam Liccardo. "We are here together as one community and one city, and to express our unity with you."
Flowers and candles lay at the altar holding the poster displaying the nine names and faces of each fallen VTA worker. One by one, loved ones came to kneel and pray, breaking out in tears at the sight of the pictures.
The family of Paul Megia, an assistant superintendent of service management at VTA and one of the nine killed Wednesday, held up what appeared to be his college graduation portrait.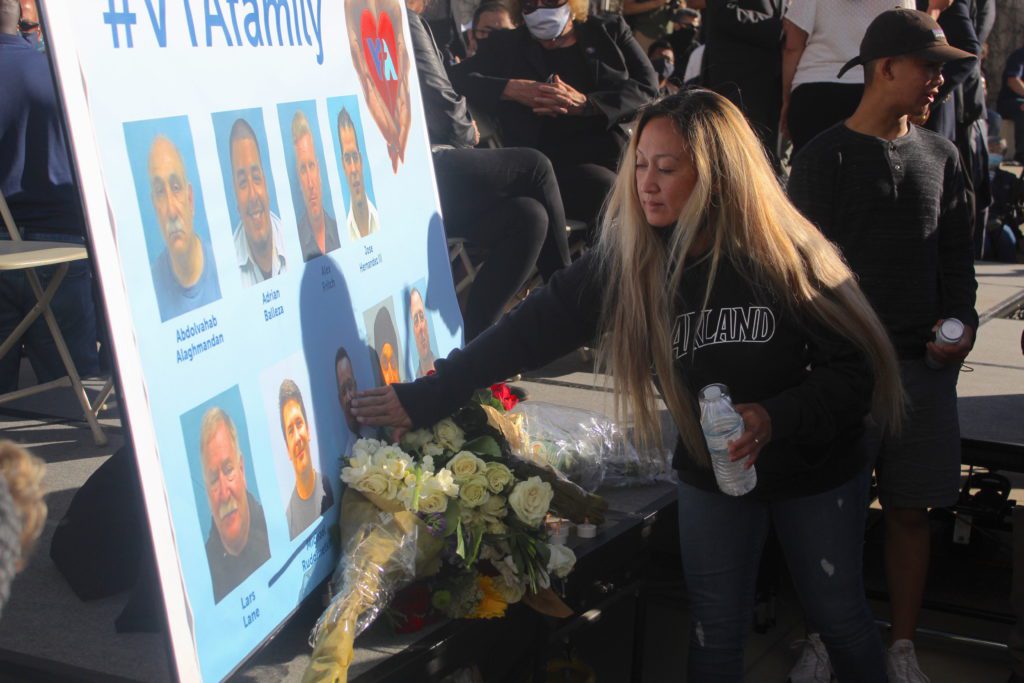 "I'm the father of Paul, and also a veteran of VTA for 32 years. Back in 2004, I asked my son to join the VTA part-time so he could go to college," Leonardo Megia said. "He was doing the 64 line and I was doing the 25 line. We would meet at Willow and Lincoln."
Leonardo Megia was joined by Paul's wife Nicole and his sister Luci, who said her father lost a best friend. Some in the crowd shouted out, "We love you Paul."
Megia and his colleagues gunned down early Wednesday when a disgruntled VTA worker, 57-year-old Samuel Cassidy, opened fire shortly after a union meeting at the Guadalupe Light Rail Yard in downtown San Jose. After the shooting, Cassidy, who also set his house on fire, turned the gun on himself.
County officials have identified all nine victims.
Members of the San Jose Fire Department, along with San Jose police officers, were among those with hands folded to their waist lines, heads down as they absorbed the grief of fellow grieving municipal coworkers.
About a dozen family members of fallen light rail operator worker Taptejdeep Singh also gathered around the podium as Singh's younger brother Karman spoke of the "lion's heart" his older brother carried.
Singh died while trying to save the lives of coworkers who were in the line of fire, according to his family, ultimately giving up his own life to save many of his coworkers. Singh is survived by his 3-year-old son, 1-year-old daughter and a family who came out in droves Thursday evening to share stories about Taptejdeep's courageousness.
"(We need to) stay united so no one will dare try to put us in harm's way, show support, that's what my brother's lion's heart would tell him," Karman said. "He would say, 'Get together, show support in every area wherever you work.'"
Tim Romo, another victim killed Wednesday, was at the VTA for 20 years as an overhead line worker.
His children, Audrey and Scott, held their mother as she became overwhelmed with emotion hearing them describe her husband.
"There will not be a second or day that goes by that I don't want to call him and ask how to do something or to fix something around the house, get my truck going—he would do anything," Scott said.
Scott's brother, Tristan, patted him on the back as Scott choked back tears.
"My dad was a selfless man. As a veteran, I know my dad wouldn't run away from the danger," Tristan said. "As my brother stated, he was my hero."
To learn how you can help the victims of the shooting, click here.
Contact Vicente Vera at [email protected] or follow him @vicentejvera on Twitter.