As Google makes plans for its downtown San Jose mega-campus and city officials eye a new vision for Diridon Station, worries over gentrification continue to mount – and now a newly-obtained email from a top city official about displacement is raising eyebrows.
San Jose's Economic Development Director Kim Walesh last year led the city's engagement process, which included public meetings to address concerns of displacement, the rising cost of housing and a new downtown that will add nearly 20,000 workers. The year culminated with the San Jose City Council approving the sale of public land to the tech-giant.
But an email from Walesh, obtained through a public records request by San José Spotlight, has sparked concern from advocates about whether city officials are in touch with San Jose's most vulnerable populations.
In her email, Walesh asks Maria Malloy, the assistant to Housing Director Jacky Morales-Ferrand, to find a photo for a PowerPoint slide entitled, "How can we address displacement, and create opportunities for local people and business?" The presentation was eventually used at a number of community forums on the future of the Diridon Station area.
"Would be good if it had Latino or Vietnamese family in a affordable housing situation, or a situation that looks like concern about displacement…" Walesh wrote in the email.
Although some say the email appears to target people of color, Walesh told San José Spotlight that her goal with the presentation was to show the community that the city understood their concerns.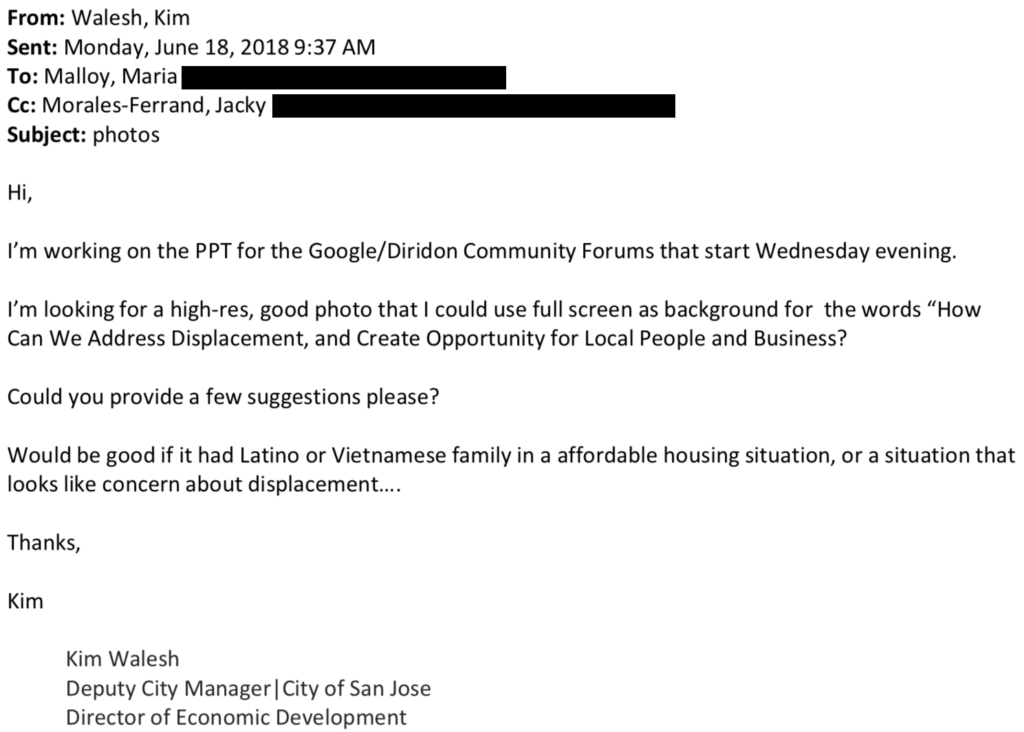 "The overwhelming message was the concern about displacement and the impact on low-income communities of color and other disadvantaged populations," she said. "And the impact on changing the beautiful diversity that we have in San Jose."
The photo selected by Malloy portrayed a Latino mother with her five children in a hotel lobby after they were displaced from their home.
"There's no question that Latinos in our communities are impacted," Walesh said. "Our second low-income community on a scale basis is Vietnamese. Instead of just showing a photo of housing, I wanted to show a photo of people."
Jeff Scott, a spokesperson for the Housing Department, said that they make sure their brochures, fliers and other educational material include an "eclectic mix of San Jose residents."
"Regardless of the ethnicity of the people pictured in any single photo, we could be accused of not reflecting the City's full diversity," he said.
Advocates voice concern
Liz González from the advocacy group Silicon Valley De-Bug said Walesh's email is part of a larger pattern with the Google project.
"I don't disagree that mainly people of color will be displaced," she said. "But I see the email as just optics, that they're checking a little box like let's make sure we have brown people."
Sandy Perry, president of the Affordable Housing Network of Santa Clara County, attended a public meeting where the presentation was used. He told San José Spotlight that Walesh's email is "concerning, but not surprising."
"We raised the issue of displacement over and over and over and over again throughout this process and we were not listened to," he said.
After the June 2018 meeting, Perry sent a letter addressing problems with the city's displacement policies, including allowing landlords to raise rents up to five percent and the leniency on losing rent controlled housing without replacing it. He said the policies don't go far enough in preventing all displacement.
William Armaline, director of the San Jose State Human Rights Collaborative, also addressed the presentation's use of people of color to illustrate displacement.
"If we're going to talk about who actually is really most threatened in San Jose with displacement we already know the data on that," he said. "It is disproportionally people of color and working class people."
But, Armaline added, no group of people should be tokenized for the sake of a presentation.
"In terms of media and politics I think this happens far too often," he said. "If this is a situation of people being tokenized then that's wrong and that's wrong any time."
Contact Grace Hase at [email protected] or follow @grace_hase on Twitter.