San Jose officials are preparing for demonstrations following the verdict reached by jurors in the case of former Minneapolis police officer Derek Chauvin.
On Tuesday afternoon, jurors found Chauvin guilty of second-degree unintentional murder, third-degree murder and second-degree manslaughter in the killing of George Floyd. He faces up to 75 years behind bars.
Top city lawmakers assembled an incident management team within the emergency operations center to support the San Jose Police Department in responding to potential protests.
According to an email sent to city officials obtained by San José Spotlight, police intelligence officials will inform the incident management team of the public's response to the verdict, and the remote team will determine whether to "activate" the emergency operations center.
"Regardless of the verdict, anybody interested in demonstrating has the right to do that. We want to ensure the safety of everybody sharing their opinions, one way or the other," said Deputy City Manager Angel Rios, who was involved in discussions regarding the incident management team.
Rios said the team is still discussing what role the incident management team will play in handling potential protests.
"Right now it's very preliminary," Rios said. "We're trying to fit these conversations in with all the things we have going, like COVID-19 response."
A San Jose Police Department spokesperson declined to share details about planned police responses, but said in a statement officers will be prepared to respond if protesters "begin to commit crime."
By Tuesday afternoon, dozens gathered peacefully at the Grace Baptist Church in downtown San Jose to celebrate the verdict.
"It is essential to understand that the murder of George Floyd by the police is not a stand-alone event," said education leader and community activist Peter Ortiz, who attended the press conference. "In San Jose alone, several residents have lost their lives to the police department, and due to this racist and outdated justice system, their families will never receive their day in court."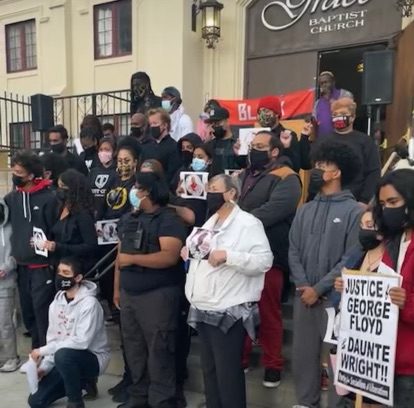 Last summer's protests in San Jose in response to the police killing of Floyd were engulfed in controversy when more than a dozen protesters reported injuries from projectiles fired by police. Crowd control munitions included chemical irritants and rubber bullets, the latter of which left one protester with a severe injury to his right eye. One SJPD captain described the protests as a "war zone" when justifying the officers' decision to use force.
"Whatever happens in Minneapolis, we need to hold our police accountable here in San Jose," said San Jose/Silicon Valley NAACP President Jeff Moore.
Moore said the idea that the city would respond to protests with an incident management team shows officials haven't taken the past year to establish relationships with communities or productive dialogues.
"You can't do something on a 10,000-foot level that's going to affect the community," Moore said. "Especially with the high school students, the lack of transparency only adds to their anxieties."
Now that the verdict is out, Moore said he plans to organize a celebration rather than a march—hosting jazz music and memorializing others killed by police.
Outrage over SJPD's response last summer led to a recent class action lawsuit, and proposed ban against rubber bullets ultimately shot down by the San Jose City Council—with Mayor Sam Liccardo being the sole proponent of the ban.
Preparing for another series of protests, the email obtained by San José Spotlight said the incident response team is coordinating outreach to community groups like the San Jose Downtown Association.
San Jose Downtown Association Executive Director Scott Knies said he's giving members a heads up that protests would potentially be congregated around their businesses and to plan accordingly.
Knies said some protesters vandalized association businesses during last summer's protests, but as the demonstrations went on, protesters cultivated respect for small businesses struggling to keep their doors open.
Putting up wooden planks around the businesses also helped counter any potential damage.
"So many small businesses are struggling, and supportive of a more equitable society. Please respect that," Knies said.
Local reaction
San Jose's police union called the verdict "just."
"Although the verdict will not bring George Floyd back, this tragedy provides all of us in law enforcement an opportunity to improve how our nation is policed and our three police unions are committed to enacting reforms that will keep all Americans safe," said a statement from the San Jose, Los Angeles and San Francisco police unions.
Local elected leaders reacted to the news Tuesday with relief.
"After a gut-wrenching year, many Americans can finally take the breath that George Floyd was deprived of," tweeted San Jose Mayor Sam Liccardo.
After a gut-wrenching year, many Americans can finally take the breath that George Floyd was deprived of. #JusticeForGeorgeFloyd

— Sam Liccardo (@sliccardo) April 20, 2021
San Jose Peace and Justice Center board member Sharat Lin said he was present at more than 100 protests since the killing of Floyd, and would show solidarity with the community at future demonstrations as well.
Lin, one of the plaintiffs in the civil suit alleging excessive police use-of-force, said he's expecting more of the same.
"I will expect there will be celebrations in the streets, some kind of public reaction that justice has been done," he said.
Contact Vicente Vera at [email protected] or follow him @vicentejvera on Twitter.