Santa Clara County's homeless population is slightly lower than last year, with the biggest drop happening in San Jose.
Preliminary data from the county's point in time count found that homelessness has decreased by 4.7% over the last year in San Jose, bringing the number to approximately 6,340 homeless residents, down by about 300 people. City officials say the reason for the downward trend is due to the opening of more affordable housing and temporary shelters.
"We have some good news finally on homelessness," said San Jose Mayor Matt Mahan. "And San Jose is leading the way."
But it's not all good news when it comes to homelessness in San Jose. The most disconcerting part of the report is related to families that are homeless. This increased by 122%. Last year there were 401 parents and children out of stable housing. Now that number is close to 891, but 94% of those people live in a shelter.
Mahan said the reason for the spike is because the city is more aware of how many families are experiencing homelessness compared to previous years, and knows where to find them—that is why the number is higher.
However, more young adults and youth are off the street, with that population shrinking by 19.4%, according to the report.
The county collects data every two years as part of a federal requirement to receive roughly $30 million in funding for various homeless programs. The county conducted a count last year after delaying the 2021 tally due to COVID-19. These counts include homelessness data on each city in Santa Clara County.
The county released the data today per federal requirements, but the full report won't be finalized until July or August.
Earlier this year, city leaders and volunteers scoured San Jose to count how many homeless people were living on the streets and in interim housing, motels or other temporary accommodations. Of the 6,340 homeless people in the city, 4,411 live on the street, along rivers or in tents—also known as unsheltered homelessness. The city's unsheltered homeless population decreased by 10.7% in San Jose. In 2022, there were 4,975 unsheltered people.
Mahan said San Jose was able to reduce its numbers because of an increase in interim housing sites opened by the city to quickly move people off the street. This effort was compounded by offering more resources to unhoused people which connected them to permanent housing. Since 2020, six different interim sites have opened.
Mahan said at Rue Ferrari—the city's first interim housing site opened in 2020—70% of people who lived there remained housed and 50% moved into permanent housing.
Jen Loving, CEO of Destination: Home, said while interim housing has been a critical and quick solution to alleviate homelessness, affordable housing will always be the better long-term solution.
"The reality versus the rhetoric is that these interim housing units are part of that solution, but they're not the answer," Loving told San José Spotlight. "Really it is because we have been steadily increasing the supply of the deepest level of affordable housing over the past several years."
Compared to the county
San Jose is on track this year to keep numbers lower than previous years compared to the rest of the county.
While San Jose's overall homeless population dropped 4.7%, countywide the drop was just 1.2%. The county's final tally, which includes San Jose, found there are 9,903 homeless people this year compared to 10,028 in 2022.
For unsheltered homelessness, the county only decreased by 4%, or about 300 people. In San Jose, the population shrunk by 500, but other neighboring cities saw an increase.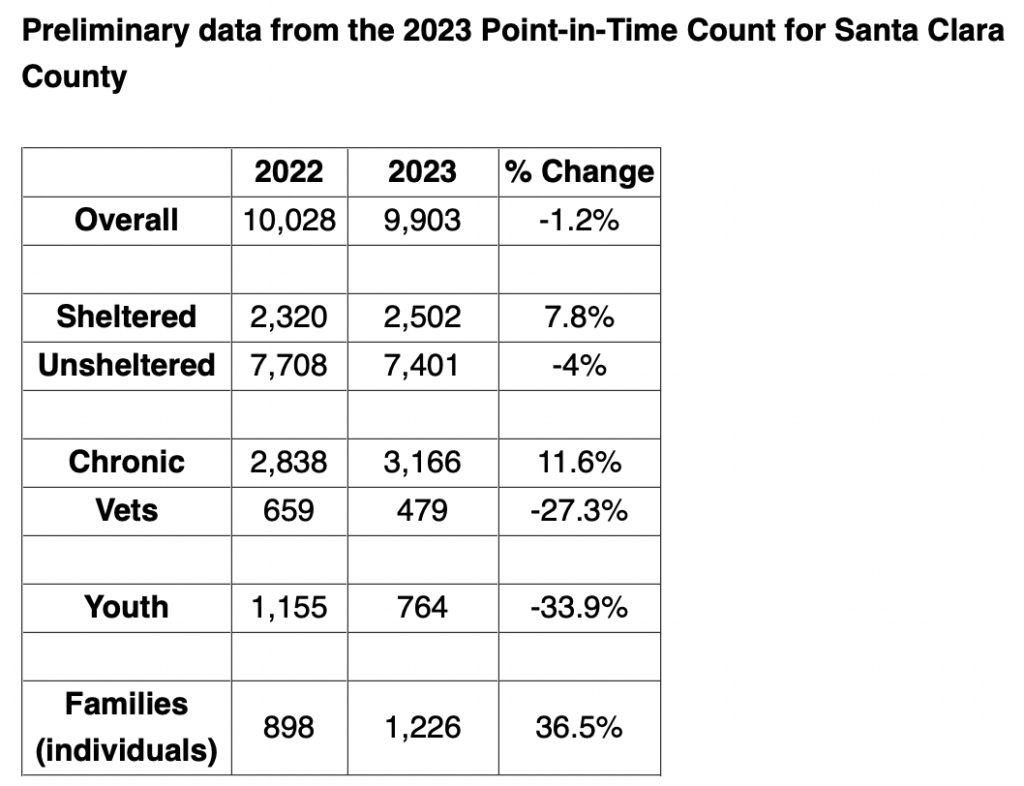 Keeping people housed has been the main goal of both city and county leaders addressing the homeless crisis. It used to be that for every homeless person housed, three fell into homelessness, but that rate has shrunk to 1.7 people per each person housed.
These critical numbers give officials a look at how the population is changing and guides where they should spend their dollars moving forward.
San Jose leaders will be finalizing where new interim housing will be built during their June 6 City Council meeting. And on June 13, officials will vote on a new budget, with discussion centered around whether the $137 million in Measure E funds should be spent primarily on homeless shelters or affordable housing.
Mahan believes the latest homeless count highlights that his proposal of prioritizing short-term shelters is the best way to go. But advocates like Loving believe it shows the current formula—which prioritizes affordable housing development—has a proven track record.
Contact Jana Kadah at [email protected] or follow @Jana_Kadah on Twitter.