Santa Clara County officials announced Wednesday that people who are 75 or older can now get a COVID-19 vaccine.
Even though the state released new guidelines encouraging everyone 65 and up to get vaccinated, Santa Clara County isn't there yet — it doesn't have enough vaccines yet for people under age 75.
Eligibility for COVID-19 vaccine is determined by state and federal criteria. County officials began first by vaccinating people in Phase 1A, which primarily included health care workers, residents and staff at skilled nursing facilities and paramedics.
But now they're moving on to Phase 1B, which begins with people who are 75 or older before moving to the next tier of people 65 to 74 years of age. This phase also includes education, childcare, emergency services and food and agriculture workers.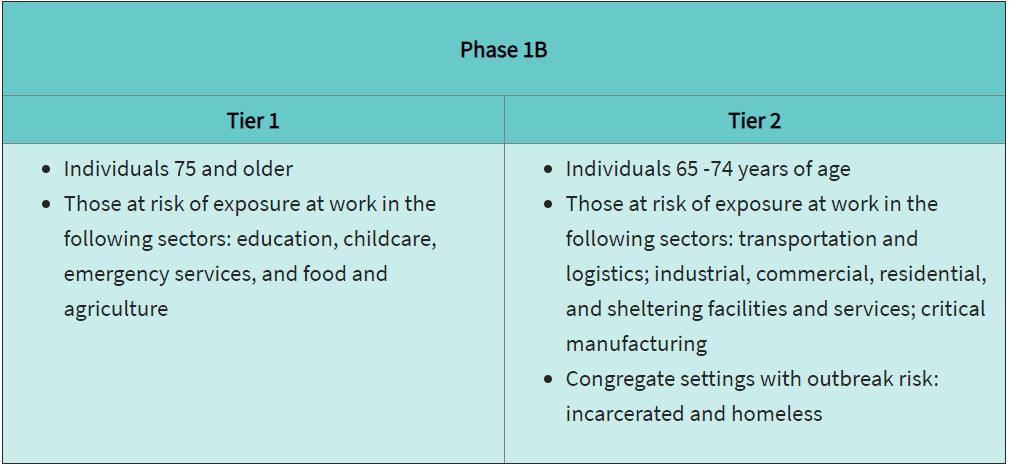 County Counsel James Williams said Wednesday that the county's progression through vaccine tiers is determined on vaccine supply.
People age 75 and under cannot get vaccinated in Santa Clara County yet due to a low supply of vaccines and it's unclear when the county will allow it.
"We are constrained by the vaccine supply that we have here available locally," Williams said. "As we continue to get more vaccine, we'll continue to move as quickly as we can through more eligible tiers."
On Sunday, Santa Clara County asked the state for an additional 100,000 vaccine doses. The state only granted 6,000 doses.
"We don't even have enough first doses to cover all of the health care workers in the county," Williams said. "That being said, we're already opening up further eligibility for further reasons, and one of them is we want to make sure that no slot goes unused."
There are about 300,000 people over the age of 65 in Santa Clara County.
All vaccine allocations don't come straight to county government, Williams added, which makes coordination even more difficult. Instead, vaccines come through many different channels, including local health care providers. Several health care providers, including Kaiser and Palo Alto Medical Foundation, receive vaccines directly from the state, making it hard for the county to track how many vaccines have been administered so far.
County supervisors this week approved a plan to send a letter to state health officials urging them to give the county more vaccines and requiring hospitals to report vaccine data to the county. 
Public Health Officer Dr. Sara Cody announced this week the goal is to vaccinate 85% of the county's population by Aug. 1.
That means about 13,000 vaccines need to be administered per day, every single day, in the next six months and 20 days. The county is already far behind its goal.
People who are now eligible for the vaccine should contact their health care providers. County officials encourage anyone with questions or looking to schedule an appointment to www.sccfreevax.org
Those who use the county's public hospital system, including Valley Medical Center, can also make an appointment through the county's system, also accessed through www.sccfreevax.org.
County officials are asking residents to use the county's website to sign up for vaccine appointments, instead of bypassing local public health screenings and heading straight to the California state website for vaccine appointments.
They're also asking any residents who received text messages claiming to have "links" to vaccination appointments to ignore them. County officials believe people copied direct links to the state's scheduling platform and sent them around, allowing individuals to bypass an eligibility questionnaire.
Williams said Wednesday while he's not sure exactly how many people were duped by the fallacious texts, but at least over 100 people signed up for an appointment when they were not eligible.
Vaccination sites across the county require additional proof of eligibility on site, so anyone who registered this way and was not in the correct vaccination tier was turned away.
Meanwhile, all health care personnel in California's Phase 1A have been eligible to receive the vaccine, and will remain eligible to receive a vaccine, even as it becomes available to more people.
"I think there will be lots of activity and lots of changes," Williams said. "We will have to remain flexible and nimble but the good news is that we'll have more vaccines in the coming weeks."
Contact Madelyn Reese at [email protected] and follow her on Twitter @MadelynGReese.