Humans have been dreaming of the next frontier for decades, imagining what humankind might find among the stars. But in a stout, two-story building in Mountain View, one group is taking it a step further by imagining an entire new space economy.
Made In Space, which leases land for its headquarters at Moffett Field from NASA, is building machines that can make other things in space, including large satellites that would be difficult, if not impossible, to launch from earth. It could eventually help to build out space stations that allow humans to explore more of the universe than ever before.
And while that sounds like a reality both figuratively and literally distant, Made In Space's technology could also have near-term earth impacts, said Austin Jordan, communications manager for Made In Space.
"We can make a superior optical fiber in space that would blow the telecommunications industry wide open, and other people that rely on those type of capabilities," he said, noting that the earth's gravity adds imperfections into optical fiber that can be avoided in space.
That means faster and more reliable internet. But space manufacturing might have other immediate uses, too, Jordan said.
"We're able to analyze different markets that rely on technology that might inherently have a defect because of the gravity-induced manufacturing process," he said. "If we can … make that better by looking at space as an alternative manufacturing platform, those are the ways we see manufacturing driving commercial opportunities in space."
Made In Space received a $73.7 million grant from NASA for its work and, for now, the company's primary customer is the government agency. But in the future, Made In Space President Andrew Rush's goal is that NASA will be one of many customers.
The company wants to appeal to private-sector organizations that will one day seek out products made with space materials not found on earth or items that can be made better where gravity isn't a factor. For instance, with fiber optic cables, big telecommunications companies could become major customers in the not-to-distant future.
"We have some good potential customers lined up already," Rush said.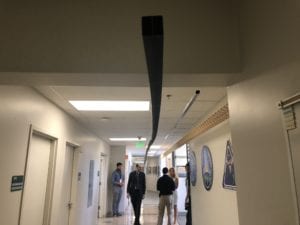 In 2022, the company plans to launch Archinaut One, a satellite that can 3-D print and assemble itself in space. Then it can make an even bigger satellite, or potentially other items Made In Space engineers tell it to make from the comforts of earth.
Made in Space has been in existence since 2010 and already has made multiple iterations of 3-D printers that can function in space. One sits on the International Space Station today, but the items it can make are limited because the machine can't make individual pieces bigger than itself.
Archinaut One won't have those limitations. The machine here on earth has already made a nearly 124-foot pole that stretches across a hallway at Made In Space's headquarters. Company officials said it will stay in the building until it is torn down because it's too long to remove.
Destination: Mars
But Made In Space isn't the only company imagining a world where space becomes a place for commerce. In fact, some of the richest and most influential business leaders in the country are envisioning such a future.
That's the cornerstone of the research Amazon founder Jeff Bezos is doing with his company, Blue Origin, which is working to make rockets that can commercialize the ascent into space for people.
"If we're going to continue to have a dynamic civilization where our grandchildren have better lives than we do and their grandchildren have even better lives, then we need to be sure we're using the resources of space to save this planet," Bezos told CBS News earlier this year
Elon Musk's SpaceX has a similar mission: to reduce the costs to get to space for regular people. But that mission comes with the express goal to "enable humans to become a spacefaring civilization and a multi-planet species by building a self-sustaining city on Mars," according to the company's website.
NASA is already working out ways to get to Mars for the first time.
A major part of getting there will be a new space station, called Gateway, that will orbit the moon, allowing scientists to study parts of the cratered space rock they've never seen. By 2024, NASA expects to land another man and its first woman on the surface of the moon.
NASA administrator Jim Bridenstine said the Gateway will also help civilization push its way even farther into the less-traversed parts of space. "The moon is the proving ground, Mars is the destination," he said.
Made In Space's technology and Silicon Valley's "brightest minds" could help NASA — and others — get there, Bridenstine said.
"The Gateway is transformational for deeper space flight into the solar system and it can be changed and it can be added to," he said. "By 2028, we want to have a sustainable lunar architecture… and what Made In Space is doing is proving capabilities and technologies that are eventually going to feed forward to that."
And in the meantime, earthlings can look out for that perfected fiber optic space cable.
Contact Janice Bitters at [email protected] or follow @JaniceBitters on Twitter.