WASHINGTON, D.C. — Thousands gathered at the Lincoln Memorial Friday morning to protest racism and police brutality, exactly 57 years to the day after Dr. Martin Luther King Jr. delivered his famous speech calling for racial justice at the same spot.
"He talked about his dream (that day) but he also talked about how he was scared of a nightmare," said New York City Public Advocate Jumaane Williams, who spoke from the Lincoln Memorial's steps. "This is a nightmare. Sixty years ago he was here talking about jobs and justice and I'm here with my stepdaughter, still talking about the same damn thing. We've only added more names to the death toll and more hashtags."
A variety of speakers addressed the crowd for hours, including students, politicians, clergy members and social justice activists.
Marion Gray-Hopkins, whose son was killed by police 20 years ago, said the issue was about far more than only her child.
"If there is no justice, trust me, there will be no peace," she said.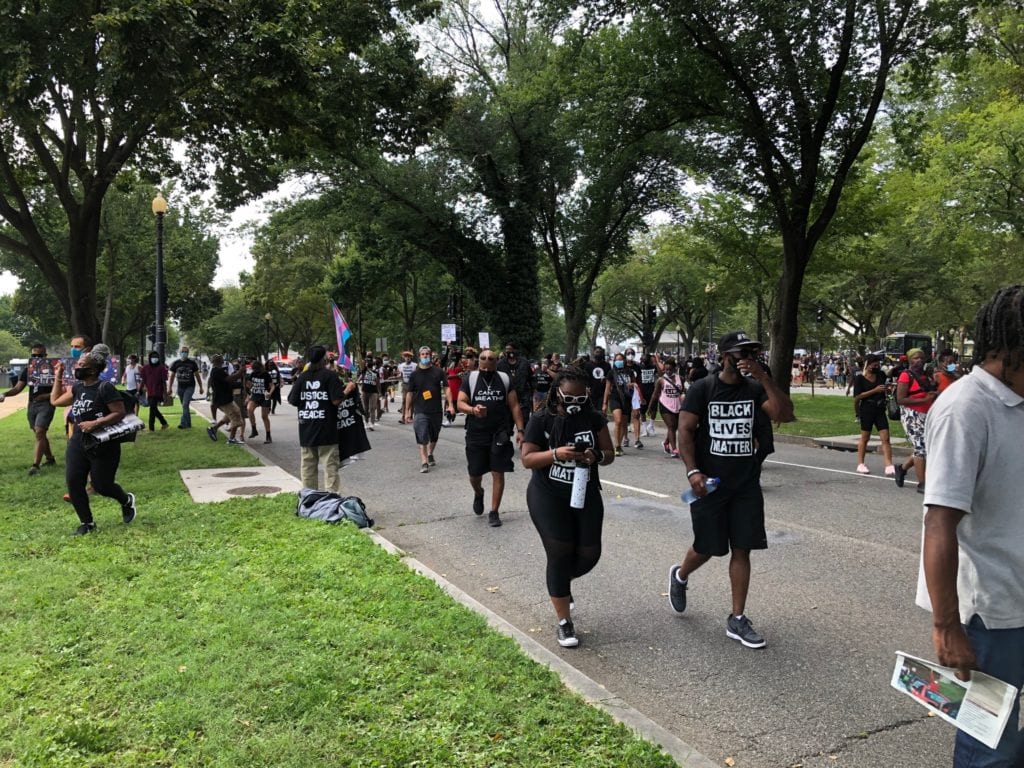 As he watched the speakers from underneath the shade of a tree, Errol Bush explained he flew from St. Louis to attend the event because he believed it will inspire people to vote President Donald Trump out of office in the November election.
"He has no respect for the African-Americans in this country," he said. "…The president is supposed to have some type of integrity, some type of professionalism. He has none of that. It's all about racism."
Bush encouraged others to not only vote themselves, but to bring along as many of their friends as possible.
The event concluded with a march late that afternoon to the Martin Luther King Jr. Memorial at West Potomac Park. Some protesters carried signs or waved banners that said "Make America Not Racist for the First Time" or "Don't Shoot Me Officer For Being Black is Not a Crime." Others held photos or drawings of recent victims of police brutality, such as George Floyd or Breonna Taylor.
"One: We are the people. Two: Say it louder. Three: We want justice for black people," one group chanted to the beat of drums as they marched to the park.
Others paid tribute to the late civil rights icon Rep. John Lewis of Georgia by wearing shirts with either his picture or one of his most famous quotes— "Get in Good Trouble" — emblazoned on the front.
The event, which was organized by civil rights activist Rev. Al Sharpton, was months in the making. George Floyd, a 46-year-old black man, was killed in police custody in Minneapolis on May 25. His death sparked international outcry and ongoing calls for police reform.
Austin, a New York resident who declined to provide his last name, said he can't personally relate to racism as a white man. But he felt it was important to attend the march to show support to his fellow residents who are facing discrimination.
"We can't live in a country and be happy here unless everyone has the same rights," he said.
For others, the issue of racism and police brutality struck much closer to home. Danielle Burns attended the march to honor her brother, Jamar Clark, who was shot and killed by the Minneapolis police in 2015.
"Those cops are still on the force," she said, as she took a quick break from marching with a group of friends. "Our family might have to run into them again because they still have them on the street. How traumatizing is that?"
Burns said her 24-year-old brother was a fun-loving young man who loved his family and community. Although it was challenging to drive from Minneapolis, she carpooled with friends to make it work.
Pointing to her black sandals, one of which had a small hole in the sole, she explained she intends to keep walking and marching for her brother until they are worn all the way through.
"I feel like we're getting close (to achieving change)," she said. "I feel like we are getting our statements across and we are getting stronger as a nation of people as we come together and as other nations join us because they understand the fight."
Contact Katie King at [email protected] or follow @KatieKingCST on Twitter.