San Jose's more than 6,000 homeless residents will have more opportunities to get off the streets and find permanent housing with the opening of 40 tiny homes in the northeast corner of the city.
The first "bridge housing community" in the city provides a safe and stable place to stay and supportive services while its tenants search for permanent housing.
Celebrating the official opening Thursday, San Jose Mayor Sam Liccardo, California Gov. Gavin Newsom and nonprofit HomeFirst CEO Andrea Urton highlighted the yearslong effort it took to finalize the project.
"We came together as a community because we learned through this process that it takes a village to build a tiny home village," Liccardo said, joined by a host of lawmakers, including Assemblymembers Kansen Chu and Ash Kalra, as well as state Sen. Jim Beall. "We are housing people, and that is critical, but we know we have much more work to do because we need many more resources."
Those resources, the mayor said, must come from efforts like Measure E, which would levy a real transfer tax on property sales of $2 million or more to boost affordable housing efforts. The measure will be decided by voters on the March 3 primary election.
Newsom agreed that collaboration and resource allocation are both vital to achieve results like the tiny homes on Mabury Road.
"There's no way we can resolve this crisis unless we are working collaboratively together at every level of government," Newsom said, adding that California's homeless crisis is a disgrace for a state with such wealth and ingenuity. "The state vision to solve this crisis will be realized, at the local level — project by project, large and small."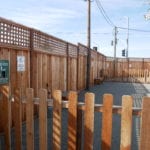 Located at 1408 Mabury Rd., the units are open for homeless individuals who have a qualifying vulnerability index score, are in a rapid rehousing program and have a job or are job-ready. The 80-square-foot homes feature enough room for the necessities: a single bed, a small desk and a few shelves. Additional 120-square-foot units are available for those who use wheelchairs.
Outside of these individual units, the community can access shared laundry, bathroom and kitchen facilities, including private showers and a food pantry. There is also a computer lab, meeting rooms, a lounge area and a dog park.
The new homes may be small, the amount of work to get to this point was anything but.
Initially approved by the City Council in December 2018, the project hit many legislative and technical roadblocks along the way, as well as pushback from neighbors concerned about the community's potential impact on crime, traffic and property values.
Newsom recently announced that he will focus on creating a streamlined process to get these types of projects up and running, such as providing California Environmental Quality Act exemptions and fewer obstacles with state agencies like CalTrans — efforts Liccardo said are essential.
"If we can get the obstacles out of the way, cities can move quickly to address this crisis," Liccardo told San José Spotlight. "Mayors throughout the state feel deeply accountable to our communities to tackle this crisis, and we know it's a miserable failure. We've got to do more and we want to do it quickly. We just need to get the red tape and the lawyers out of the way."
The project cost about $2.2 million to build, which translates to a cost of about $55,000 per home, according to James Stagi, San Jose Housing Policy and Planning administrator.
Comparatively, about $700,000 is needed to construct a permanent housing unit. Those dollars came in part from the city's general fund, as well as a one-time Housing Authority award. About $1 million annually has been budgeted in San Jose's general fund to continue paying for the site.
The state's Homeless Emergency Assistance Program funds also helped cover the costs of building the community.
The tenants will be charged $20 a month to stay in the homes, but Stagi said that cost is less about providing funding for the site and more about helping residents prepare for the monthly payments they will make when they find permanent housing.
The former Santa Clara Valley Transportation Authority location — across from the new Berryessa/North San Jose Transit Center and Coyote Creek — offers residents proximity to transit, but more importantly, cheap land to allow for the construction. The lease for the land, which was formerly a construction storage area, between the city and VTA lasts through 2022.
Urton got emotional seeing the Mabury project finally come to fruition.
"I was homeless as a teenager, and this site is where I would have wanted to live," Urton told San José Spotlight. "To know that it's already working brings me such a great sense of pride and hope for the future. It's a little overwhelming. We're grateful that this site will provide 40 individuals a respectful and dignified respite while they wait for permanent housing on their journey."
While a two-to-three month stay is the goal, Urton said residents will be granted extensions as needed while they work towards permanent housing and independence with the help of HomeFirst's staff and onsite services like case management.
"If we can end (homelessness) within two months, it keeps somebody from decompensating," she said. "I've been working on this on my own personal time. It looks nothing like (the original plans), but it's exactly what it should be."
Contact Katie Lauer at [email protected] or follow @_katielauer on Twitter.