Tombstones stood in row after row at San Jose City Hall on a chilly Saturday afternoon.
Each tombstone, cut out of foam, had a name painted on its surface. The years under the names all ended in 2019.
The 161 tombstones represent the number of homeless deaths that occurred in Santa Clara County within the past 12 months, a somber reminder of the exacerbating housing crisis in the area.
More than a hundred homeless residents, advocates, volunteers and elected leaders gathered at City Hall for the Annual Homeless Persons' Interfaith Memorial Service Saturday, to honor those who died this past year as well as provide resources, supplies and a space for discussion.
"Homelessness is undoubtedly the county's greatest challenge," said San Jose Councilmember Sergio Jimenez, who co-sponsored the event. "Every year, we tragically witness dozens of preventable deaths on our streets."
Other sponsors included Assemblymember Ash Kalra, Assemblymember Kansen Chu, Santa Clara County Supervisor Dave Cortese and Sen. Jim Beall.
Shaunn Cartwright, an advocate for the homeless, conceived the idea of tombstones as a stark visual reminder of those who died. She mobilized other volunteers and residents to gather supplies and make the tombstones.
"A lot of times you hear about how many people died, and it's just a number," Cartwright said.
According to Cartwright, the majority of people who worked on the tombstones were unhoused or formerly unhoused persons — a fact she finds "powerful." The project took a week to complete, with many of the volunteers staying up until 1 a.m. to finish.
"I wanted people to have something to walk through, something to touch… I wanted people to feel the presence of 161 people that lost their lives," Cartwright said. "People can realize that there's two babies who never survived their first day of life, that there's a 94-year-old there, and a 90-year-old, and an 86-year-old that died in his car."
The number of homeless deaths reached a record high of 157 people in 2017, approximately two percent of the homeless population. Homeless deaths dropped slightly to 138 in 2018, and 132 people were reported dead in 2016. And as a San José Spotlight report found earlier this year, county officials do not have an estimated count for suicide deaths among homeless residents for the last two years and have no clear procedures for determining whether a homeless death was intentional.
The Silicon Valley Interreligious Council has been hosting the event for the past 6 years, SiVIC Board Vice Chair Girish Shah said. This is the first year with a community forum, Shah added. The group also handed out life-saving supplies such as sleeping bags and tarps.
"We decided to expand the program so that a conversation goes on," Shah said. "Otherwise, you pray and you say nice words… but nothing changes."
The forum, held inside the City Hall rotunda, featured panelists Father Jon Pedigo of Catholic Charities of Santa Clara County, Santa Clara University assistant professor Jamie Chang, Sunnyvale Clients Collaborative President Jerome Shaw and community activists Paul Soto and Frank Ponciano, who discussed preventing deaths on the streets.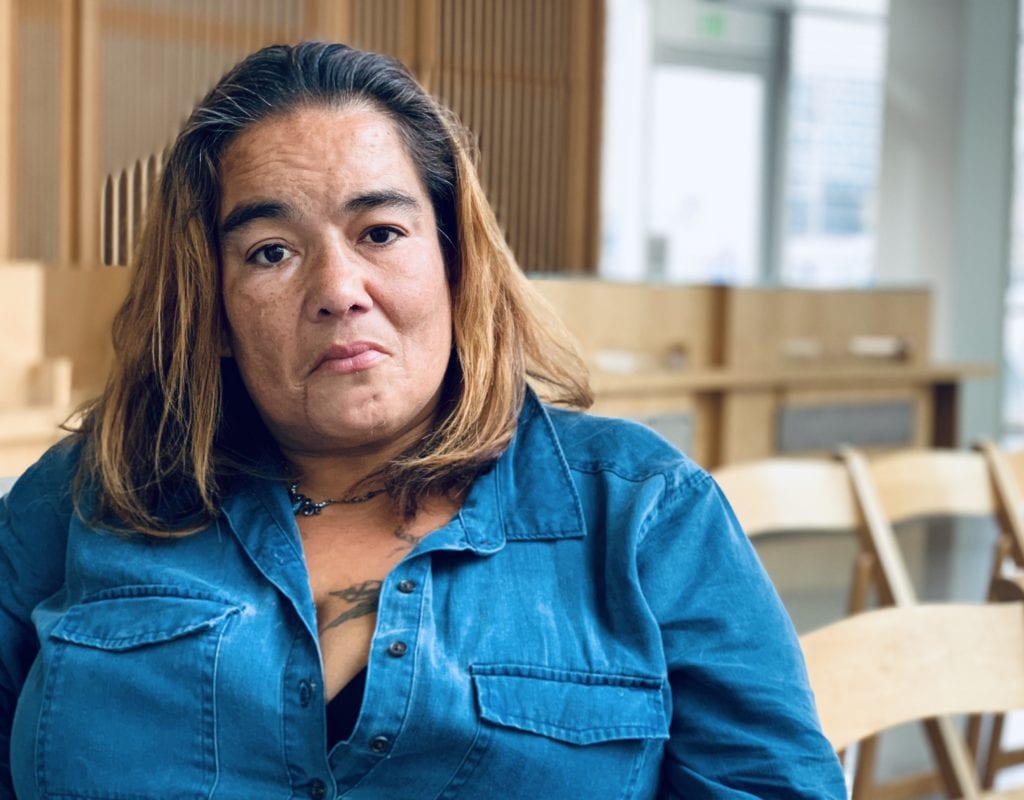 Yolanda Gutierrez, 44, sat in the audience before the forum. She came to pay her respects to a former partner who was killed two years ago in The Jungle, and a friend named Angel, who died of a heart attack.
Gutierrez has been homeless for the past decade, ending up on the streets due to domestic violence. Even now, violence is a part of her daily life.
Two days before the service, she was struck on the head with a taser by another homeless resident, accused of stealing something she "didn't even touch."
"I'm desperate," Gutierrez said. "I need to get housing… I'm sick of the feeling that I get having to sleep outside with one eye open and one eye closed."
"It's hard for single females to be out there," Gutierrez continued.
A number of affordable housing projects opened their doors or broke ground in the past year, including the first supportive housing complex in Santa Clara and 40 tiny home units in San Jose. Residents at Second Street Studios, the city's first permanent supportive housing project in downtown San Jose, share their stories in San José Spotlight's new column, "In Your Backyard."
But Councilmember Jimenez said interim housing solutions should have been done "yesterday." Significant statewide investment in services such as drug rehabilitation and job training should also be prioritized, Jimenez added.
"One of the most fundamental changes that we need to change is the narrative around homelessness," Jimenez said. "We need to approach this crisis with empathy, not fear. We need to stop seeing the houseless as the other."
Contact Loan-Anh Pham at [email protected] or follow @theLoanAnhLede on Twitter.