What a wild ride it's been in the San Jose condo and townhouse market.
For this month's column, I wanted to go all the way back to March 2020 when the shelter in place order was first issued and compare the market trends to today. There was much made of "urban flight" when we first went into lockdown. Whether as a result of remote working options or the fear of density housing during the pandemic, the early indications were that people were looking to leave the city core and purchase single-family homes that provided them with more space to comfortably shelter with their family.
I spoke with Mike Bui, president of EQ1 Real Estate, who told me that the downtown San Jose condo market took a huge hit at the beginning of the pandemic.
"Luxury high rises saw about an 8% decrease and sat on the market for over 90 days," said Bui. "Some even surpassed 180 days before reducing their price to get a buyer while other sellers just took them off the market. Buyers were afraid of close proximity living. Most of the large highrises only have three elevator towers so the possibility of exposure was just too risky for most."
This risk coupled with the fact that many of the built-in amenities and walkable downtown entertainment were also shut down contributed to the lagging condo sales even while single-family home sales were booming.
Figure 1 shows a significant divergence in units sold between condos and single-family homes starting in June. The desire for more space and historically low interest rates was igniting the red hot single-family home market, while condos sat on the market for extended periods of time.
Figure 2 depicts the effect on the median sales price. It was not until the summer selling season when the median price of a condo surpassed its pre-pandemic levels. This year-end surge of sales was driven by first-time home buyers taking advantage of a softer condo market. According to MLS Listings Inc, the median sales price in March for a condo in San Jose was $760,000 up from $700,000 in March 2020.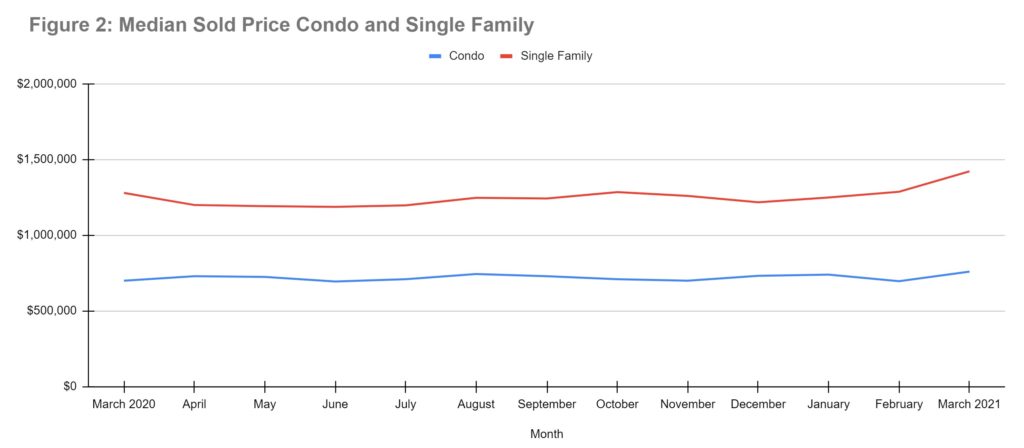 So what do the real estate experts expect for the condo market during the rest of the year?
"Things are already picking back up now, with the vaccines in play. Confidence is building back up and we are starting to see inventory move, especially with motivated sellers who are looking to get into the single-family home market," said Bui. "Days on market are shrinking and things are moving faster now, still not at a pace that we'd like for it to be. Entry-level units under $700,000 are moving quickly. The higher-end is taking a bit longer unless it's a unique penthouse offering or exclusive stack with amazing views."
Doug Goss, broker and 2021 president of the Santa Clara County Association of Realtors, said that he thinks inventory levels will soon rise.
"I anticipate we will see the inventory of available condos and townhomes increase over the next several months and peak in the summer or early fall, which is our typical trend," said Goss. "With the continued strong demand and low inventory of available single-family homes for sale, many of the buyers who have been priced out of the single-family home market are turning to the more affordable condo and townhome market, which provide more options and availability."
While the condo market is likely to continue to lag behind the detached single-family home market, it appears to be strengthening. Condos are still desirable and at the end of the day, they represent a great value for first-time home buyers.
San José Spotlight columnist Neil Collins is CEO of the Santa Clara County Association of Realtors, a trade association representing more than 6,000 real estate professionals in Santa Clara County and surrounding areas. His column appears every fourth Thursday of the month. Contact Neil at [email protected] or follow @neilvcollins on Twitter.