As food insecurity has dramatically increased during the COVID-19 pandemic, CalFresh and local nonprofits have ramped up services to meet this need.
Starting Oct. 1, recipients of CalFresh, a federal nutrition program, received about 22% more in benefits compared to pre-pandemic levels—bringing a family of four up to an extra $155 per month. Coincidentally, an additional 22% of Santa Clara County residents have sought CalFresh assistance since the pandemic began. 
The increase provides people with "a bit more help to put food on their tables," said Margareta Hodzic, assistant director of employment and benefits services for the Santa Clara County Social Services Agency. Agency officials say more than half of those receiving CalFresh assistance are children and seniors, and minority groups including Hispanic, Black and Vietnamese residents are also over-represented.
"It's crucial in our county to get people these benefits, as living here is very expensive," Hodzic told San José Spotlight. "They use their income to pay for other necessities like rent and utilities which leaves very little for food."
As businesses shuttered during the early days of the pandemic, many Bay Area residents were left jobless and struggling to feed their families. Nonprofits and government assistance programs became lifelines for those seeking help, many for the first time.
An increased need
Michelle Demetrius, program coordinator for CalFresh, said the increase in benefits brings $2 billion to California for its hungry residents. 
"Residents will be able to buy more healthy food," Demetrius said, "which affects their health in the long run."
The increase in the food plan will cushion the loss of 15% in pandemic relief aid from the American Rescue Plan, which ended Sept. 30, said Tracy Weatherby, vice president of strategy and advocacy for Second Harvest of Silicon Valley.
Weatherby said when shelter in place orders went into effect in March 2020, requests for food doubled overnight for the regional food bank—and she expects it to continue at this level for the foreseeable future.
"The need has been absolutely incredible," she told San José Spotlight. "We went from serving 250,000 to 500,000 people a month, and we doubled the amount of food we were providing to the community as well."
Other food pantries such as Loaves and Fishes and Martha's Kitchen have seen requests for their service triple as job losses caused families to seek assistance. Gisela Bushey, chief executive officer of Loaves and Fishes, said requests for meals increased from 547,000 to more than 1.5 million a year.
"It's been a crazy time," Bushey said. "It's also indicative of just how precarious things are for folks here in Silicon Valley."
Bushey said people choosing between medication, rent and food often sacrifice food—and that the number of those in need will only continue to grow with the end of the eviction ban and winter coming.
"We reside in an area of such tremendous abundance, but we also live in an area where there is tremendous poverty just under the surface," she said.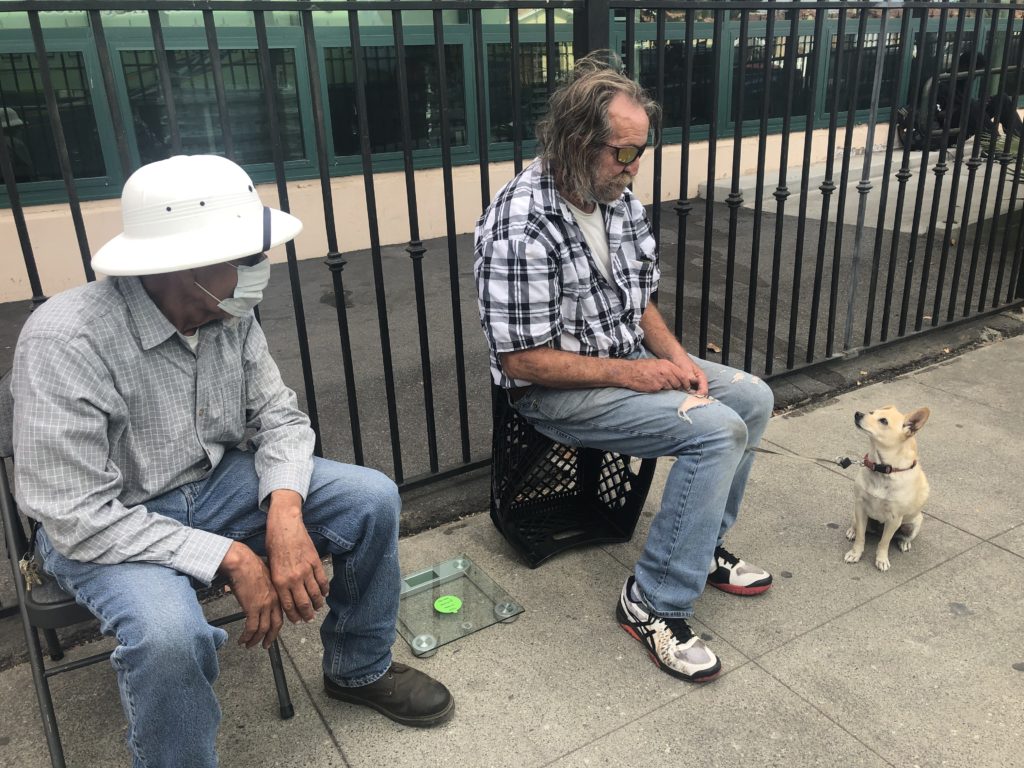 Serving the community
As musicians play guitar and sing outside Martha's Kitchen at 311 Willow Street in downtown San Jose, volunteers place chicken parmesan, vegetables and soup in containers ready to be picked up by those in need.
Alex, 73, and his friend Gary, 69, are both unhoused and visited Martha's Kitchen Wednesday night. Gary had his chihuahua named Bunny, who rides in a basket on the back of his bike, in tow. Both declined to provide their last names.
"Right now, it's very hard," Alex told San José Spotlight. "But they prepare a real delicious healthy meal here."
Alex said he also goes to Loaves and Fishes and sometimes gets by with a can of tuna.
"We're alive so it's not so bad," he said.
Before the pandemic, Martha's Kitchen served half a million hot meals and 300,000 to 400,000 pounds of groceries annually. This grew to providing one million meals and more than 3.5 million pounds of groceries during the pandemic, said Executive Director Bill Lee.
"We saw a lot of people, especially early on, who were laid off from their jobs and didn't know how they were going to survive this," he said. "There were definitely a lot more people who were pushed over the edge who wouldn't have made it without help."
To sign up for CalFresh benefits, visit the county Social Services Agency website or call (408) 758-3800. 
Contact Lorraine Gabbert at [email protected]