WASHINGTON, D.C. — It was an inauguration like no other in history. No massive cheering crowds packed onto the National Mall. No groups could gather inside bars or restaurants to party and pop champagne.
A sense of uncertainty, not celebration, initially hung in the air — but the nation's capital seemed to breathe a collective sigh of relief after President Joe Biden was successfully sworn in on Wednesday without any chaos or violence.
"He's being sworn in," cried out Susan Cordova, as she watched the ceremony from her iPhone while standing with a small crowd at the corner of North Capitol Street and Louisiana Avenue.
Others around her applauded and let out a few cheers, but it was a far cry from the normal fanfare found on Inauguration Day on Capitol Hill. Between the COVID-19 pandemic and the recent deadly attack on the Capitol, many traditional celebrations were nixed.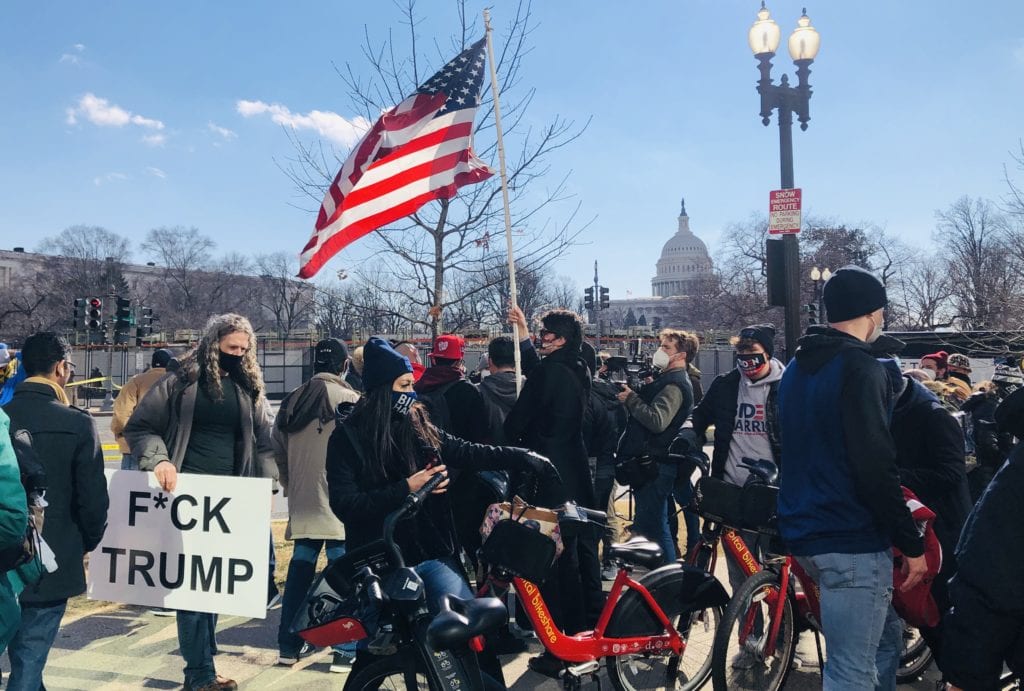 But Cordova was still determined to appreciate the moment.
"It's a celebration and it should not be taken away from the people," said Cordova, who traveled from New Jersey to attend the event. "Before the terrorist attack, I expected a parade and I hoped to actually see a glimpse of Joe Biden. But with God's grace at least I got to be this close."
Biden acknowledged the unique difficulties the nation faces in his inaugural speech. The pandemic has taken more American lives than World War II, he said, and many citizens now feel lost or hopeless.
Domestic terrorists even recently threatened democracy itself, he said. But their efforts ultimately failed.
"On this hallowed ground, where just a few days ago violence sought to shake the Capitol's very foundation, we come together as one nation, under God, indivisible, to carry out the peaceful transfer of power as we have for more than two centuries," Biden said.
Vowing to be a president for all Americans, Biden then urged the nation to come together.
"Unity is the path forward," he said. "We must meet this moment as the United States of America. If we do that, I guarantee you we will not fail."
But while Biden spoke passionately about unity, evidence of the nation's deep divide was all around.
Thousands of National Guard troops patrolled throughout Capitol Hill, which was transformed into a maze of military vehicles, cement barriers, security checkpoints and barbed-wire fencing. The heightened security measures were put in place following the attack on Congress.
Thousands of Trump supporters descended on Washington, D.C., on Jan. 6 in the hopes of overturning the 2020 presidential election. They stormed the Capitol and roamed throughout the halls, vandalizing the building and terrorizing lawmakers and staff. Several people, including a Capitol police officer who was beaten by the mob, died as a result.
Former President Donald Trump was impeached last week for his role in the riot. Trump addressed the crowd prior to the attack, telling his followers Biden's win was an "egregious assault" on democracy. He then urged the mob to march down to the Capitol as members of Congress began tallying Biden's Electoral College victory.
Trump, who has repeatedly made baseless claims of election fraud, did not attend the inauguration.
Cordova hopes this sort of destructive behavior will come to an end under the Biden administration. The last four years were chaotic, she said, and the nation needs steady leadership to help regain a sense of calm.
"We need to work together now as human beings, we can't be yelling and screaming and calling each other names," she said.
After Biden was officially sworn in, more supporters took to the streets to celebrate. Some lingered on the sidewalks, hoping to catch a glimpse of the new president's motorcade. Others waved Biden flags or walked around with signs.
Carlos Soto, who carried a poster that read "End of an Error," drove up from San Antonio to welcome in the new administration. He hopes Biden will work to improve bipartisanship in the coming months.
"(Legislators) need to unite and pass legislation for the people," he said. "The American people are suffering and our representatives need to listen."
Others weren't ready to celebrate just yet.
Julie Taylor, who resides in Washington, D.C., stayed in her apartment as a precaution. Like many residents who were shaken by the deadly Capitol attack, she worried the mob of far-right extremists might return to the city.
But Taylor said she is "cautiously optimistic" about the Biden administration and hopes it will usher in a more peaceful period.
"I think the best we can hope for is getting back to normalcy and some sense of unity amongst Americans," she said.
Inauguration Day eventually came to a close with a thunderous firework display and a performance by singer Katy Perry. The new president and first lady Jill Biden stood together on a White House balcony, watching as the fireworks lit up the National Mall.
Local reaction
Members of the Santa Clara County Democratic Party are looking forward to new leadership, according to Bill James, the organization's chair. He said many were especially excited to see Vice President Kamala Harris breaking down barriers.
Harris, a former senator from California, is the first woman, first Black American and first South Asian American to hold the office of vice president.
"We are struck by the pride expressed by members of the African American and Indian American communities, and the hopeful optimism among women, girls and parents of young daughters, that Vice President Kamala Harris has inspired through her example," James said.
Shane Patrick Connolly, the chairman of the Santa Clara County Republican Party, congratulated Biden and Harris. He acknowledged Republicans would inevitably object to some of their decisions in the coming years. But Connolly said these disagreements should be handled in a respectful manner.
"It is essential that the means that we use to express our opposition are peaceful, well-ordered and respectful of the laws of our nation," he said.
Explaining no politician can be a savior, San Jose Mayor Sam Liccardo cautioned against idealizing Biden or Harris. He said the new leaders will need help from every American as they face unprecedented challenges.
"It's up to all of us to do the hard work of supporting their leadership, and rebuilding our troubled nation in these difficult times," the mayor said. "Let's celebrate this moment to exhale, to unite, and summon our common strength to overcome what still awaits us."
Reporter Carly Wipf contributed to this report.
Contact Katie King at [email protected] or follow @KatieKingCST on Twitter.