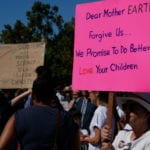 Hundreds of climate protestors marched from Diridon Station to City Hall in a climate strike Friday afternoon, one of dozens of environmental protests planned around the Bay Area.
"We need to save our world," said Devon Johnson, 22. "Nothing's really working, so we need to pull out all the stops. We need to be making this bigger and bigger.
Johnson, who is a member of the Democratic Socialists of America, said San Jose's strike was even bigger than the Women's March and another protest after the president's inauguration.
While it may have been dubbed the Silicon Valley Youth Climate Strike, the South Bay teens and students were joined by families, seniors and even the occasional stroller-bound toddler.
As part of Mothers Out Front, a group dedicated to creating a healthy climate and a livable future for children, Deanna Pursai said she was marching for herself and her two children.
After Al Gore released "An Inconvenient Truth" in 2006, she said she thought the climate issue was obvious and that decision makers would take action. "I love being a mom, but now I feel guilty," Pursai said. "This is going to bring awareness, this is our civic duty."
And they're off! The sheer number of people marching during the #SVClimateStrike demanded a time lapse… @SJSpotlight pic.twitter.com/sdrQDxuclu

— Katie Lauer (@_katielauer) September 20, 2019
From the start at Diridon Station, it took roughly an hour for the last marchers to gather outside the City Hall rotunda. There, they were met by even more protesters, including the Raging Grannies. Singing songs to classic nursery rhymes such as Frère Jacques, they changed the words to help support the occasion.
"We are here in solidarity with the young people," Raging Grannies member Paula Rochelle said. "This is huge. We made a mess, and we have to help you."
Speakers took turns sharing their reasons for marching, listing their demands for political action and outlining next steps to make an impact.
The march joined other protests across the nation and world, timed only a few days after climate activist Greta Thunberg spoke at the United Nations.
Both Assemblymember Ash Kalra and San Jose Mayor Sam Liccardo applauded the crowd's work.
"Thank you for reminding us what democracy looks like," Liccardo said.
After highlighting how his office is tackling climate issues with reach codes and the city's sources of electricity, Liccardo summed up the strike with a quote from cultural anthropologist Margaret Mead:
"Never doubt that a small group of thoughtful, committed citizens can change the world," Liccardo said. "Indeed, it's the only thing that ever has."
Organizers of the Silicon Valley Youth Climate Strike said they're demanding funding for seamless public transportation, electrifying all new construction by 2021, divesting from fossil fuels and including environmental literacy in K-8 curriculum.
"This is very surreal. You could've been going along your day as usual, but you're not," Helen Deng, one of the event's organizers, told the crowd. "We're not going for be the apathetic generation that stands by and watches. The point of disruption is to bring awareness."
Fellow marcher Celeste Knight agreed.
"I think it's important to support the youth-led movements," the 26-year-old said. "I think it's important to have visibility for people to are trying to take action. When you see hundreds of people flooding the streets and all those voices rise up, it'll eventually pass policies.
Contact Katie Lauer at [email protected] or follow @_katielauer on Twitter.