Shifting money from San Jose's police budget to pay for social service workers may be a fierce debate but the two sides agree on one issue.
The city's police officers respond to far too many emergencies for which they lack training such as dealing with homeless people and mental health crises.
"We've been asking for a long time to have more professional help when it deals with members of our community here in some sort of a mental crisis," said Deputy Chief David Tindall at a recent City Council meeting. "Let's face it, forty hours of training, while better than nothing, is not enough."
Better, advocates say, is to de-escalate situations with people under duress, rather than using force that sometimes turns deadly.
In many of more than a dozen police killings in the South Bay since 2003, the victims struggled with mental illness or substance abuse, say organizers at Silicon Valley De-Bug.
But defunding the police — shifting police money to social services — is a non-starter for leaders who say San Jose has too few officers and for police deeply concerned about shrinking their numbers or budget.
Some of the money could pay for trauma therapy, said Rosie Chavez, an organizer with Silicon Valley De-Bug. Police shot her nephew to death in 2017.
"We're never offered any sort of victim program because we're not considered the victims,"  she said.
Mayor Sam Liccardo says the police department is already defunded and has the mostly thinly staffed department of any big city in the nation.
The city has too few police officers for its nearly one million residents, Liccardo has said. San Jose had 1.1 police officers per 1,000 residents in 2018, according to FBI crime data. The ratio was 1.5 per 1,000 in 2008.
Austin, Texas, with a population slightly smaller than San Jose's, had 1.9 police officers per 1,000 residents as of 2018, according to FBI data.
Exodus of officers
Over the past decade, the San Jose Police Department struggled with losing officers threatened with pension cuts and fleeing the region's high cost of living.
A prolonged debate over Measure B in 2012, which cut police pensions sent hundreds of police officers fleeing the force.
Just as San Jose began to recover from that fight — and to refill its police academies — the pandemic hit.
This year, the city faced a $71.6 million budget deficit because of staggering revenue losses when the stay-at-home order sharply cut sales and business tax income, city events, tourism and construction and the San Jose Police Department braced itself to lose millions of dollars.
The 2020-21 police budget is $449 million, which is $15 million less than the 2019-2020 fiscal year, according to city documents.
The other challenge: The powerful police officers union vehemently opposes defunding.
"Defunding the police department is a reckless gamble that will endanger neighborhoods and create thousands of crime victims that will never see justice," said Paul Kelly, president of the San Jose Police Officers Association. "Those advocating for this ill-advised idea should focus on bringing people together to improve outcomes between police officers and the communities we serve instead of fanning the flames of division," he said in a news release.
Public safety vs. reducing trauma
While some councilmembers acknowledged that police bear the brunt of calls better suited for social workers, many said police are ultimately a necessity to ensure public safety, particularly in underserved communities.
"Communities like mine in the city, we need resources, including the police," said Councilmember Maya Esparza, who represents parts of East San Jose. "I believe the priority one wait times … are about 20 minutes, which is not something that residents in the Rose Garden typically have to endure."
FBI data shows that in San Jose, 4,444 violent crimes were reported in 2018 and 1,393 were cleared, which means the cases resulted in an arrest or could not be pursued. Violent crimes include homicide, rape, robbery and aggravated assault.
City leaders also object that they would have no control over social services workers who would work under county and state jurisdiction.
Esparza said that she and the council's other female members sought to expand the police's sex crimes staff in response to an increase in rapes and domestic violence in 2019.
But researchers say that increased policing is not the key to curbing sexual assaults and domestic violence.
"These are social problems that any professor in social work will tell you are not problems that you can solve with a reactionary force,"  said William Armaline, San Jose State associate professor of sociology.
Domestic disputes
Armaline said the same is true about domestic disputes. "Speak to police officers and ask them if they'd like to spend all of their time answering domestic violence calls," he said. "I assure you they will say no."
Calling the police can imperil families in domestic violence disputes, said Esther Peralez-Diekmann, executive director for Next Door Solutions, a nonprofit agency that helps domestic violence victims.
"The experience is so negative that they wouldn't ever engage again with law enforcement," said Peralez-Diekmann, adding that many victims say that police are insensitive to their trauma. "A lot of times the police treat it as if it's not that big of a deal. They say, 'Well, it's he-said-she said. We don't have proof of that. It's your word against his.'"
The dismissiveness makes victims uncomfortable with calling the police again, she said.
The consequences can be more severe. Some are wrongfully arrested, Peralez-Diekmann said, and may plead guilty to a crime they didn't commit. They can lose their jobs and children because of pleading guilty.
"Our clients and survivors who are limited English proficient often don't understand the proceedings," she said.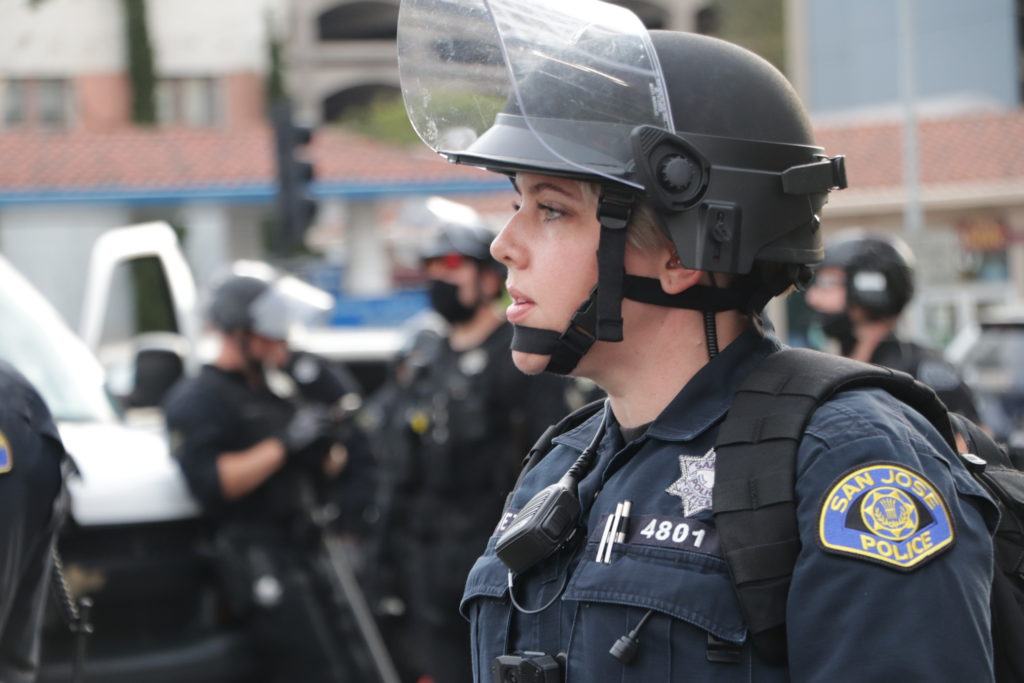 Mental health 
Another defunding target might be several special police units that Silicon Valley De-Bug says trains officers to use deadly force.
Sending police to crises involving mentally ill people leads to violence instead of treatment, the group says. Advocates said South Bay police failed to de-escalate confrontations in which they killed 15 people between 2003 and this year.
Chavez said that San Jose police officers killed her nephew, Jacob Dominguez, after surrounding him with guns drawn and failing to de-escalate the tension. Dominguez was unarmed and under the influence of methamphetamine and PCP.
She said people killed by officers are often struggling with mental health issues. The activists want the city to shift mental health calls to social workers.
"I've worked in mental health, as well as substance abuse counseling," Chavez said. "So, there's other alternatives; there's other ways to engage with somebody who would have a mental health crisis."
Sometimes, though, social workers simply cannot be called on.
"There is no real availability of these caseworkers and professionals during the graveyard shift," said Councilmember Raul Peralez, who used to be a full-time officer with the San Jose police and is now a reserve officer. "I worked 9 p.m. till 7 a.m. the entire eight years."
Crisis teams are available only from 8 a.m. to 8 p.m., said Elizabeth Rangel, a San Jose volunteer with the suicide and crisis hotline at the Santa Clara Valley Medical Center.
At a council meeting, she said many callers break down in tears and panic if police show up at their door.
Often, drug and alcohol abuse induce mental distress, said Mary Crocker Cook, the program coordinator for alcohol and drug studies at San Jose City College.
"If when I'm encountering the police, I'm under the influence, I'm really not able to advocate for myself. I'm not able to talk about what's going on with me in any kind of, you know, helpful or accurate way," Cook said. "And so, then the police are left kind of having to figure out and make a decision based on how much of a disturbance you are to the area where they're encountering you."
Peralez lamented that police officers are taxed with situations they should not have to resolve alone.
"Police officers end up being the safety-net catch-all for all societal failures," Peralez said. "This is shared broadly across the police department's responding to calls like homelessness … We should not be depending on our San Jose police officers to respond to those calls."
Contact Mauricio La Plante at [email protected] or follow @mslaplantenews on Twitter.