San Jose residents could soon see affordable housing crop up in unexpected neighborhoods, thanks to a new policy that will spread out multi-unit developments in the city.
The San Jose City Council voted unanimously Tuesday in favor of a plan that distributes affordable housing development in places near public transit and with upward mobility. City officials promise to come back no later than June 2022 with an update on the results of the policy.
"We know we need affordable housing built at a much higher rate. We know we need it throughout the city," Councilmember Raul Peralez said. "There shouldn't be any neighborhoods exclusive to particular incomes."
Peralez, along with Councilmembers Sergio Jimenez and Maya Esparza, pushed for the policy, saying the city needs to more equitably distribute affordable housing developments for low-income residents. The trio also pushed for redefining the city's "high-crime" neighborhoods in the plan as those with the highest 10% of crime instead of the highest 5%, which—according to the three—leaves out several neighborhoods.
"I wanted to keep it real, to be rooted in experience and realities we face on the ground," Esparza said. "The methodology doesn't fit with the community's experience, it doesn't fit with the police department's experience, and furthermore, it doesn't fit with the city's experience. Many of the communities that suffer from the worst violent crime in my district are excluded."
Mayor Sam Liccardo supports the plan, but has concerns about unintended consequences, including driving up the cost of affordable housing.
"I think this is going to be hard," Liccardo said. "I'm also concerned that we may get to a place where we're finding that we are driving up the cost of building affordable housing, and I know that undermines our efforts just to get affordable housing built… Hopefully what we're going to learn is lots of builders are ready to go and we're ready to fund them."
The move comes amid a housing crisis where the city is still short of building 25,000 homes by its stated goal of 2023 and a housing segregation problem that has split the city along racial and socioeconomic lines—problems the affordable housing siting policy looks to solve.
"It's clear we need more affordable housing in every neighborhood in San Jose," said Aaron Eckhouse, policy manager with California YIMBY. "But we also know housing segregation is worse than when the Fair Housing Act was passed 50 years ago and San Jose itself remains deeply segregated. The proposed policy from staff can advance fair housing in San Jose."
The plan divides San Jose into three categories to prioritize where to build affordable housing based on poverty and crime rates. The policy aims to fund housing in areas with low levels of poverty and crime, as well as affluent areas that currently host a small percentage of affordable homes.
According to a report on the affordable housing plan, the first category includes neighborhoods "associated with upward mobility, educational attainment, physical and mental health and other positive outcomes, especially for children" such as West and North San Jose. Only 9% of the city's planned or already-built affordable homes are located in these affluent areas.
The second category prioritizes areas at high risk of displacement with low levels of poverty and crime, including Alum Rock and Communications Hill. The third category targets areas also at high risk of displacement with more poverty or crime, including downtown San Jose, Monterey Road between Alma and Curtner Avenue and Meadowfair.
Development will mainly focus on the first two categories—what the city calls "resource-rich" areas.
Affordable housing development is historically uneven and focused in the city's least-affordable neighborhoods. Building multi-family housing is difficult too: Just 6% of the city's residential land is zoned for multi-unit homes.
There are also racial disparities between the three categories. White and Asian residents make up 81% of the population in the first, most affluent category, while Latino and Black residents comprise a combined 15%. In the least affluent category, white and Asian residents make up 48% of the population, while Latino and Black residents make up 47%.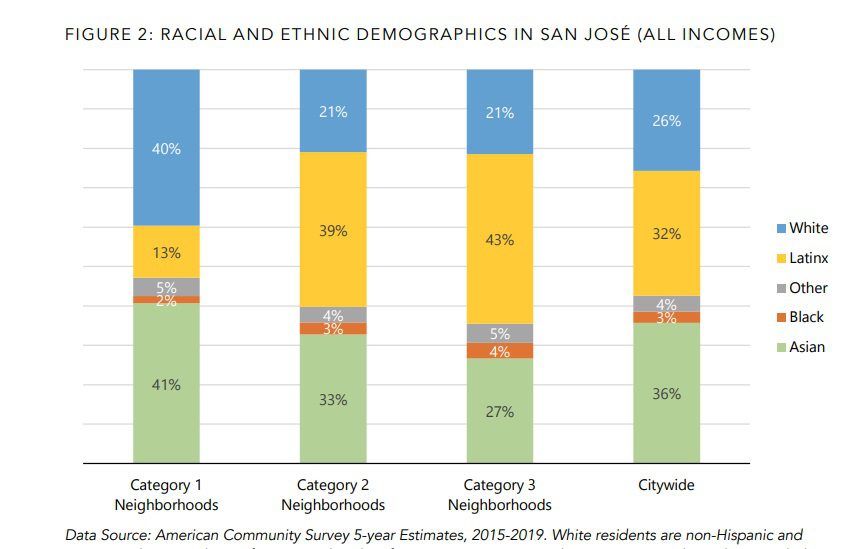 "It is not enough to say we're equity-centered… and then not support policies that undo some of the most racist policies that have created generational poverty," said Councilmember Sylvia Arenas. "We are focused on policy and this is by far one of the most significant and pivotal in undoing some of the racial segregation and creating generational poverty."
Though residents worry that increased development will impact their property rates, those claims are unfounded according to the report. A 10-year research study of 122 low-income developments in San Jose showed the value of homes within 2,000 feet of new housing increased at the same rate as homes further away.
Still, residents and real estate experts worry the policy excludes other types of housing, such as group homes, homeless shelters and temporary transitional housing. Some want the city to differentiate between affordable housing and supportive housing—developments with on-site mental health and supportive services such as Renascent Place.
"What about developments that have supportive housing already? Because we have such a big city and we have different neighborhoods, having three categories makes every category very broad," said Councilmember Dev Davis, adding the categories don't address the needs of residents in supportive housing.
City officials say they're looking into solutions to ensure that resources such as emergency services won't be overloaded with the policy due to emergency calls at supportive housing developments.
"There is a difference between affordable and supportive housing," said resident Tina Morrill. "Supportive housing is unique because of the needs and also the neighborhood impacts. We want to get people housed as quickly as possible, but it needs to be done right."
Contact Lloyd Alaban at [email protected] or follow @lloydalaban on Twitter.