A divided San Jose City Council voted Tuesday to study the effects of a law that's designed to maintain rent-controlled units if a landlord closes down a property and redevelops it.
City elected leaders received an update on San Jose's Rent Stabilization Program, which enforces and implements rent control policies and tenant protections, among other things. A large part of the discussion was focused on one component of the program: the Ellis Act Ordinance.
The city law sets out requirements for landlords who remove rent-controlled units from the rental market. If the landlord redevelops the land, the law requires that the greater of 50 percent of new units or the number of units that were pulled from the market are put back under rent control, which limits rent hikes to five percent every 12 months.
On a split 6-4 vote, the City Council directed staff to study this provision of the Ellis Act. They are expected to bring it back in March with the Housing Crisis Action Plan update. Councilmembers Sergio Jimenez, Raul Peralez, Magdalena Carrasco and Sylvia Arenas dissented, while Maya Esparza recused herself because she lives in a rent control apartment.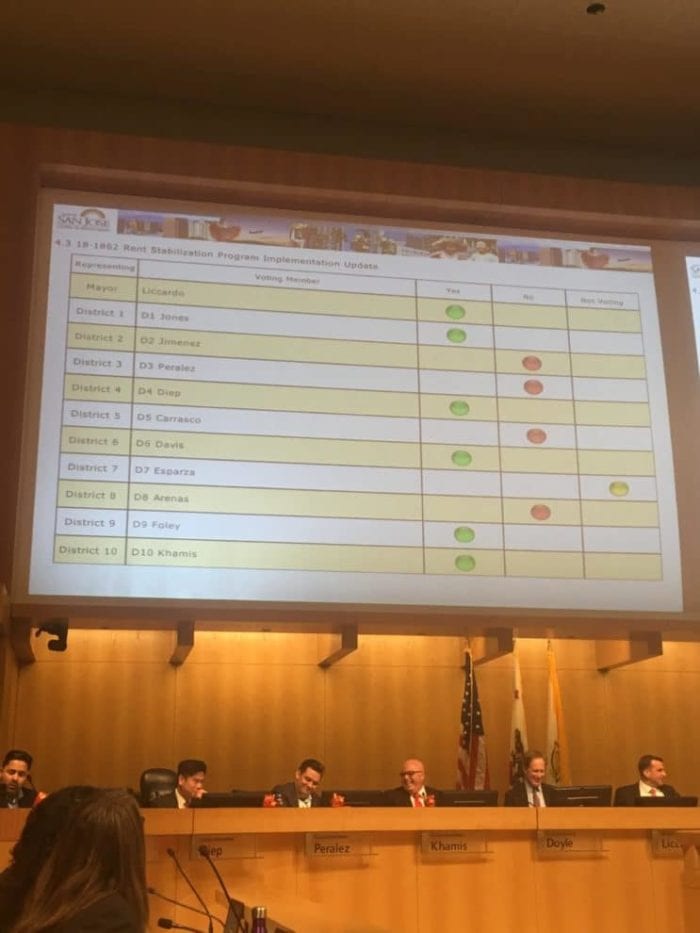 Mayor Sam Liccardo, who led the push to study the policy, said the restriction may possibly be hurting housing production in San Jose. The mayor said he's heard of developers not moving forward with housing projects potentially because of the Ellis Act ordinance.
Liccardo, along with Vice Mayor Chappie Jones, submitted a memo ahead of the meeting asking staff to find out whether the re-control provision was making new housing projects "infeasible."
City leaders said at least 18 housing projects stalled because of the "uncertainty" of San Jose's rent control laws and the council's ability to make changes on any given Tuesday.
"It's not our job to ensure developers make money or property owners make money," Liccardo said. "It is our job to ensure that someone gets a shot to get around to build housing."
Liccardo said he knew of at least three housing projects negatively impacted by the law. But the city's housing director Jacky Morales-Ferrand said that the department can't say whether the projects Liccardo referred to didn't move forward because of the Ellis Act ordinance.
"Ellis is designed to make developers pay," she said. "But is this Ellis ordinance designed so it's acting as a barrier? Is it the fundamental reason that development is not going forward is the question."
A slew of residents spoke out against weakening the Ellis Act ordinance and reducing tenant protections.
"If council reduces the requirements under the Ellis Act ordinance, we are incentivizing developers to demolish more naturally occurring affordable housing and issue more evictions of our seniors and working families," said Jeffrey Buchanan, the director of public policy at Working Partnerships USA.
Sandy Perry, one of the eight individuals arrested at a City Council meeting in December after councilmembers approved selling public land to Google, said he was concerned about the council rolling back their "commitment to prevent displacement" after last year's Google vote.
"Only two months later they are walking their commitment back," he said. "They are breaking faith with people that are already skeptical about their treatment of San Jose's low-income and minority communities."
Despite the concerns about displacement and evictions, Liccardo stayed on the bigger picture: Increasing the city's housing stock.
"Even if you believe that the purpose of the Ellis Act is to prevent anyone from getting moved," the mayor said, "I believe that runs counter to our neutral goal which is getting more housing built."
Arenas' main complaint was the 'infeasibility' component. She voiced concern that calling it that would direct staff to find more problems with the Ellis Act ordinance – not solutions. Carrasco echoed a similar sentiment against weakening tenant protections.
"I don't think that anyone here is not concerned with the housing stock or how we can encourage more development," Carrasco said. "I think we all want that, but this isn't the direction we should be going in."
Thousands of new affordable units
On Monday, San Jose's Housing Department announced that it had dedicated $100 million to build 1,144 affordable units. Just a day later at the Feb. 5 City Council meeting, the council made a commitment for additional funding for 249 of those units.
The three developments, located on Page, North 21st and Balbach streets, are the first wave of 11 new affordable housing projects. If all 11 move forward, it will push the city over 20 percent of the way to meeting its goal of building 10,000 new affordable units by 2022. So far, there are 946 units completed, under construction or in predevelopment that go toward the goal set by Mayor Sam Liccardo and the Council in 2017.
"We're very excited to get this investment moving and for the council to see these three new developments," Morales-Ferrand said Tuesday. "We do know we have a housing crisis and we need to invest more and build more and this is moving the city in the right direction."
With a monetary commitment from San Jose secured, the city can now apply for up to $48 million in grants from the state's Affordable Housing and Sustainable Communities Program. According to city documents, the money will, "help fund the design and construction of affordable housing, sustainable transportation infrastructure and urban greening at each site."
The developers of the Page and North 21st streets development also secured Measure A funds – a $950 million bond housing bond approved by county voters in 2016 – last year via the approval of the Santa Clara County Board of Supervisors
Contact Grace Hase at [email protected] or follow her @grace_hase on Twitter.
Photo Caption: A potential affordable housing development on Page Street, above, is one of the projects Council committed to dedicate funding to at its Feb. 5 meeting. Photo Courtesy of San Jose Housing Department.