The Thomas Fallon statue in downtown San Jose is riding off into the sunset and into storage.
The San Jose City Council voted unanimously Tuesday to remove the bronze sculpture, which sits atop a three-foot concrete pedestal at the downtown intersection of Julian and St. James streets. It depicts Capt. Thomas Fallon raising the U.S. flag in San Jose in 1846, on what was then Mexican land. The monument has been divisive from the start.
"I'm much less concerned about the deaccession of the statue and more concerned about where we go from here," Mayor Sam Liccardo said. "We critically need to focus our energy on what we build and not what we tear down. We have many critical priorities we need to focus on… and we need a community that is unified."
Councilmember Maya Esparza said the statue memorializes a deeply offensive example of systemic racism.
"This is a culmination of three decades of many members of our community, in particular our Latino and indigenous communities, voicing the pain this statue has caused," she said. "I'm glad we're finally at a point where we're listening to those voices and taking a look at whose history we are celebrating and how."
Many see Fallon as a colonizer and oppressor, including Gabriela Chavez-Lopez, president of the Latina Coalition of Silicon Valley. "It's not just a statue, it's the symbolism and legacy tied to it; colonialism, white supremacy, patriarchy and the obliteration of indigenous peoples and their land through history," she said.
For 30 years, community protests have swirled around the statue, which some residents say represents colonialism and oppression. Emotions surrounding it came to a boil during the summer of 2020 amid Black Lives Matter protests. The statue has been burnt, tagged and painted red to symbolize the blood on Fallon's hands during the Mexican American War. Since May 2020, city officials say the statue has been vandalized on a weekly basis.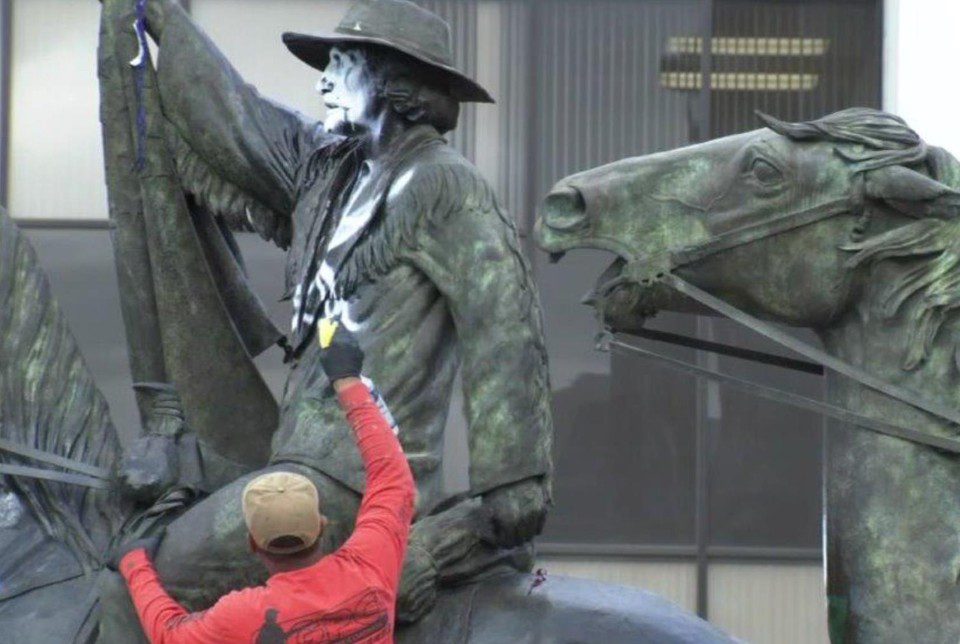 Liccardo said in February he supported the removal of the Thomas Fallon statue as the debate about it reopened old wounds and deepened divides. The city's Arts Commission voted unanimously in October to take it down. In May, the Public Art Committee suggested putting the sculpture in storage.
Councilmember Raul Peralez said people should embrace dialogue around history — both good and bad — but Fallon was not someone who deserves this honor.
"We get to decide what parts of our history we will honor or memorialize," he said, "especially in such a grand fashion as public statues like this one."
Councilmember Matt Mahan said while he doesn't support removing public art because it can't be protected from vandalism, many residents experience pain rooted in a legacy of racial injustice.
"It's enough that so many San Joseans feel less welcome in their own city because of this statue," he said, adding that the work of healing the community and empowering those who have been traditionally marginalized must continue.
But not everyone shares these views. Resident Gayle Frank said she protests the removal of the Fallon statue and wants to see it relocated and used educationally. 
"It's a sad day in San Jose when a statue is removed that documents the significant step when San Jose formally joined the United States… without a battle or bloodshed," she said.
Some residents and councilmembers called for the statue to be melted down or shipped to the artist—and to erect a statue of indigenous or Latino people in its place. The federal Visual Artists Rights Act protects the rights of artists and their works, and melting the statue would go against the spirit of the city's office of cultural affairs, said Kerry Adams Hapner, director of cultural affairs.
Councilmember Dev Davis said melting it down would be giving in to mob mentality, rather than honoring the pain people felt "for which there is no recompense." She said one good thing that came of the sculpture's controversy was healthy discussion.
"This statue has kept this part of our history alive… and allowed for these conversations, which I think are important to have," she said.
The estimated cost for the removal and relocation of the 12,000-pound, 16-foot bronze statue to storage is $175,000.The statue meets the three removal requirements from San Jose's public art collection. It has experienced significant adverse public reaction for an extended period. Its security cannot be guaranteed, and it requires excessive maintenance.
Chavez-Lopez said there is a historic legacy tied to the figure and it shouldn't be in public view on a pedestal.
"As we evolve and time goes on, it's important to question if its history is something to celebrate," she told San José Spotlight. "Especially if it doesn't reflect our values or where we are as a society."
Contact Lorraine Gabbert at [email protected]