Santa Clara Mayor Lisa Gillmor is facing scrutiny and ethical questions from her colleagues after she lobbied Gov. Gavin Newsom to help a major developer skirt paying higher wages—months before the firm began a spending spree to support her reelection.
The Santa Clara City Council voted 6-1 to direct its governance committee to discuss whether councilmembers should be notified before a letter is sent with their names on it. Councilmember Kathy Watanabe, a Gillmor ally, dissented.
San José Spotlight first revealed last month that Gillmor wrote a letter to Newsom in March advocating that Related Companies, which is developing a massive $8 billion mixed-use project in Santa Clara, should not be required to pay prevailing wages to workers on the project. The mayor indirectly asked the governor to intervene with a request from a painters union fighting for prevailing wages.
Six months after Gillmor wrote the letter, Related formed a campaign committee and funded it with $250,000 as of Oct. 3 to help Gillmor win reelection against Councilmember Anthony Becker. The committee has spent $200,000 on television and online ads, as well as polling, campaign finance records show.
In response to San José Spotlight's reporting, Becker last week called for a report from the city about Gillmor's actions to be heard at Tuesday's council meeting. Becker said the full council was never consulted about Gillmor's letter.
"I want to know why the mayor went over our heads. Why did (she) write a letter to the governor asking basically for a favor on one of the biggest projects in the city's history?" Becker told San José Spotlight.
At the meeting, Becker said residents asked him about the letter and he was in the dark about it.
"It's disturbing to see it was used on a city letterhead, including the city seal as well as the city council and my name included. It makes it feel like the whole entire city council was in lockstep or in agreement with this," he said.
Councilmember Raj Chahal said the council was "blindsided" by the letter. Councilmembers Suds Jain and Kevin Park raised questions about the optics of the mayor writing a letter that aims to benefit a developer who is a significant supporter of her campaign.
"I think Related has made it very clear that they don't want people to think it was a quid pro quo. But it's really hard to see differently. It's hard to ignore the facts," Park said at the meeting.
Gillmor claimed the letter was only written to encourage a decision to be made quickly. She did not address her opposition to the union's claims.
"That was really the content of the letter, asking Gov. Newsom if he could help us to urge the Department of Industrial Relations just to make a decision," Gillmor said. "Pure and simple, that was it. Nothing nefarious, nothing underhanded. That's what was done."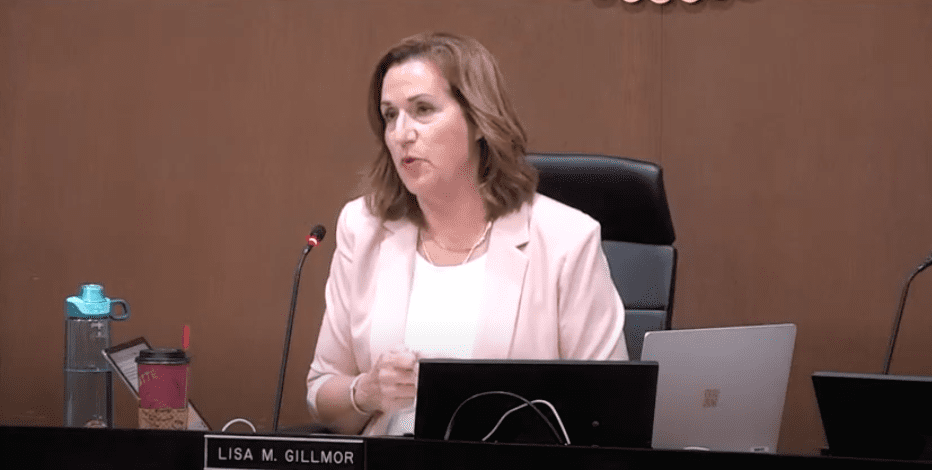 Waiting to be built
Related, an international developer and real estate firm, has roughly $60 billion in assets, the company says. Its Santa Clara project, approved in 2016, hasn't yet broken ground due to delays from lawsuits and the pandemic.
In July 2020, the International Union of Painters and Allied Trades, District Council 16—which represents workers in Northern California and Nevada—filed a request with the California Department of Industrial Relations, asking its director to deem the Related development as a public works project, which would require workers be paid prevailing wages.
The union said the Related development should be considered a public works project because the city is expected to build  $145 million worth of infrastructure to support it, including a new electrical substation, roads and sidewalks, among other contributions. Union leaders also say Related is getting rent discounts on the city-owned land, as well as a favorable deal on development fees. A decision has not been made yet by the department director.
In the letter to Newsom, Gillmor argued against the union's characterization of the project.
"I was heavily involved in the review and approvals for this project and I can assure you that Related Santa Clara did not receive discounts on the fair market value of the lease and nothing in the rent structure suggests this project is a public work that would be subject to California's Prevailing Wage Law," Gillmor wrote.
She also expressed concerns about possible delays to the project prompted by the complaint.
During the meeting, several contractors voiced support for the project. Stephen Eimer, an executive vice president at Related who was copied on Gillmor's letter to Newsom, said misinformation is spreading about the project.
"The project will create up to 10,000 union jobs, equating to over $1 billion dollars in union wages over the life of its construction," Eimer told the council. He said the first phase of the project has already awarded more than $300 million in construction contracts to "100% union contractors."
But Jain said Related hasn't made clear commitments about the remaining four phases of the project.
"I think it's a little deceptive to say the first phase is going to be 100% union and get all the unions on board to support it, but not have any commitments to the other phases," he said.
Gillmor, who did not respond to multiple requests for comment, said at the meeting she was glad to have her side of the story told.
"Do I support prevailing wage? Of course I do, I always have and I always will, on all our projects in the city of Santa Clara," she said. "And the letter really clearly states that. But it's really being overlooked. What I wrote is being overlooked for political reasons."
City Attorney Steve Ngo said the letter falls under the mayor's authority to act as a spokesperson for the city and there's no legal wrongdoing.
Park said he "vehemently" disagreed with the city attorney's assessment of the letter.
"This was not a statement about city position, this was a request," he said. "This goes beyond being the spokesperson for the city."
Contact Joseph Geha at [email protected] or @josephgeha16 on Twitter.
Editor's Note: In response to this article, Related's lawyers sent a letter to San José Spotlight demanding it make certain changes to this article. This news organization declines to make changes, but invites its readers to consider the arguments made by Related's lawyers.