Tensions between teachers and a local school district are boiling over as disputes over pay increases continue.
Last week, teachers in the Campbell Union High School District presented the school board with a vote of no confidence in Superintendent Robert Bravo, detailing his shortcomings during his five-year tenure. The vote, signed by 380 teachers—85% of all district educators—came after years of teachers feeling unvalued and dissatisfied with district leadership, according to the Campbell High School Teachers Association.
Listed among the grievances against Bravo was how he failed to listen to teachers' concerns and allowed the board president to insinuate educators lied about getting their pay cut in a districtwide letter in October.
The union said the district leadership's refusal to listen or talk to teachers is driving them away. A survey done by the union shows more than 70 district teachers have considered leaving because of their frustration with the leadership and low pay.
"Teachers have been upset for a long time," Prospect High School teacher and union President Kim McCarthy told San José Spotlight. "It wasn't simply a bargaining tactic."
Bravo did not respond to multiple inquiries about the teachers' claims.
In response to the no confidence vote, the board unanimously voted on Nov. 4 to extend the superintendent's contract by a year—a vote some teachers called "a slap in the face."
"People were dismayed that the board decided to go ahead with a vote," McCarthy said. "The board took action without any discussion, no context, no rationale."
Board President Kalen Gallagher defended the board's decision this week.
"The board has full faith and confidence in Dr. Bravo's leadership," Gallagher told San José Spotlight. "His leadership has been key in helping us outpace our neighboring districts and improving our student outcomes and revamping our schools."
Broken trust
The Campbell Union High School District and its teachers have been at odds for months over how much teachers should be paid this school year. The teachers union wants the administration to give educators a $5,000 base increase and a 4% additional raise, citing increases in cost of living. The district says the dollars are not in the budget.
The union and the district reached an impasse in late September, forcing contract negotiations with a state mediator next Monday.
For many teachers, the trust is gone.
"It's not just about the money. It's so much about the disrespect and the lack of feeling valued in this district," said Nick Cortez, a union bargaining chair and teacher at Branham High School. "I love my students, and I still love my job, but there's no good feelings for the people at the higher echelons in this district."
Teachers are polishing their resumes and requesting letters of recommendation to start job hunting, union officials said.
"They're just plain fed up," Cortez added.
In 2019, the school district and union entered a three-year contract that gave teachers a one-time $4,000 bonus the first year and a one-time $5,000 bonus the second year. Teachers' pay for this current school year was left undecided while the district worked to pass a parcel tax which failed twice in 2020.
According to the contract, teachers were to get a $4,000 to $8,000 salary increase with a parcel tax. If the parcel tax failed, teachers would receive a permanent pay increase of $4,000.
Now, Campbell teachers want the district to increase base pay by $5,000, on top of a 4% raise. The proposal totals roughly $8,700 per teacher.
"(Four percent) doesn't even keep us up to pace with the cost of living in this area," Cortez said. "We have members that can't afford necessary medical equipment, medicines, food. They can't pay basic bills."
Voters in two neighboring school districts approved ballot measures to extend parcel taxes earlier this month. Some of that funding is expected to pay for teachers.
Little hope for solutions
The Campbell Union High School District agreed to increase salaries by $5,000, but countered with an additional bonus of $2,500 and no cost of living adjustment. Under the district's proposal, teachers would get a $7,500 pay increase, but the base salary next year would start at a lower rate than what the union is asking for.
"We want to give our teachers a raise," Gallagher said. "But we simply do not have that much money. We can't afford to do that without making very drastic cuts to student programs."
The district is sitting on roughly $48 million in reserve funds, officials said. It saved money from last year's distance learning and received more than $20 million from the state and federal government during the pandemic.
The dispute has prompted months of picketing by teachers, who have flooded school board meetings in red shirts with "Ask me about my pay cut" pins since October.
"The board's not interested in personal attacks or yelling and screaming," Gallagher said. "Our goal is to stay civil, to sit down and hash it out."
Union officials said they are not hopeful the district will settle the matter next week.
"There's one small part of me that hopes that the district will bring something reasonable to the table," McCarthy said. "But if the past is any indicator of what will happen, then it's a very small amount of hope."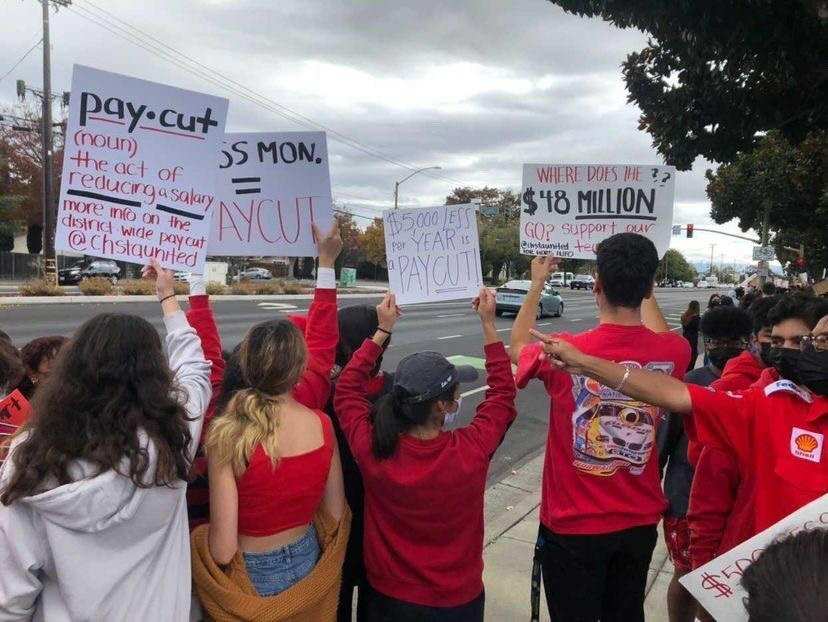 The teachers are not without allies. Hundreds of students at Prospect, Branham, Leigh, Del Mar and Westmont high schools also staged a walkout in solidarity with their teachers in late October.
Angela LeDrew, a junior at Prospect High School who helped organized the walkout, started an online petition in support of Campbell teachers. The petition has garnered more than 24,000 signatures as of this week.
"The more research I did, the more I felt betrayed by the board," LeDrew said. "It's been really disheartening to see that they don't value our teachers as much as they should."
Contact Tran Nguyen at [email protected] or follow @nguyenntrann on Twitter.