After seeing a spike in COVID-19 cases, Santa Clara County officials announced they are rolling back indoor activities and likely moving back into the stricter red tier.
Santa Clara County Public Health Officer Dr. Sara Cody said the county has recorded 362 new cases within one day on Nov. 13 and has at least 110 people hospitalized. November's COVID-19 case counts already have doubled those of October, the county said.
"Unfortunately I think our trends are not headed in a favorable direction for us," Cody said. "And similar to in March, when we had a rapid increase in cases, we may be needing to take additional restrictions quickly."
Indoor activities, such as dining and going to movie theaters and bowling alleys, will cease under the county's new health order starting Nov. 17, said County Counsel James Williams. Wineries, card rooms and restaurants can continue doing business outdoors.
Shopping malls, general retail and critical infrastructure sectors will have to limit capacity to 50% and fitness centers must limit capacity to 10%.
Cody noted the trends in the county are matching those around the Bay Area and several parts of California and the United States.
"These are extraordinarily difficult decisions to make," Cody said. "However, our first priority is always to protect the public's health. And the way that we do that is by preventing spread of this virus."
Supervisor Cindy Chavez doubled down on the need to order closures around the county in response to the soaring case numbers.
"These numbers are going in the wrong direction and when I say numbers, I'm talking about people," Chavez said. "We have more people in our community getting sick. We have more people in our community getting in the hospital and we have more people, more members of our community, dying."
Health officials said they saw 358 new COVID-19 cases reported Nov. 8, second only to the record 385 cases reported on July 15, and the infections are primarily with 18- to 34-year-olds.
"It's a bummer," said Ralph Rajs of Forma Gym in San Jose. "We have to comply with the rules given to us if we like them or not."
He said the gym has been working to keep people exercising in a safe environment. They were previously allowed 25% capacity indoors for Pilates classes and machines.
"We could spread people out," he said, using both indoor and outdoor space. He admitted it would be a challenge in winter and said he is looking at bringing in heat blowers like the ones used at construction sites.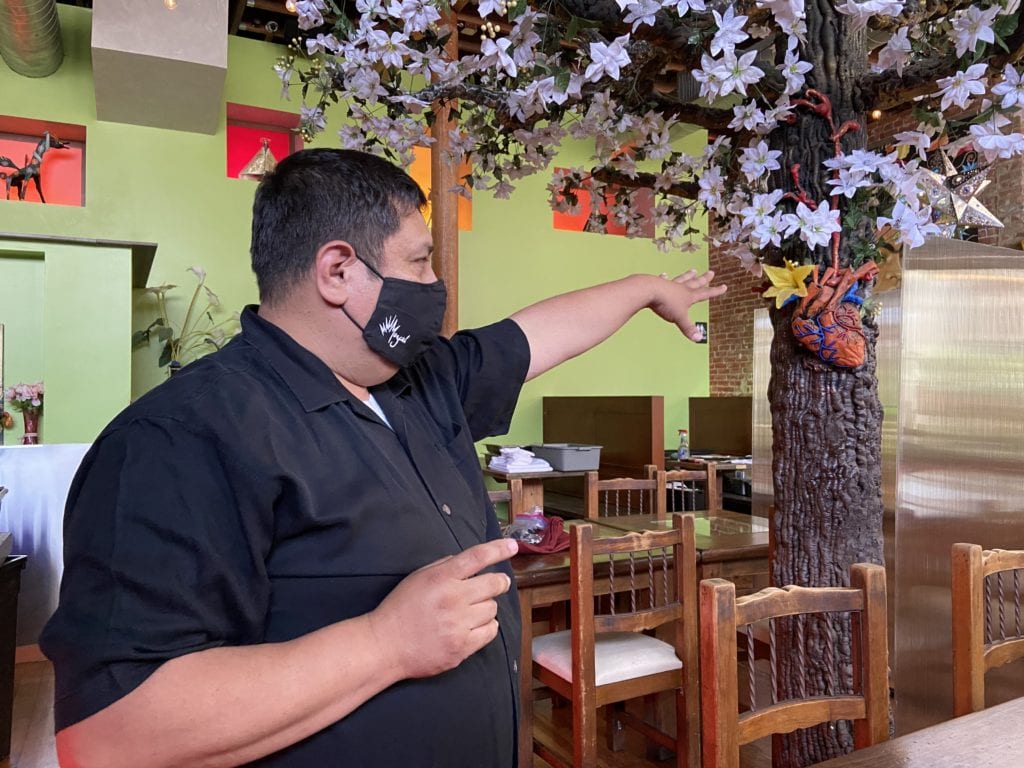 Adolfo Gómez, the owner of San Jose restaurant Mezcal, said restaurants were counting on indoor dining with impending rain, wind and cold temperatures during winter.
"This is a big blow," Gomez said. "We're losing the patios because it's too cold and now we're closing inside dining because of infection rates."
The downtown restaurant owner said he would lose half his business by closing indoors, where his staff was serving six tables at 25% capacity.
He said he is lucky to have a patio with rain coverings and heaters, but noted for restaurants on San Pedro Square and First Street, it will be really hard as the weather turns colder.
"Bring your jackets or blankets or order to go," Gomez said. "And hopefully we can save some businesses."
This story will be updated.
Lorraine Gabbert contributed to this story.
Contact Mauricio La Plante at [email protected] or follow @mslaplantenews on Twitter.