Housing returned as a priority – in many forms – during the Santa Clara County Board of Supervisors first meeting of 2020.
The board this week voiced support for building permanent supportive housing on the county's government campus in San Jose for survivors of domestic violence.
The project would be near the old San Jose City Hall, which has been at the center of a heated debate involving homeless activists and county officials. Advocates pushed to renovate the former City Hall annex and use it for a homeless shelter, but county leaders said the building was not a viable long-term housing solution and voted to demolish it and build a temporary parking lot instead.
But now the county will study the possibility of building supportive housing for domestic violence survivors on or near the site.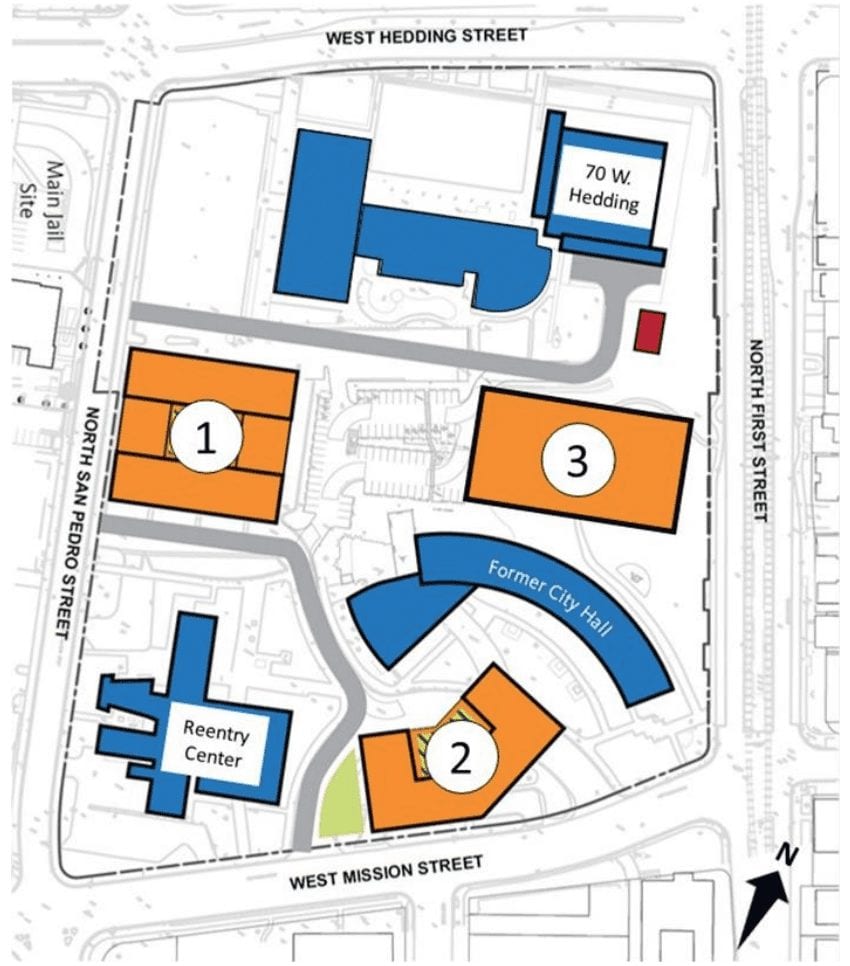 In three possible plans, location 1 on San Pedro Street would offer around 100 units, but would sacrifice 270 parking spaces. Location 2 on West Mission Street would offer 80 units and remove 65 parking spots. Location 3 on North 1st Street would offer around 100 units.
Santa Clara County Office of Supportive Housing director Ky Le said the results of a feasibility study on the plans should be released in April.
Newly-appointed Board President Cindy Chavez stressed the importance of creating a detailed timeline to get the ball rolling for the project, including gathering neighborhood feedback. County officials hope to assemble a development team by March and submit an application to San Jose for the project within three to six months. Construction would end in late 2024.
"We said we're going to be urgent, we're going to have a solution and we're going to do it quickly," Chavez said.
If approved, the plan discussed Tuesday would be the first development aimed specifically at supporting domestic abuse survivors, joining a list of more than 1,600 new permanent homes already funded by the county.
The need for housing for this vulnerable population is critical, according to recent reports. The county's 2019 homeless census reported 27 percent of homeless individuals have experienced domestic violence, while a 2018 county report on women experiencing homelessness said 18 percent listed intimate partner violence as a primary cause of their homelessness.
Furthermore, 39 percent said they returned to a home where they previously experienced violence or felt unsafe because they had no other options.
Huascar Castro, a policy associate with [email protected], said the proposed location would prove vital to achieving needed specialized support and protection.
"We commend the idea of planning supportive housing specifically for domestic violence survivors near crucial services offered by the county, law enforcement, as well as an in-depth set of wraparound services to be offered on site of the development," Castro said. "Many victims of domestic violence and their families are in extremely vulnerable states and are desperately looking for housing opportunities, but they can also achieve the proper assistance to move on with their lives."
Safe Parking Programs
In another effort to make a dent in the region's intractable homeless problem, Santa Clara County could soon develop a safe parking program for people living in their cars, as per a proposal from Supervisor Joe Simitian.
This year's homeless census found 18 percent of the county's unhoused residents live in vehicles – up from 8 percent in 2015 and 2017.
"I think safe parking has the potential to be a big piece of the solution we're seeking," Simitian said. "The challenges are different from community to community and location to location, but if we don't have a significant number of sites that are open 24 hours a day, the program will always have significant limitations."
County lawmakers Tuesday unanimously approved a plan to look for funding and sites for a safe parking program.
Simitian said many neighboring cities, such as San Jose, Mountain View and Morgan Hill, already have safe parking ordinances but are now running into concerns such as coordinating liability coverage. He hopes Santa Clara County can find solutions to those problems.
IdaRose Sylvester, chair of the Mountain View Human Relations Commission, said she supports the county and cities working together on safe parking measures.
"It's necessary that we work together, because it's not the county's problem," Sylvester said Tuesday, mentioning that collaboration would help ease property owners' concerns of safety and liability, which are considered speed bumps to safe parking efforts.
Public Safety Power Shutoffs
The board this week also discussed improved communication during PG&E's planned power shutoffs, which plagued the county last year.
According to county administrators, 322,667 people were reached prior to the planned blackouts, while more than a million people countywide were contacted during the power shutoffs.
Supervisor Susan Ellenberg asked how the county is reaching low-income residents during the power shutoffs. Deputy County Executive Garry Herceg said there's no specific way to reach those communities, but said the Office of Emergency Services now has a public information officer and will host community meetings.
Contact Katie Lauer at [email protected] or follow @_katielauer on Twitter.