South Bay leaders on Thursday applauded the U.S. Supreme Court ruling that narrowly upheld the Deferred Action for Childhood Arrivals (DACA), providing relief to hundreds of thousands of people brought to the country illegally or lost their legal status as children.
With conservative Chief Justice John Roberts providing the majority opinion alongside the liberal minority of judges, the 5-4 court decision blocks the Trump administration's 2017 move to end the Obama-era program, which shields some 650,000 DACA recipients from deportation through two-year renewable visas. The nation's highest court ruled against President Donald Trump's plan to end DACA for a legislative fix, on the basis that the Department of Homeland Security failed to adequately comply with federal administrative procedures. Despite the decision, DACA does not provide a path to citizenship.
"We do not decide whether DACA or its rescission are sound policies," Roberts wrote in his opinion. "We address only whether the agency complied with the procedural requirement that it provide a reasoned explanation for its action. Here the agency failed to consider the conspicuous issues of whether to retain forbearance and what if anything to do about the hardship to DACA recipients."
More than a quarter of the country's 650,000 DACA recipients live in California. In Santa Clara County, 23,000 people qualify for the program, with 15,000 residents immediately eligible, according to a a 2016 Migration Policy Institute study. Santa Clara County had the nation's 12th largest DACA-eligible population by county.
Locally, immigrant rights advocates, lawmakers and undocumented residents — who work in all sectors of Silicon Valley's economy — breathed a sigh of relief.
Mario Lopez, a 32-year-old DACA recipient who works on housing policy for Silicon Valley At Home's action fund, had just woken up when he found out about the decision. Brought to the U.S. as a 4-year-old from Mexico City, he said he had loosely followed nearly three years of the DACA court battle.
"It's a big weight off my shoulders, and everybody's shoulders," Lopez told San José Spotlight. "It's a big win for our immigrant families. I feel, to a certain extent, validated as a person, and also seen."
Along with the University of California Regents included in the Supreme Court case with the NAACP, the city of San Jose and Santa Clara County had also sued Trump in 2017 for rescinding DACA. In the complaint, the county said 38% of its residents are foreign born, the highest percentage of foreign-born residents of all counties in California.
"The Supreme Court was on the right side of history with this landmark case, putting the onus on the Trump administration to provide a reasoned explanation should they choose to end DACA," Supervisor Dave Cortese said in a statement. "The DACA program represents a lifeline for hundreds and thousands of our youth here in Santa Clara County."
We are elated for our brothers & sisters and will continue the fight so that all 11.3 mil immigrants continue to live without fear! Join us today for rallies across the state to rejoice & continue the fight for racial & immigrant justice! #DACALIVES #undocumentedandunafraid #BLM pic.twitter.com/wFSd0uUuTm

— SIREN Immigrant Rights (@SIREN_BayArea) June 18, 2020
Lower courts have stifled Trump's actions and upheld the program, but the administration appealed the case to the Supreme Court, which heard oral arguments in November but hadn't yet issued a ruling. However, advocates had worried a decision would be issued amid the novel coronavirus pandemic, with particular concerns justices would move to end the program.
The effects of ending DACA amid the pandemic, advocates said, would have disastrous implications for families, employers and the immigration system itself. Some 27,000 recipients are employed in health care, according to the Center for American Progress, a liberal think tank. Nearly all of DACA recipients are employed, more than 90 percent, while 45 percent are in school, according to the Washington Post, citing a government study.
"Today's ruling was a step in the right direction for our communities," said Maricela Gutiérrez, executive director of the Bay Area immigrant rights group SIREN, in a statement. "This is one of the many attacks on immigrants by this administration, and while DACA was a good start, we need Congress to find a permanent solution for DACA recipients, their siblings, and their parents by passing a clean version of the DREAM Act," referring to the Development, Relief and Education for Alien Minors, a federal proposal that offered many of the same proposals as DACA but was never passed by lawmakers.
Anna Sampaio, chair of Santa Clara University's ethnic studies department and a political science professor, said Thursday's decision came as a surprise given the conservative leaning of the Supreme Court and previous decisions in favor of executive powers for homeland security protections and restrictions. Citing Roberts' opinion, she said the ruling simply addresses a procedural question.
"This decision is important because it staves off one of the worst circumstances from happening, which is ending DACA and targeting those individuals for deportation," Sampaio said. "But what it doesn't do is advance DACA and a pathway for citizenship for some 700,000 recipients. It doesn't do the more progressive positive work, it simply ends a worst case scenario."
If the Trump administration decides to issue a new proposal to end DACA, it would take months of review and implementation, likely stretching past the November presidential election. But even amid current racial justice movements, Sampaio said immigration reform would be difficult to pass, especially under a Republican-controlled Senate that has historically blocked previous legislative attempts. Trump has already made immigration a campaign issue as well.
"All indications are he wouldn't sign it, especially heading into an election cycle where he's going to use immigration as red meat for his base," Sampaio said.
'A rollercoaster of uncertainty'
Every Monday, Wednesday and sometimes Friday for the last few weeks, San Jose-based journalist Elizabeth Rodriguez woke up early anticipating a Supreme Court decision, the typical days for rulings. Thursday wasn't expected for a DACA decision, so she'd slept in.
But the 28-year-old DACA recipient received an Associated Press alert and immediately opened Twitter. She ran to her living room to tell her mom and put on Spanish language news television. When Rodriguez saw an interviewee cry, she too cried.
"We've all been living in anxiety and uncertainty because we don't know what's going to happen," Rodriguez, who was brought to the U.S. from Mexico as a 1-year-old, told San José Spotlight. "But then today, everything changed. It has been a rollercoaster — a rollercoaster of uncertainty and a rollercoaster of emotions of what's going to happen."
While Rodriguez knew she was undocumented growing up, she didn't know what it meant until she applied for financial aid to go to college in 2011 as she got set to graduate from Lincoln High School.
Receiving DACA after President Barack Obama issued the June 2012 executive action required months of preparation, money and providing proof that Rodriguez was in the U.S. It turns out she went to a One Direction concert at San Jose State's Event Center Arena and used a Facebook post as proof.
With DACA, she got a job, a bank account and then a car. In 2019, she graduated from San Jose State majoring in journalism with a political science minor. The possibilities for her are endless, she says. But more needs to be done.
"We still need to be recognized as American citizens, especially now that people know what we contribute to this country," Rodriguez said.
After #SCOTUS released its decision to uphold #DACA, a handful of recipients spoke alongside @SCCgov leaders and lawyers about reactions and next steps.

Kevin Gaytan, 26, works in the Office of Cultural Competency, and is now planning to pursue a Masters at SJSU. @SJSpotlight pic.twitter.com/3zTeJPYXDC

— Katie Lauer (@_katielauer) June 18, 2020
Kevin Gaytan, a social worker with the county's Office of Cultural Competency who now works on COVID-19 relief, said his status as a DACA recipient doesn't define him. The 26-year-old said Thursday's decision means he can now pursue his plans to earn a Master's degree at San Jose State.
"Today I stand before you proud, undocumented and unafraid," Gaytan said. "Because of today's decision, the Supreme Court has said we will support undocumented doctors, lawyers, people in our communities that promote the wellness of our communities. DACA recipients are tethered to the fabric of this nation – we are essential."
Kevin Lee, a senior policy aide for Cortese, is also a DACA recipient after moving to the U.S. from Korea at the age of 5. He was part of the first cohort of the county's New Americans Fellowship in 2017, an effort spearheaded by Cortese that hires DACA recipients directly – a program Lee called "life changing."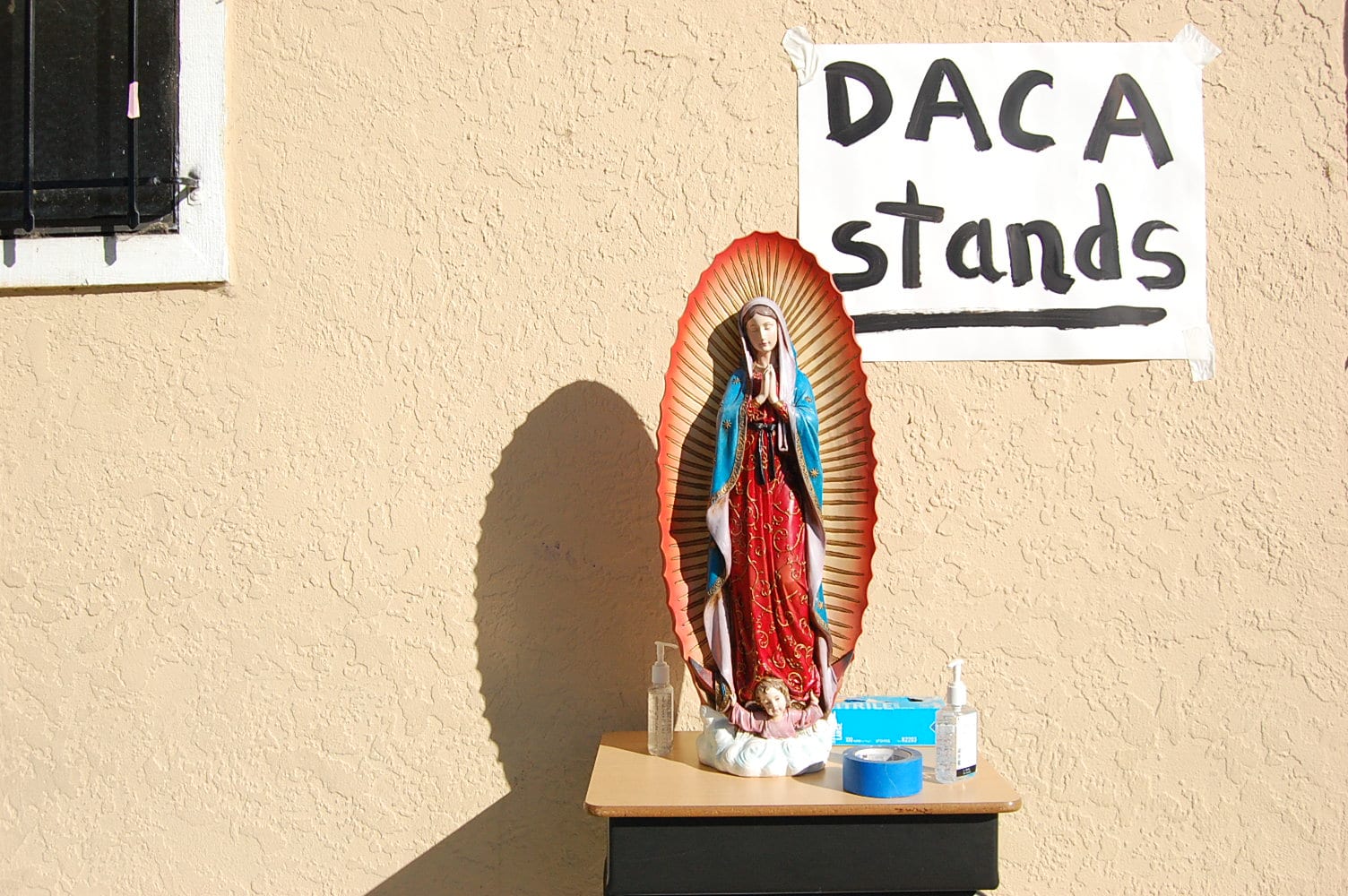 As attention surrounding DACA mostly focuses on the Latinx community – often driven by the Trump administration's continued vitriol targeting Mexican communities – Lee said he thinks the stigmatization behind DACA may lead many Asians to take a backseat in the conversation.
"On the topic of visibility, it predominantly affects the Latinx community, but there's actually a huge populace of the Asian community affected by theses issues," Lee said. "Asians are often perceived as 'well to do' with a high emphasis on education, so people can't possibly think that people who are so conventionally high achieving are undocumented."
Lee said he's taking the DACA decision in stride, knowing that he still has to deal with the stress of not preparing too far in the future — in case DACA is ultimately rolled back.
"I think we always need to have the understanding that none of this is a permanent fix, so our livelihoods are something that is constantly at stake," Lee said. "But when you have lived through these these times as a DACA recipient, that's something that you just eventually get used to – it's just a part of the process."
A permanent solution
County Counsel James Williams addressed that need for a permanent solution. He called Thursday's decision a huge victory, as the county was as a party in the case, but emphasized the need for Congress to grant a pathway to citizenship beyond DACA.
"While this county will continue to fight for our dreamers, there is a lot more to do," Williams said during a news conference Thursday. "The county calls upon Congress to take DACA, which was always intended to be a temporary measure, and ensure that we end up with something that provides the permanent stability that are DREAMers deserve."
In a joint statement, the House of Representatives' immigration and citizenship subcommittee Democratic chairs, Rep. Zoe Lofgren of San Jose and Rep. Jerry Nadler of New York, said the decision was "a win for the rule of law." Lofgren and Nadler called on Senate Majority Leader Mitch McConnell to pass a house bill that provides a pathway to citizenship for DREAMers and Temporary Protected Status recipients for migrants who are provided temporary stay in the U.S. because of disaster or conflict in El Salvador, Haiti, Honduras, Nepal, Nicaragua and Sudan.
"The president's attempt to terminate DACA threw the lives of hundreds of thousands into limbo," their statement said. "As the court recognized, the administration offered weak, pretextual reasons for doing so and failed to adhere to the careful procedures required by law. In short, this was a crisis of the Trump administration's own making."
On Thursday morning, Lopez planned to call his family in Los Angeles, where he grew up.
"This is a big win," Lopez said, "but the court ruling said that the administration can go back and try again. Whether they are or not, that remains to be seen. When a number of immigrant youth were advocating and organizing for DACA, DACA was never the end goal. The end goal was always citizenship, and we're still far from it."
Contact Eduardo Cuevas at [email protected] or follow @eduardomcuevas on Twitter. Contact Katie Lauer at [email protected] or follow @_katielauer on Twitter.