San Jose's Good Karma Bikes provides free bicycles to those in need of reliable transportation, which has been a lifeline for many, including refugees.
CEO James Gardner sees bicycles as tools for improving mental and physical health, environmental sustainability and transforming lives. In addition to recreation, bikes provide transit for those who can't afford the expense of a car to get to work.
"I have a burning desire to leave the world better off," he told San José Spotlight. "Giving is our secret sauce."
The nonprofit gives away a bicycle for each one sold. It also partners with other nonprofits to help children, foster youth, unhoused and disabled people and veterans. More than 30% of the bike shop's income is reinvested in free bikes, parts and labor. 
Since its start in 2009, Good Karma Bikes has contributed more than $2.1 million in community aid, repaired 350,000 bikes and donated 6,482 bicycles. Its volunteers are its lifeblood and have accrued 104,605 hours.
Members of the Abrahamic Alliance International (AAi), a charitable, nonprofit organization uniting Jews, Christians and Muslims, volunteer monthly to rebuild bikes for the International Rescue Committee, which helps people affected by crises.
One of AAi's volunteers, Aziz Baameur, likes the spirit of the people working there and appreciates Gardner took the time to teach them the ropes.
"Most of the volunteers didn't know much about bikes," he said, "but they got it done."
A rickety bike, turned business
Good Karma Bikes started by chance, after Gardner went zero for four with startups and was turning 40. He wanted to do something to benefit the community. His defining moment came in 2008 when he saw a man riding a rickety bicycle. It motivated him to repair bikes for homeless people at St. James Park, as well as teach them how to fix their own bikes.
"I never dreamed of something like this," Gardner said. "I never had a plan. I just kept trying to do good."
In 2011, the business took root on Sunol Street in San Jose. In 2015, it moved to a midtown warehouse on Lincoln Avenue and in May 2020, Gardner opened a shop at Renascent Place on Senter Road.
Abel Martinez recently stopped by Good Karma Bikes in search of a new bike for his 7-year-old daughter Yazin.
"I was hunting around for the price tag and couldn't find one," he said, surprised to learn children's bikes were free.
He returned later to pay it forward and donated two bikes. 
Word of the nonprofit has spread even to those most in need. One morning the nonprofit's Development Director Jenny Circle found a homeless man waiting for the shop to open. He told her his bike was stolen and people at the park told him to come there.
"We gave him a bike and he was so thankful," she said. "There are just endless opportunities for community engagement."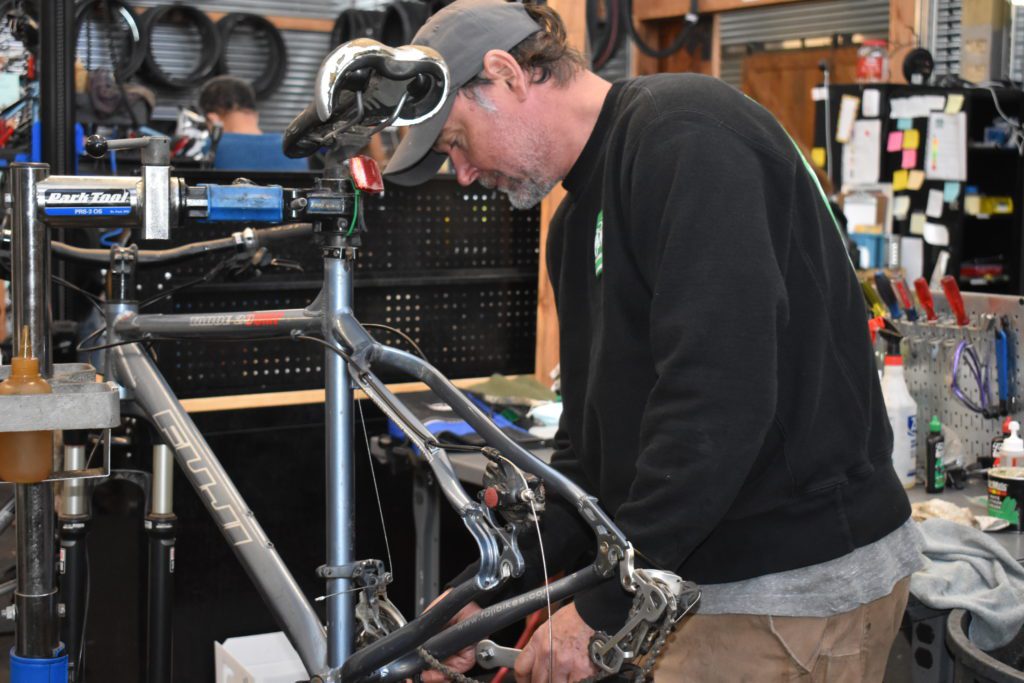 Greg Pache, a volunteer who enjoys working on bikes, appreciates what the nonprofit does for the community.
"It's such a good cause and so many people in this area need transportation like this," he said. "There are great people here. I really enjoy it." 
But despite its good deeds, the bike shop has been a target for robberies. They lost merchandise worth approximately $20,000 in June 2020 and were hit twice in one week in 2019 and twice in one night in 2017.
Good Karma Bikes plans to move next year to the new Charities Housing development at 399 Blossom Hill Road in San Jose. Its mission will not change, Gardner said. 
"I firmly believe the success here is the community's success," he said. "We couldn't do any of this without people donating to us, bringing their bikes, helping others in need through us."
Contact Lorraine Gabbert at [email protected]
Editor's Note: The Biz Beat is a series highlighting local small businesses and restaurants in Silicon Valley. Know a business you'd like to see featured? Let us know at [email protected]
Good Karma Bikes spreads the love