When Jesús Flores first heard about the drama with SiliconSage — the upstart developer being investigated by the Securities and Exchange Commission for allegedly defrauding investors — he said he felt dismayed.
"We're worried about what's going to happen," said Flores, president of Latino Business Foundation Silicon Valley. "This is very sad and frustrating for our business community."
Flores and other East San Jose leaders fear what SiliconSage's potential downfall could mean for a 2.5 acre development the company planned along Alum Rock Avenue that promised to revitalize the struggling neighborhood with 800 new homes, retail and eateries.
Now they wonder if the land will sit idle, attracting blight and exacerbating the area's problems.
"SiliconSage promised that they would work on providing relocation assistance to these businesses," Flores said. "They were just waiting for that support from the developer… Now they're in limbo. They don't know what is going to happen."
SiliconSage made waves across the development community after its founder and CEO, Sanjeev Acharya, boasted about attracting investors through personal referrals. His company in October paid $9 million for three parcels for the development.
Many reports allege the company paid investors' returns using money from new investments, mirroring the structure of a Ponzi or pyramid scheme. Following the SEC's announcement of the investigation, Acharya filed for Chapter 11 bankruptcy in January, calling into question whether the project will be completed.
SiliconSage did not respond to a request for comment.
In the last two years, SiliconSage submitted two applications for properties along Alum Rock Avenue. The first application, for a six-story, 121-unit housing development at 1663 Alum Rock Ave. dubbed Little Portugal Gateway, was approved in November. A much larger project at 2101 Alum Rock Ave. for a 796-unit, mixed-use development is awaiting approval.
The development applications are still considered active, according to San Jose Planning Division Manager Sylvia Do. For the 2101 Alum Rock project, if SiliconSage does not move forward on its application within a year of the last filing, the application will be withdrawn. The last filing for this project was on Nov. 11.
For the Little Portugal project at 1663 Alum Rock Ave., SiliconSage could still apply for demolition and building permits until November 2024, and may even apply for a two-year extension past that date, Do said.
However, other companies can apply to develop the parcel in that time frame. If another developer proposes a project and gets it approved, that plan application would supersede SiliconSage's application, and that developer would become eligible to apply for demolition and building permits. The site is currently home to West Coast Wheels & Tires.
"Ultimately, it's up to a developer to proceed with the next steps in permitting and development," Do said. "The minimum requirement is that there is the property owner's signature on there."
The projects threatened to displace dozens of small, minority-owned businesses, though some hoped to be part of the retail footprint in the new development.
Jaime Alvarado, co-chair of the Alum Rock Urban Village Advocates — a group that has created and promoted plans for an urban village in the Alum Rock area — said SiliconSage's withdrawal from these development projects could present a new opportunity to build housing that's affordable.
"(Developers are) really building housing for people who don't live here right now," Alvarado said. "To some degree we're good with that, but we also want to make sure a portion is for the people who live here right now."
Alvarado said SiliconSage didn't seem receptive to the community's desire for affordable housing.
[optin-monster slug="yxup4h1fcich5uxtdvtn"]
"In the illustrations of the early concepts… they had these shiny new buildings," Alvarado said. "Even the people they showed walking around were all middle and upper class white people."
Alvarado said his advocacy group is interested in partnering with developers who will build residences that are all or nearly all affordable to low-income residents. The median household income of the 95116 ZIP code — where both SiliconSage project sites are located — is $65,667, roughly half of Santa Clara County's median household income of $124,055.
"What we're trying to do now is reach out to nonprofit housing developers,' Alvarado said. "We want to work with developers who will work with us."
He said the affordable housing built by Charities Housing at 2080 Alum Rock Ave., as well as Affirmed Housing Group's building at Alum Rock Avenue and Foss Street, are good examples of housing that reflects the community's needs.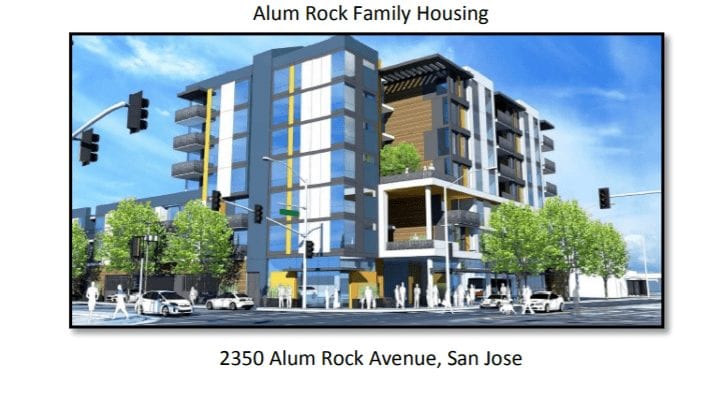 Alum Rock resident Jewell Buchanan said she and her neighbors talked SiliconSage into increasing the number of affordable units at the 2101 Alum Rock Ave. site. However, she said the developer had concentrated all of the low-income units into one building, separate from the market-rate units.
"We'll put all of the low-income buildings, or units, in one building way in the back," Buchanan said, describing the developer's approach to affordable housing. "I'm thinking, 'How come that sounds like segregation to me?'"
Now that SiliconSage is out of the picture — at least for now — Alvarado stressed the importance of maintaining the historic East Side's character.
"There's an assumption that what a poor community needs are some new buildings that bring some middle-class, upper-class white folks," Alvarado said. "We're not trying to be Los Gatos or Willow Glen. … People have lived out here for generations, and there's a lot to celebrate about that."
Gabriel Maciel, who lives near the Little Portugal project site, said he would like to see a developer create a community-oriented building, such as a youth center, at the site.
"Something that benefits the people that actually live here," Maciel said. "Something that we get to enjoy and not just a place to pay rent."
Contact Sonya Herrera at [email protected] or follow @SMHsoftware on Twitter.