Folks tend to travel long distances to eat on Thanksgiving. But for unhoused residents in San Jose, Thanksgiving dinner is coming to them.
Amid the homeless encampment at Columbus Park in San Jose, faith-based nonprofit CityTeam helped brighten up Thanksgiving for many unhoused residents by bringing hot meals to the park.
The nonprofit has a tradition of feeding homeless residents during the holidays, and feeds up to 700 people every Thanksgiving at its shelter on Charles Street in San Jose. For the first time this year, CityTeam is bringing meals directly to residents on the streets, spokesperson Tamara Wheeler told San José Spotlight.
Dubbed "Hope on Wheels," the new program is planning to bring hot meals to different encampments in the city at least four days a week.
"This is different from other food trucks," Wheeler said. "We have chairs and tables, so it's like a cafe where people could sit and enjoy their food."
Chef Salvador Hernandez, who's in charge of the Thanksgiving meals, said his team prepared 200 to-go dishes on Thursday that include turkey, mashed potatoes, green beans, bread rolls and pies. Mashed potatoes and pies are the crowd favorites, he said.
"This is an extension of love and kindness," Hernandez told San José Spotlight. "We need to meet the needs where they are."
Homeless resident Steve Beckwith is among approximately 100 people eating a Thanksgiving meal from the food truck at the park. He has lived in Columbus Park for the last four months, and says he's grateful for CityTeam and its events.
"This looks good, smells good," Beckwith told San José Spotlight. "I love all of it."
Other residents echoed the same sentiment.
"I'm thankful for this. I also got a warm blanket and a jacket," Alfonsas Sakauskas said. "(The CityTeam) will do anything to make us happy."
Cesar Ramirez, a volunteer with CityTeam, said it was their first time out in Columbus Park since they recently moved to California.
"We were getting ready and letting everyone know about the truck all morning," Ramirez said. "People are so happy and grateful that we're here. This whole experience really opened my eyes."
Nonprofits and faith-based groups are working to feed those in need this holiday season with food boxes, to-go meals and sit-down dinners. Sacred Heart handed out hundreds of meals as residents lined up at its South First Street location.
On Thanksgiving Eve, several hundred residents also lined up outside Martha's Kitchen on Willow Street for a hot meal. San Jose Mayor Sam Liccardo and his executive staff volunteered packing the meals together. Ryan Van Den Heuvel, the organization's development director, said the kitchen served 200-300 people per meal. The kitchen hasn't opened up for a sit-down dinner since the COVID-19 pandemic began.
Near downtown San Jose, nonprofit Loaves & Fishes Family Kitchen also continues its tradition of serving Thanksgiving meals at the Vietnamese Seventh-Day Adventist Church. The team prepared 500 traditional Thanksgiving meals and hundreds of sandwiches.
"We have been doing this every year for the last three to four years," Director of Advancement Douglas Orr told San José Spotlight.
Loaves & Fishes serves roughly 7,500 meals per day on average, a number that tripled from two years ago.
"The needs have exploded," Orr said. "And there are more demands each day."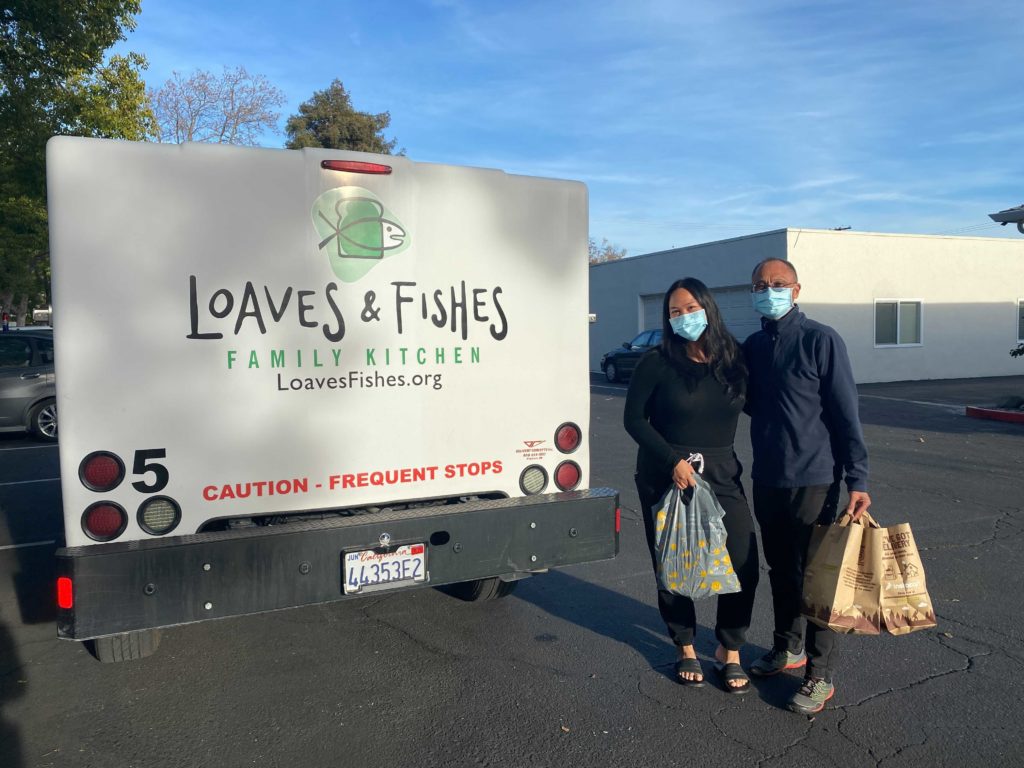 Jessie Rosete and his daughter Jessica came to pick up some hot meals for their family. They first learned about the meal program through Second Harvest of Silicon Valley two months ago.
"I'm retired so sometimes I get stressed out at all the expenses," Rosete told San José Spotlight. "This is very helpful for seniors and homeless people."
CityTeam also opened its kitchen to hand out more hot meals at its shelter on Charles Street Thursday evening. Chef Reynold Stewards, who mans the kitchen at the facility, said the organization prepared 250 meals for the holiday.
San Jose Councilmember Raul Peralez, joined by his mom and a friend, volunteered at the event.
"To be able to give back, it's one of the best things," Peralez told San José Spotlight, adding he often volunteers during the holiday season at different agencies in his district.
Native American resident Sestilio Testa said he has mixed feelings about the holiday, but enjoys the food regardless.
"I don't celebrate Thanksgiving," Testa said. "But the people here, their intention is good. They're here to help the poor people."
Contact Tran Nguyen at [email protected] or follow @nguyenntrann on Twitter.