San Jose lawmakers stalled putting up electronic billboards along Highway 101.
The San Jose City Council voted 9-1 Tuesday to send a proposal to construct two billboards by media company Clear Channel back to the Airport Commission. Councilmember Raul Peralez voted no. This follows several failed votes to approve the proposal.
The proposal will be heard again by the commission at a later date, and then head back to the council for another vote.
The two proposed billboards measure about 1,000 square feet and are planned to go up just south of Highway 101 on airport property.
Prior to the vote, Clear Channel agreed to remove eight billboards in other parts of San Jose per a city policy to reduce billboard clutter. City officials estimate the billboards will bring at least $490,000 in annual revenue for the airport. The airport's 2021-22 adopted budget is approximately $143.5 million.
The pandemic hit Mineta San Jose International Airport hard. SJC saw a drop of 53% in passengers in April compared to pre-pandemic times. A San José Spotlight report in September revealed the airport has a growing $1.2 billion debt from a renovation project in 2005.
"Clear Channel has been paying their advertising revenue, their minimum guarantee, which is more money than we're getting from any of our concessions," Mayor Sam Liccardo said. "I do believe a business relationship mattered to us. We shouldn't forget who our friends are in tough times. I think it's a bad idea for us to walk away."
The billboards split councilmembers, who recently learned of Clear Channel's agreement to remove eight billboards for the two proposed. While some councilmembers were satisfied with the compromise, others showed frustration with what they perceived as last-minute information.
"It's a tough one for me to support now, getting information late that the Airport Commission didn't have," said Councilmember David Cohen. "While I appreciate the need for revenue, there are still concerns I have about the environmental impact."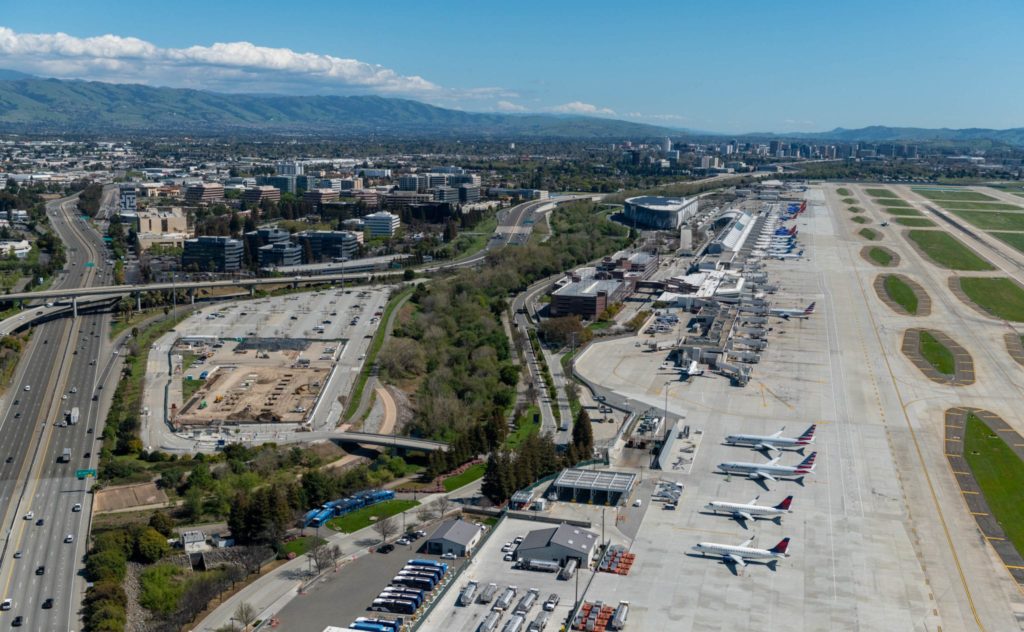 Despite the nearly half million in projected revenue, the project has faced fierce criticism from both the public and the airport's advisory body.
The city's Airport Commission voted 7-2 against the plan earlier this month. Commissioners said building new billboards would open the door for more billboards across the city with little monetary benefit. They cited a lack of transparency between the city and the public regarding the project, as well as a massive waste in electricity.
Others have rallied against billboards because they say the signs clutter the city's skyline, pose a danger to drivers and bring negative environmental impacts.
San Jose banned new billboards on city-owned land in 1972 and banned new billboards across the city entirely in 1985. Residents at Tuesday's meeting hope it will stay that way.
"Please address the real issue and keep the 1985 billboard ban in place," said Todd Williams, a resident of a neighborhood near the airport. "Billboards anywhere in San Jose are unacceptable and in general pollution."
The billboard project didn't go through the city's usual bidding process because airport officials added the two proposed signs to a current contract with Clear Channel.
John Aitken, the city's director of aviation, has supported the billboard project as far back as February 2020, according to airport officials. The billboards, however, were not included in a 2020 master plan for the airport.
City officials have taken steps in recent years to relax bans in hopes of bringing more tax revenue. The council approved the first of a two-phase plan in 2018 to place 22 billboards on 17 city-owned sites. Phase two would have placed up to 75 digital signs on private property. The council dropped phase two in February following public criticism.
A city-led survey of more than 2,200 residents in April found overwhelming opposition for new billboards along highways, with 93% of respondents either "strongly opposed" or "somewhat opposed," regardless of whether they are built on public or private property.
Proponents of new billboards say they'll bring much-needed revenue to the airport as it faces increased competition from San Francisco and Oakland International Airports. Opponents insist billboards cause distractions, contribute to light pollution and suck up large amounts of electricity.
Executives from Clear Channel say the project is fully vetted to have minimal environmental impacts despite community concerns.
"This is one of the most thorough and extensive and expensive environmental impact reports within the Bay Area," said Bruce Qualls, vice president of real estate and government affairs at Clear Channel. "There are over 10,000 of these signs across the country without any adverse traffic impacts."
Still, a grassroots group called No Digital Billboards San Jose has aggressively lobbied the city to reject any future billboards.
"Digital billboards are not about how much money the city can gain," John Miller, one of the founders of No Digital Billboards San Jose, said. "Digital billboards are about how much San Jose's architectural integrity, historic character and natural environment we are willing to lose in return for billboard revenue that will always be a tiny fraction of the city's operating budget."
Contact Lloyd Alaban at [email protected] or follow @lloydalaban on Twitter.