Catch up on our current Coronavirus LIVE BLOG here.
9:30 p.m. March 25: State leaders push Gov. Newsom to ban evictions
A group of state leaders, including Sens. Jim Beall, Scott Wiener and Assemblymen Ash Kalra and Kansen Chu, urged Gov. Gavin Newsom to sign an executive order banning all evictions during California's State of Emergency, put in place due to the fast-spreading and deadly coronavirus.
Already, Newsom has issued an executive order allowing cities to execute moratoriums on evictions if renters can prove they can't pay due to COVID-19-related disruptions to their finances. But that's not enough, state leaders said in the letter Wednesday.
"During this emergency, our state needs one clear order that covers all tenants and does not require proof of a COVID-related loss of income that may be difficult to document," the letter states. "With many renters suddenly out of work and the rent due the first week of April, it's critical that the state act now to assure tenants that they will not be evicted."
The letter acknowledges that the order would cause other challenges, like the uncertainty of how to handle unpaid rent and how to provide economic support, not just to renters but landlords. Still, lawmakers say now is the time to act.
"For now, we need to keep everyone who is currently housed where they are so they can shelter in place, follow recommended guidelines and help California flatten the curve," the letter states.
I am joining over 30 of my colleagues on a letter to advocate for a statewide moratorium on evictions during the #COVID19 crisis.

CA has taken good steps on this front, but we need to go further faster.

A comprehensive statewide approach is needed to keep people in their homes pic.twitter.com/CjNxR2qjbh

— Senator Jim Beall (@Jimbealljr) March 25, 2020
7:30 p.m. March 25: Santa Clara Convention Center to treat COVID-19 patients
Federal, state and local officials toured the Santa Clara Convention Center Monday ahead of its transition into one of eight temporary federal medical stations across California.
The complex, located at 5001 Great America Parkway on the north side of the city, will host 250 beds serving "less-acute COVID-19 cases and provide increased capacity for our health care system," officials said. The Convention Center features 262,000 square feet of meeting space to accommodate those patients, along with space for medicines and supplies.
That's a change from its original plans. Michael Clark, the county's EMS coordinator who also leads the county's Emergency Operations Center, said Monday the Convention Center was originally intended to host patients who did not test positive for COVID-19, instead treating those who had less acute needs, such as recovery from surgery.
The Santa Clara County Public Health Department quietly released those changes in a statement Tuesday evening. During the Santa Clara City Council meeting Tuesday evening, City Manager Deanna Santana said officials expects the Convention Center's Federal Medical Station to be open in the next week or two.
6:30 p.m. March 25: San Jose sets up email for nonprofits and other organizations
San Jose has set up a new email specifically to field questions from nonprofits, community-based organizations and art organizations.
"From arts to social services, community-based organizations are being hit especially hard by the impact of COVID-19," the city's COVID-19 website states. "They are experiencing loss of income from event and venue closures, increases in the demand for services, and challenges with a lack of access to equipment and technology."
The new email address, [email protected], is specifically for those types of organizations that have questions about how the novel coronavirus, a contagious respiratory disease, may affect their organization and employees.
5:50 p.m. March 25: Fifth SCC deputy falls sick
A fifth deputy in Santa Clara County has tested positive for the novel coronavirus, the Santa Clara County Sheriff's Office announced on Wednesday.
The fifth case is an officer assigned to the "Custody Bureau," who worked on the same team as three other officers who previously tested positive, the county said. All of the deputies who have been confirmed to have the virus are currently isolating at home. Three other deputies, who were assigned to the same team, are also self-isolating as a precaution, according to the sheriff's office.
The Custody Bureau includes several divisions at the Main Jail and the Elmwood Correctional complex, though the sheriff's office hasn't said where the deputies were based.
"We are continuing to monitor the situation and contact trace investigations are underway to identify other staff that may have been exposed," the county said in a statement Wednesday.
While four of the five cases include deputies on a single team at the Custody Bureau, one of the deputies who has tested positive is a patrol officer. "At this point, there is no evidence to show that any inmates have been exposed as a result of the deputies," the Sheriff's Office assured Wednesday.
4:45 p.m. March 25: VTA significantly shrinks services in the midst of coronavirus
The Valley Transportation Authority on Wednesday announced it would make significant changes to its routes starting March 30 as ridership dwindles during the statewide "stay at home" order issued by Gov. Gavin Newsom last week.
The reduced service will continue to prioritize service to hospitals, food banks and shelters, the agency promised Wednesday. But VTA will cut light rail frequency to just two-car trains that will run every half hour. Light rail trips that start in the evening after 9 p.m. will be discontinued with the exception of Route 22, which will continue to run all day.
The only express bus services that will continue to run are Express 104, which serves Stanford Research Park, and Express 181, which will continue to operate in time with BART's reduced service schedule at Warm Springs.
"VTA prides itself on the essential service it provides, especially for those who need public transportation the most," the agency said in a release Wednesday. "Currently, we find ourselves in an unprecedented situation of balancing how we provide that service amid a health pandemic in which ridership is extremely sparse."
The agency said it is coordinating regional service connections with other Bay Area transit providers who are also operating reduced service due to low ridership, and has released a map showing the modified routes as well as locations of important services. 
To check specific routes and to see the complete list, please see the full schedule of COVID-19 Reduced Transit Service that begins Monday, March 30.https://t.co/5HsOiCsE7O

— VTA (@VTA) March 25, 2020
The announcement comes after the agency announced last week it would go fare-free on its buses, light rail trains or paratransit services because riders are now boarding through rear doors, an effort to slow the spread of COVID-19 to its employees. Only passengers who need to use priority seating or the ramp can use the front door, the agency said.
The VTA also rolled out enhanced cleaning and sanitizing measures amid the health crisis.
3 p.m. March 25: Mountain View renter relief package goes live
Last week, Mountain View officials approved a $500,000 COVID-19 rent relief package that would offer money to renters whose finances have been upended by the novel coronavirus, which has caused local and state leaders to order residents to stay at home and shuttered some businesses.
Now the program is active and ready for applications. Residents earning up to 120 percent of the area median income qualify for the program, which will offer up to $3,000 for two months. That means a single-person household can earn up to $110,000 annually and a four-person household can earn up to $158,000 to qualify.
"Our goal is to service as many tenants in need as possible and we know that many situations are unique," Mountain View Mayor Margaret Abe-Koga said in a statement Wednesday. "The rent relief program is designed to be flexible, so we encourage anyone who is income-eligible and may need help with their rent to apply."
To apply, go to www.CSACares.org or call 650-968-0836 and leave a voicemail.
2:15 p.m. March 25: Testing numbers become more transparent
About 66,800 tests for the novel coronavirus have been conducted across California, a number announced Wednesday as more private labs started reporting their testing numbers to the government.
That new testing number is up by 39,200 tests from what the governor said had been conducted as of Tuesday, before the state had gathered the data from non-government-run labs.
Even with the new numbers, Gov. Gavin Newsom said Wednesday the testing that is happening "is not enough."
"It is one thing to do the diagnostics, it is another to get word back," he added, noting that tens of thousands of tests that had been conducted have still not come back as the state works through barriers related to testing supplies and other issues.
Locally, Bay Area counties banded together Tuesday to order local private labs that are doing testing in the county to share their testing data, which they are required to do as of today.
As testing ramps up, Newsom announced Wednesday that 2,535 people have tested positive across the state so far, a 17 percent increase from Tuesday. As of 10 a.m. Wednesday, 53 people statewide had died from the virus.
2 p.m. March 25: New "grace period" for mortgage payments
Newsom on Wednesday announced that state officials have worked with some of the largest banks in the U.S. as well as smaller banks and credit unions to offer 90-day grace periods for mortgage payments to homeowners who have had their income disrupted due to COVID-19.
It is significant that we have some consistency, it is significant that we don't have a patchwork, one bank to another," Newsom said. "That is what happened in 2008… so we wanted to engage our nation's largest banks and see if we could create some continuity, some consistency among their ranks."
So far, about 200 state chartered banks and credit unions have committed to provide forbearance on foreclosures and on mortgage payments. Four of five of the largest banks in America have done the same, including Wells Fargo, Citibank, JP Morgan and US Bank. The Bank of America has committed to a 30-day grace period for its customers, the governor said.
"I hope (Bank of America) will reconsider and join those other banks in doing the right thing, at least extending that commitment to their customers for 90 days," Newsom said.
Governor Gavin Newsom makes a major announcement to help families during the COVID-19 outbreak.

Posted by California Governor on Wednesday, March 25, 2020
12:21 p.m. March 25: Bay Area schools extend closures into May
The Santa Clara County Office of Education, along with five other Bay Area counties, extended school closures to May 1 to slow the spread of the coronavirus.
The county education office's decision impacts 31 school districts in Santa Clara County, which together serve more than 260,000 students who are now having to transition to online or other flexible learning options.
"The well-being of our students, families and communities is our primary concern," said Mary Ann Dewan, the Santa Clara County superintendent of schools, in a statement Wednesday. "We will continue to take all necessary steps to prepare schools for reopening."
The decision to extend closures into May usurps the county education office's initial March 13 announcement to suspend in-class learning until April 3, coinciding with many school closures across California. It also builds on Bay Area county health officers ordering shelter-in-place on March 16, with a subsequent statewide, indefinite stay-at-home order by Newsom.
County education officials said school facilities may remain open to staff to perform essential tasks. Education for students, meanwhile, will continue through flexible learning, in addition to meal distribution and childcare.
The decision also impacts students in Alameda, Contra Costa, Marin, San Francisco and San Mateo counties. More information from the Santa Clara County education office is available here.
8 p.m. March 24: California National Guard jumps in to distribute food
Second Harvest Food Bank of Silicon Valley has received help from the California National Guard to package and deliver food, San Jose officials and the nonprofit announced Tuesday night.
Thanks to the 223rd Military Intelligence Battalion of the 115th Regional Support Group California Army National Guard for sorting food and packing boxes for our community. #gratitude #hungerfreecommunity #COVID19 #EmergencyResponse @USNationalGuard @NationalGuard pic.twitter.com/sfqVvNVwW6

— Second Harvest of Silicon Valley (@2ndharvest) March 24, 2020
San Jose is leading a countywide effort to distribute food, particularly to people age 60 and older — and others with health issues. But demand for that food has soared in recent weeks, jumping from 200 average requests a day to more than 1,000, according to the city.
"The city is working to keep our nonprofit food distribution infrastructure supported and strong," city officials assured residents Tuesday.
But despite the National Guard jumping in, volunteers are still needed, according to city officials. To volunteer or donate funds, visit shfb.org or sign up to help via at www.siliconvalleystrong.org. If you or someone you know needs food, call Second Harvest's Food Connection Hotline at 1-800-984-3663.
6:15 p.m. March 24: Santa Clara urges residents, businesses to follow stay home order
The Santa Clara Police Department has responded to about 30 calls reporting alleged violation of the state's stay home order, which ordered the closure of all nonessential offices and storefronts and asks residents to limit tasks that would take them outside of their homes.
But in Santa Clara, police responded to things like a report of people who don't live in the same home playing basketball, which could spread the disease between people who may not yet know they are sick. So far, police have been taking an educational approach to businesses that remain open and people who are violating the order, city officials said Tuesday.
6 p.m. March 24: San Jose mayor pushes to loosen rules to build emergency housing
San Jose Mayor Sam Liccardo on Tuesday urged state officials to "eliminate existing barriers at the state, regional and local levels to rapidly build emergency housing" during COVID-19 outbreak, which has killed 16 people in Santa Clara County.
Liccardo, who chairs the California Big City Mayors Coalition, said he's asked the state to waive the typical environmental review as well as state permitting rules, and some state building codes for emergency housing construction during the outbreak. He also asked the state to force agencies, such as Caltrans, utility districts and counties, to make public land available for temporary or permanent housing during the official State of Emergency declaration in the state.
"Homeless encampments have never been safe places for human habitation, but the onset of the COVID-19 pandemic makes them — and our crowded shelters — far more perilous for our unhoused residents," Liccardo said in a statement Tuesday. "Rapid construction of emergency housing — leveraging local and state dollars, with the benefit of FEMA reimbursement for a substantial share of the cost — becomes all the more imperative amid this crisis."
The coalition includes mayors from Los Angeles, San Diego, San Jose, San Francisco, Fresno, Sacramento, Long Beach, Oakland, Bakersfield, Anaheim, Riverside, Santa Ana and Stockton. Liccardo filed a memo ahead of the San Jose council meeting Tuesday, where he will talk about his ask to the state and Gov. Newsom.
5:30 p.m. March 24: Community health centers, counties get grants to fight COVID-19
Counties and community health centers across California — including nine in Santa Clara, San Mateo and Santa Cruz counties — have received U.S. Department of Health and Human Services grants to help ramp up their response to the novel coronavirus.
The money will be used for screening and testing for the virus, buying medical supplies and boosting tele-health capacity, according to an announcement Tuesday by U.S. Rep. Anna Eshoo, a Bay Area Democrat.
"Community Health Centers are on the front lines of the COVID-19 outbreak in our community," Eshoo said in a statement. "My congressional district remains a hot spot and it's more important than ever that our health care providers have the resources they need to serve, treat and protect patients."
In Santa Clara, San Mateo and Santa Cruz counties, at least nine agencies and health centers were granted more than $613,000 to increase response efforts, according to the state database.
Among those, six are located in San Jose, including Santa Clara County. Across California, more than $13.8 million was granted to 178 health centers to help with the COVID-19 response efforts.
The grants were given as part of the Coronavirus Preparedness and Response Supplemental Appropriations Act, which Congress voted on March 4, to provide $8.3 billion to respond to the COVID-19 pandemic. Of that, $100 million was dedicated to Community Health Centers in the state, according to Eshoo's office. A full list of awardees can be found here.
3:30 p.m. March 24: Santa Clara County halts evictions
The Santa Clara County Board of Supervisors unanimously adopted an eviction moratorium, effective immediately. San Jose adopted a similar ban on evictions this month and Santa Clara councilmembers tonight will discuss implementing such protections.
In a board meeting via teleconference Tuesday, the supervisors took the measure as the pandemic and ensuing public health orders are projected to impact local businesses and cause significant unemployment. These impacts would create "severe loss of income needed to pay rent" for residents and businesses, officials said.
The ordinance, in effect through May 31, will protect renters throughout the county facing eviction because of a loss of income related to the virus.
County officials said the ordinance was modeled after similar measures taken by San Francisco, San Jose and Santa Cruz County. On March 16, Gov. Gavin Newsom issued an executive order affirming local jurisdiction's ability to pass similar measures to protect renters during the virus outbreak.
Earlier during Tuesday's meeting, supervisors unanimously allocated $2 million in assistance to low-income residents, matching funding with the city of San Jose as part of the county's Homelessness Prevention System, as the San José Spotlight reported.
12:15 p.m. March 24: Fourth Santa Clara County Sheriff's deputy tests positive
The Santa Clara County Sheriff's Office announced a fourth COVID-19 case among staff, the latest being a deputy assigned to the county jail. Officials did not specify which jail the deputy is assigned to but said the deputy is self-isolating in quarantine at home.
Of the three previous cases, one deputy was assigned to a patrol division while the other two were assigned to the jail. The Sheriff's Office was made aware of two of the positive tests Sunday and the third Monday. As of Monday, one deputy was hospitalized in stable condition and the other two were self-quarantining at home.
On Monday, the Sheriff's Office said a 31-year-old man booked Friday into the San Jose main jail tested positive and is being quarantined in the jail infirmary.
Sgt. Michael Low, a spokesman for the Sheriff's Office, said the deputies' cases appear unrelated to the inmate, but all of the cases are being investigated.
We now have 4 confirmed cases of COVID-19 amongst our staff. The fourth case is a deputy assigned to the Custody Bureau, who is self-isolating and under quarantine at home. We are continuing to monitor the situation and are working to mitigate further exposure.#COVID19

— SantaClaraCoSheriff (@SCCoSheriff) March 24, 2020
11:17 a.m. March 24: Greater transparency ordered for testing
Seven Bay Area jurisdictions, including Santa Clara County, announced a unified measure to battle the spread of COVID-19 by increasing reporting requirements in testing for the novel coronavirus. Labs in Alameda, Contra Costa, Marin, San Francisco, San Mateo and Santa Clara counties, as well as the city of Berkeley, must now report results of all tests to health officials. Previously, only positive tests were required to be reported.
With 930 reported cases and 19 deaths, the Bay Area accounts for more than half of California's COVID-19 cases, officials said in the order announcement Tuesday.
Bay Area health officials said the change in requirement will allow health officials to better locate people who have been tested.
"Expanding reporting beyond positive results to include timely reporting of negative and inconclusive results allows local health officials to better understand whether there are areas of the community that are experiencing more intense transmission and project future trends in the spread of the virus," said Dr. Tomás Aragón, the health officer for San Francisco city and county. "By sharing high-quality test result data at scale, state and local health authorities can better track COVID-19, predict its spread, and better focus public resources to end this global pandemic."
Officials say the growing availability of testing via commercial and academic labs expands overall testing.
"This order will ensure public health officials regionally and across the state have access to the information we need to understand, predict, and combat the spread of COVID-19," Cody said in a statement.
Santa Clara County's order goes in effect at midnight Wednesday.
11 a.m. March 24: San José libraries offering free online access
The San José Public Library is offering free online library cards to residents and city employees who don't have a membership. The cards provide free access to e-books, music and movie streaming services, and online learning through Lynda, the LinkedIn company that offers thousands of courses in software development, business and design, among other fields.
To apply, complete the online form — available in multiple languages — for adults and youth. The online cards are valid for 60 days.
Once libraries reopen, residents can convert their online cards to full access by visiting a city library branch with proof of residency and a picture ID. Residents who already have a card can start using their e-library card right away. Library staff are available online every day.
8:57 p.m. March 23: County releases testing information — sort of
Santa Clara County officials on Monday night released long-awaited information about how many people had been tested for COVID-19 throughout the county, which public health officials have called the "epicenter" of the infection in the Bay Area.
But the information provided was basically a shrug.
The county has been doing its own testing, but it has not tracked any testing happening outside of its Public Health laboratory, unless a confirmed case is reported. Private labs are not required to report negative results, but the county is working with the state and other jurisdictions to change that and get more information, officials said.
In the meantime, county officials said their public health lab has tested 1,044 samples for 647 patients as of Sunday. Across the county, 321 cases of the virus have been confirmed — a number made up of both the county's testing and those done in private labs. It takes about 24 hours to get a result from the tests in the county's laboratory.
Santa Clara County, which got CDC approval to perform COVID-19 testing on Feb. 26, can only do about 100 tests per day, officials added, and it receives those kits from the CDC. Some of those tests are used as controls and multiple samples are sometimes submitted for a single patient to ensure accuracy.
The county came under fire in recent days for dodging questions on the number of tests it has administered or how long it takes to receive results.
Officials said the county is focusing on testing hospitalized patients, health care professionals and first responders as they "continue waiting for large-scale testing capacity to come online through the commercial labs," which is often done by the private sector in the U.S., according to details posted on the county's website Monday.
"The Public Health Department strongly supports expanding the availability of testing for COVID-19," the county said on its website. "The current lack of widespread testing capacity nationwide and locally has significantly hampered our ability to monitor the epidemic, to focus mitigation measures, and to inform individual people of their infection status. Unfortunately, local and national testing resources have not scaled to the extent that we expected, and not everyone who is ill can be tested at this time."
Private organizations like Stanford, Alphabet-owned Verily, Quest and most recently Sunnyvale-based Cepheid are also conducting tests.
But county officials estimate that the number of people infected in the county is much larger than what is confirmed. "The increase in confirmed cases over time, as well as several other data points, indicate that the virus is now widespread in our county," the agency said Monday.
8:30 p.m. March 23: Three SCC Sheriff's deputies test positive
The Santa Clara County Sheriff's Office on Monday confirmed that three of its deputies have been diagnosed with COVID-19 as confirmed cases of the contagious virus rise throughout the county.
One of the deputies was assigned to a patrol division while the other two were assigned to the Custody Bureau. The Sheriff's Office was made aware of two of the positive tests Sunday and the third today.
One deputy is in stable condition at a local hospital while the other two are currently self-quarantining at home.
"We want to assure the public that our office remains dedicated to serving and protecting the community during these trying times," a news release by the sheriff's office states. "Furthermore, we are doing everything we can to protect our staff and other first responders battling this pandemic. We continue to ask everyone to comply with the county's 'Shelter in Place' order and do their part to keep our community safe."
8:10 p.m. March 23: SCC inmate tests positive, officer exposed
A Santa Clara County inmate at San Jose's Main Jail has tested positive for COVID-19, the sheriff's office announced Monday.
The 31-year-old man was arrested and taken to the jail on Friday by a San Jose officer, but before he ever made it to a cell, he said he felt sick and that someone in his family had returned from Europe a few days before. He was given a mask and was taken to an isolation cell, according to the sheriff's office.
He's remained isolated in the infirmary since, and on Sunday his COVID-19 test came back positive. The San Jose Police Department has been notified of the possible exposure to the police officer or officers who arrested the man.
"As a precaution, custody medical staff has been screening new arrestees outside the jail in the sally port area," the news release said. "Healthcare staff is asking the individuals if they have a dry cough, shortness of breath, fever, or exposure to anyone with COVID-19."
7:45 p.m. March 23: Rebuilding Together — later
Rebuilding Together Silicon Valley on Monday officially postponed its annual "Rebuilding Day," which was scheduled for April 25. The group is a local chapter of a national organization that holds the rebuilding day every year.
The event in Silicon Valley typically bands together 2,000 volunteers to rebuild or repair local homes to make them safer for seniors, veterans, people with disabilities and families with young children.
"As we monitor the spread of COVID-19, Rebuilding Together is taking precautions to protect high-risk individuals and preparing for increased demand and new ways of delivering our services," said Caroline Blakely, president and CEO of Rebuilding Together National Office.
For more information about the postponement, visit the organization's website here.
7:30 p.m. March 23: State Parks crack down to thin weekend crowds
Days after Gov. Gavin Newsom announced a "stay at home" order meant to keep residents inside as much as possible, many state parks saw record visitation over the weekend, according to a news release by California State Parks. Those numbers "made it impossible for the public to implement appropriate social distancing practices," the statement said.
The agency is announcing new restrictions and safety measures to thin out the crowds to slow the spread of COVID-19.
Among the changes: Automobile traffic will be closed off at some parks. Plus, State Park Peace Officers will be patrolling all of the parks and enforcing the state's regulations, which require that anyone not living together stay at least 6 feet from other people to avoid passing the virus around. The agency is asking people not to "congregate in the outdoors."
"For those wishing to take a break in the outdoors, public health officials are advising them to walk, run, hike and bike in their local neighborhoods and walk to parks," the statement said. "Everyone has the responsibility to "Flatten the COVID-19 Curve at Parks" by maintaining a social distance of 6 (feet) or more when recreating in the outdoors, and staying home if they are sick. If visitors cannot maintain social distancing, they need to leave the park."
If the changes announced Monday don't improve social distancing and safety, the agency said it would consider fully closing park trails, bathrooms and other amenities.
#CAStateParks Announces Steps to Reduce Crowds at State Parks to Help Slow Down the Spread of #Coronavirus. Read the full press release here: https://t.co/WUasVPSdqx#SocialDistancing #COVID19 pic.twitter.com/XUyytrl7WN

— CA State Parks (@CAStateParks) March 24, 2020
7:15 p.m. March 23: Need a car repair amid COVID-19?
RepairSmith committed to $100,000 in free "no-contact" car repairs for frontline workers and people who have been financially impacted by COVID-19 in California and Las Vegas, where the company operates.
The program will offer up to $500 in repair and maintenance for people who have lost their jobs or are working as a frontline workers in their community, such as government employees, service workers, delivery drivers, those working in health care, employees at grocery stores and pharmacies or volunteers, according to a company news release. That means at least 200 customers will qualify for the services.
RepairSmith has locations in San Jose, San Francisco, San Diego, Irvine, Los Angeles and Las Vegas. For more information visit the company's website here.
"Amidst uncertain economic times, we believe that relieving the heroes and victims of this pandemic of a financial burden is the right thing to do," RepairSmith CEO Joel Milne said in a statement. "We hope offering free car repair to those experiencing hardship will provide some relief and support in our local communities."
5:55 p.m. March 23: More San Jose employees test positive
A San Jose employee in the Planning, Building and Code Enforcement Department has been presumed positive for COVID-19 by a doctor on March 22, city officials announced Monday afternoon. The employee last worked in the Permit Center on Thursday.
On Monday, all Development Services employees who worked on the first four floors of San Jose City Hall were directed to work from home. City Hall, though, has been closed to the public since last Tuesday.
The employee joins a growing list of San Jose employees across multiple city departments who have tested positive for the virus. So far, this also includes 13 firefighters, one reserve police officer, one airport employee and, as the Mercury News reported Monday, one worker at the city's wastewater plant.
1:00 p.m. March 23: County officials pivot to digital in Census 2020 promotion efforts
County officials tasked with ensuring every resident is counted in the upcoming census announced they're shifting gears in response to the coronavirus outbreak and in the face of a shelter-in-place order issued by the county health officer.
Before the outbreak, the Santa Clara County Office of the Census had a variety of programs planned to promote the census in public places, which are now shuttered, such as libraries, community centers and government facilities. Those programs have been put on an indefinite hiatus, but the officials said they'll launch a digital outreach program to educate and assist residents who need help filling out the 10-question survey.
"Fighting the spread of COVID-19 is the top priority of every person who works for the county," said Deputy County Executive David Campos at a "virtual press conference" on Facebook. "And we are asking people to follow the guidelines that are being issued by our public health officials. But as much as we are concerned about COVID-19, we also believe it would be a mistake for us — in terms of protecting our community — if we do not do the right thing when it comes to Census 2020."
The digital strategy will include a "Census Champion" program that will recruit residents to encourage their social networks to participate in the count.
Santa Clara County Board of Supervisors President Cindy Chavez emphasized that "peer-to-peer" contacts were an important way to spread the word about the census.
"It's our connections in the community and our family and friend networks that will allow us to do this important work," Chavez said.
Residents can sign up to help the county promote the census by clicking the "Become a Census Champion" button on the county's census website.
"We're pivoting in a way that only Silicon Valley can, to use the resources and leverage the know-how that we have to ensure that we do the census right," Campos said.
11:45 a.m. March 23: Local leaders launch a fund to help with rent
A group of local government, business and philanthropic leaders have launched a program that will help pay rent for low-income residents in Santa Clara County who have had their lives financially upended by the coronavirus.
The program, part of the Santa Clara County Homelessness Prevention System, is being led by Sacred Heart Community Service, along with its longstanding partners in the system, which has long offered funds to families on the brink of homelessness to keep them housed. But the announcement Monday marks an influx in funding, primarily by Silicon Valley tech companies, including Cisco, Western Digital, Adobe, Zoom Video Communications Inc., Broadcom, Micron, Facebook, Infosys, Silver Lake and Hewlett Packard Enterprise (HPE).
"As I've been making phone calls over the last several weeks, time and time again from CEOs from great companies … what I continue to hear from them is, 'We are hurting, we are struggling, we are trying to figure out how to keep everyone on board, but we are in,'" Mayor Sam Liccardo said Monday during a news conference.
In addition, Silicon Valley Community Foundation CEO Nicole Taylor on Monday said the group would contribute $250,000 to the fund and elected leaders in Santa Clara County and San Jose are set to vote on March 24 on proposals to add an additional $2 million each.
About $11 million has been raised for the program, said Jennifer Loving, CEO at Destination: Home, one of the primary philanthropic partners pushing the program forward.
"I have been really sick for 10 days and if I didn't have a safety net of my own ability to have paid sick time and vacation time, then I would quickly be in trouble," she said. "We are asking people who are often lower paid, who are often hourly, to remain on the front lines right now. We have support the infrastructure of our community."
Families making 80 percent or less than the area median income in the county who have lost income due to COVID-19 are eligible for funding through the program. That means a single-person household making $72,750 would qualify or a family of four making $103,000 would qualify.
Find more information online here or by calling 408-780-9134.
10:30 a.m. March 23: Fifth TSA agent, city employee test positive at Mineta San Jose International Airport
A fifth TSA agent at Mineta San Jose International Airport has tested positive for the coronavirus, San Jose officials said Monday morning. The agent had been working the evening of March 11 at the airport's Terminal A passenger screening checkpoint.
In addition, a city employee at Mineta tested positive. The person had worked at the airport on March 12 and may have had "limited contact" with people at the airport, city officials said.
The airport remains open for essential travel. However, airlines have begun reducing service. City officials encouraged travelers to check the airline's website for flight status and schedule updates or call the airline within 72 hours of their scheduled flight.
11:30 p.m. March 22: Where to find more information on San Jose's eviction moratorium
San Jose earlier this month put a halt to evictions due to nonpayment, as long as the renter can prove their income had been disrupted by COVID-19.
City officials over the weekend released a website dedicated to the moratorium on evictions, which includes a "Frequently Asked Questions" section, a form to help renters document their lost income and links to other resources for renters facing financial hardship due to the fast-spreading coronavirus outbreak.
To see more information about the moratorium, which is in place until April 17, click here.
11:15 p.m. March 22: Facebook donates medical supplies in Bay Area, across the world
Facebook has dug up massive medical supplies it had left over from the 2019 wildfires that plagued California and filled the air with hazardous smoke and is now giving those caches of supplies away.
The Menlo Park-based company will donate 720,000 masks, including both N-95 and surgical masks as well as 1.5 million gloves to medical personnel around the world, Facebook spokesperson Chloe Meyere confirmed over the weekend.
"The only way we get through this is if we do so together, so we'll continue seizing every opportunity to support those fighting COVID-19 on the front lines, and our neighbors struggling during this difficult time," she said.
Last week, the company announced it would also give our $100 million in grants to small businesses struggling during the outbreak, which has caused many companies to close their doors for now. Facebook also donated $500,000 for emergency homelessness prevention in the Bay Area and another $250,000 to low-income students who need Internet access as classes shift online.
11 p.m. March 22: Sunnyvale-based company gets green light for rapid testing 
Cepheid got what's known as "Emergency Use Authorization (EUA)" from the FDA for its COVID-19 test, which the Sunnyvale-based diagnostic company says can offer a result within about 45 minutes.
"During this time of increased demand for hospital services, clinicians urgently need an on-demand diagnostic test for real-time management of patients being evaluated for admission to health-care facilities," said Dr. David Persing, Cepheid's chief medical and technology officer. "An accurate test delivered close to the patient can be transformative — and help alleviate the pressure that the emergence of the 2019-nCoV (COVID-19) outbreak has put on healthcare facilities that need to properly allocate their respiratory isolation resources."
Tests will start shipping to hospitals this coming week, officials announced this weekend.
"Our automated systems do not require users to have specialty training to perform testing — they are capable of running 24/7, with many systems already doing so today," said Warren Kocmond, Cepheid's president.
6 p.m. March 22: Santa Clara County employee tests positive
Officials announced Sunday that a county spokeswoman has tested positive for coronavirus.
María Leticia Gómez, who works as the county's director of communications and public affairs, became ill on March 13 and was tested for COVID-19 by her health care provider. On Sunday, she received her results and tested positive.
Gómez has been isolated at home since she first showed symptoms. She is doing well, they said.
County officials said it's not unexpected to have employees become ill as the virus continues spreading. The county has enacted protocols to protect employees, including asking workers to stay home if they show symptoms, report any symptoms that develop, work from home if they're a nonessential employee and maintaining social distancing.
"The county has instructed all employees, including those who have been in contact with Ms. Gómez, that they should not go to work if they show any symptoms of illness," officials said in a statement. "We are also notifying all members of the county workforce with whom Ms. Gómez may have had contact while contagious that they may have been exposed."
4:30 p.m. March 22: Santa Clara County officials outline plans for coronavirus response 
In a news conference Sunday, Board of Supervisors President Cindy Chavez and health officials addressed Santa Clara County's response to COVID-19, specifically addressing a plan to provide more hospital beds, health care workers and medical equipment.
While coronavirus cases have skyrocketed in Santa Clara County, Paul Lorenz, CEO of Santa Clara Valley Medical Center, said emergency rooms have not been overburdened. Officials reaffirmed people should contact health care providers before going to the hospital. In addition, Lorenz said hospitals are screening visitors and staff to reduce spread of the virus.
"We want to make sure we have beds for people who are in the highest need," Chavez said.
But Lorenz said hospitals must ensure they have resources in place to handle an expected surge in patients. The county is doing it's best to manage protective supplies, he said, but will need to ensure it is resourced appropriately. The hospital system is looking for donations via the VMC Foundation.
Lorenz also said there are more than 2,500 hospital beds available across the county, which includes close to 400 pediatric beds and 350 intensive care unit beds. Officials are looking to convert close to 300 beds for ICU-level care.
In the event that coronavirus cases surge, however, hospital officials are creating plans to possibly use 2,100 adult beds for critically ill patients, while moving other patients into alternative sites. County health officials plan to turn the Santa Clara Convention Center into a temporary federal hospital that is fully staffed and equipped, with the capability of having up to 250 beds for patients with noninfectious diseases, according to a press release Saturday.
To get more hospital staff, the county is hiring and bringing back retired health care professionals, Lorenz said. Officials are also working with organizations to recruit other professionals, as well as looking at state and federal governments for staff support if needed.
"We are looking at a number of different avenues that the resources and demands should necessitate," Lorenz said.
The county also needs volunteers. After the state directive to keep seniors over 65 at home to reduce chances of illness, volunteer numbers depleted for services such as Meals on Wheels. Chavez urged people interested in volunteering to visit siliconvalleystrong.org.
3:10 p.m. March 21: County unveils new way to report scofflaw businesses
Santa Clara County officials want you to report nonessential businesses that are keeping their doors open.
One day after San Jose Mayor Sam Liccardo and Police Chief Eddie Garcia encouraged residents to report people and businesses that violate the "shelter in place" order by calling 311, county officials announced a new way to report non-compliant businesses countywide.
To report a non-essential business operating in violation of the Order to "Shelter in Place," contact the County of Santa Clara District Attorney's Office at [email protected] A voicemail can be left by calling (408) 792-2300. pic.twitter.com/CQnCYxUTep

— Santa Clara County (@SCCgov) March 21, 2020
The Santa Clara County District Attorney's Office has established a new phone number and email for individuals or businesses to report a non-essential business operating in violation of the order. Reports can be made by emailing [email protected] or calling (408) 792-2300 in English, Spanish and Vietnamese.
County officials on Saturday afternoon also announced 67 new confirmed coronavirus cases — bringing the total to 263 — but said the increase is not unexpected "given community transmission, an increase in provider reporting and growing testing capacity through the commercial market."
But, they added, the only way to control the virus is to adhere to the stay at home orders.
"The more people and businesses adhere to the Health Officer Order to Shelter in Place, the more we can decrease the potential exposures throughout the community," officials said in a statement.
11 a.m. March 21: Apple comes under fire
Cupertino-based Apple Inc. is facing pressure from Silicon Valley labor organizations to follow the lead of other big tech companies and make a commitment to pay subcontractors, if they're sent home due to the novel coronavirus outbreak.
Silicon Valley Rising on Saturday formally called on the tech titan to make that commitment for hourly workers who clean and sanitize Apple's offices and provide food and transportation for its workers. Silicon Valley Rising is led by Working Partnerships USA and the South Bay AFL-CIO Labor Council alongside a slew of affordable housing, union and commerce organizations.
"Apple is one of the richest corporations in the world, to ask low-wage workers to keep disinfecting its offices without any certainty that they will be paid if they're sent home is unacceptable," Maria Noel Fernandez, campaign director for Silicon Valley Rising, said in a statement.
Both Mountain View-based Google and Menlo Park-based Facebook have committed to paying their subcontractors despite closing their offices to anyone who can do their jobs from home.
This moment calls on all of us to pull together. @Apple needs to join @Facebook and other tech cos by committing to fully pay its subcontracted workers if they're sent home. pic.twitter.com/06vK5yPLGP

— SiliconValleyRising (@SVRising) March 21, 2020
Editor's Note: Derecka Mehrens, executive director of Working Partnerships USA, serves on San José Spotlight's Board of Directors.
7:45 p.m. March 20: Gilroy Garlic Festival canceled
The organizers for the Gilroy Garlic Festival announced Friday the popular event where visitors can eat and celebrate all things garlic would not happen this year. Instead, the group is giving the novel coronavirus a wide berth and scheduling the next festival for July 23-25 of 2021.
"The health and well-being of our community is paramount," the group said in a Twitter post Friday. "While we are anguished over our decision, we all look forward to making the 2021 Festival the best ever."
— Garlic Festival (@GilroyGarlicFes) March 20, 2020
7:30 p.m. March 20: State legislator urges medical supply donations
Assemblymember Ash Kalra (D-San Jose) joined local leaders in asking residents and companies to donate protective supplies for medical personnel to the Valley Medical Center Foundation to help frontline workers fight the spread of COVID-19.
"As our first responders, doctors, and nurses risk their safety during the Coronavirus outbreak, they are now lacking the basic tools to do their jobs right, and to do them safely," he said in a statement Friday evening. "I understand the desire for the public to hold on to many of these items, however, our frontline medical staff need them more than we do."
Residents and businesses can donate by going to The Valley Medical Center Foundation at 2400 Clove Drive in San Jose between 8 a.m. and 5 p.m., or visit the Valley Medical Center Foundation website. The supplies will support medical personnel at Santa Clara County hospitals.
Those workers have asked specifically for masks, hand sanitizer, protective goggles, face shields, disinfectant wipes, infrared thermometers, shoe covers, hair covers and surgical caps.
Right now, more than 11,700 Californians are self-monitoring based on possible exposure to the disease and health officials expect these numbers to increase.
5:36 p.m. March 20: Playgrounds close starting now
All playgrounds in San Jose and Santa Clara are officially closed, but parks and trails are still open, according to city officials.
Those who use the parks and trails are still required to stay at least six feet from anyone they don't live with, a precaution put in place to slow the spread of the novel coronavirus. Get more information about closures of parks and other recreational services in San Jose here.
5:30 p.m. March 20: More firefighters test positive
Two more San Jose firefighters have confirmed cases of COVID-19, totaling 13 first responders to test positive, up from 11 earlier this week. Meanwhile, 75 sworn personnel are being monitored due to exposure to the highly-contagious virus.
"The health of our first responders is critically important as they are on the frontlines as we help our community through the health crisis the COVID-19 presents," San Jose officials said in a release Friday. "The Fire Department asks the public to follow all orders of the County of Santa Clara Public Health Department to protect the entire community from further spread of the virus."
3:40 p.m. March 20: Local leaders ask for medical supplies
Business and elected leaders made a plea to residents and companies for medical supplies and money to buy supplies Friday afternoon in front of San Jose City Hall.
The Silicon Valley Leadership Group has launched a drive to collect money and supplies for the Valley Medical Center Foundation, which will go to all of the hospitals in the Santa Clara County health care system. The group has a list of needed supplies from those hospitals and are trying to check off every item.
Though it launched just yesterday, already the fund has raised more than $596,000 as well as surgical masks, hazmat suits, ventilators and gloves, Carl Guardino, CEO of the Silicon Valley Leadership Group, said Friday.
"As impressive as these initial steps are, let me emphasize these only are initial steps," Guardino said. "Silicon Valley must step up even more to ensure we have a healthy region while ensuring we have a healthy economy."
Indeed, the need is high among hospitals across California. Gov. Gavin Newsom this week said some front-line medical workers were purchasing makeshift protective equipment like swim goggles and gloves from hardware stores as supplies run low. Yesterday, Santa Clara County nurses sent out their own plea for people to donate supplies.
But Santa Clara County Supervisor Cindy Chavez said Friday that residents shouldn't be fearful.
"This isn't a time to be afraid, it is really time to lean in and figure out how you can help," she said.
And regular residents without caches of thousands of masks can help, said Michael Elliot, CEO at the Valley Medical Center Foundation.
"Folks are asking, 'I've got 10 masks, I've got a couple bottles of hand sanitizer, I've got some disinfectant wipes, will that help?'" He said. "Absolutely."
Find out more about how you can donate money or supplies here.
2:52 p.m. March 20: Two new deaths from COVID-19
Santa Clara County Public Health officials announced Friday two new deaths from the fast-moving coronavirus. That brings the death toll to eight people countywide.
The 7th death was an adult male in his 80s, officials said, who was hospitalized on March 3 and died three days ago. The 8th death was a man in his 70s.
"The Public Health Department expresses our condolences to the families and friends of the deceased," officials said in a statement.
The county also reported seven new coronavirus cases Friday, bringing the total count in Santa Clara County to 196 confirmed cases.
2:00 p.m. March 20: Mission College offers grab-and-go lunches to students
Mission College began offering free "grab-and-go lunches" Friday to students in need, with about 40 people showing up given less than 24 hours notice, according to Niall Adler, the director of public relations and marketing. This encouraged officials to continue the free meals.
The Santa Clara community college is transitioning to online after in-person classes were suspended. Leftover lunches were given to the Bill Wilson Center, which serves homeless and runaway youths in Santa Clara County.
The school will offer meals Monday, Wednesday and Friday next week. Lunches at Mission College take place from 11 a.m. to 1 p.m. in the school's lot B. Officials request students show their student IDs.
Earlier this week, West Valley College, part of the same community college district, announced it was providing free groceries on Wednesdays. Students need to show ID and their current list of classes at the distribution from 10:30 a.m. to 1 p.m. located in West Valley's lot 3.
Understanding the needs of our #students, starting Friday, Mission College will be handing out Grab-and-Go Lunches from 11 a.m. to 1 p.m. in Lot B. A college ID is requested. @thesvvoice @mercnews @SusanEllenberg @KansenChu @SantaClaraCity @BobWieckowskiCA @DevDavisCA pic.twitter.com/LWSsdhmt4D

— Mission College (@go2MissionSC) March 19, 2020
1 p.m. March 20: Mountain View approves $500K in relief for residents
As cities across the state grapple with how to deal with orders that have shut down many businesses and left workers without a paycheck, Mountain View city leaders this week approved a $500,000 program to offer money to renters impacted by COVID-19.
Residents who make up to 120 percent of the area median income qualify for the program, and the city is now trying to put the plan into action "as quickly as possible," according to a news release Friday. That means single-resident households will qualify if they earn $110,000 or less, and a household of four could earn up to $158,000 annually to qualify.
"Mountain View will continue to work closely with community partners, including potential funders, to explore additional efforts to support members of our community, as well as continuing to seek emergency funds from county, state and federal sources," the city said in a statement Friday. "This includes evaluating options to assist our local businesses."
Meanwhile, other South Bay cities have also enacted their own measures to help residents.
San Jose has halted evictions for both individuals and businesses that have trouble making rent if they can document their income has been impacted by COVID-19. The city has also relaxed parking and ticketing restrictions and is currently discussing a paid sick leave proposal that would give workers up to 80 hours of paid sick time annually, up from the 24 hours that California law requires today.
Santa Clara has outlawed utility shutoffs and has stepped up its senior meal program to ensure residents over the age of 60 have food.
11:45 a.m. March 20: Police turn to public to enforce "stay at home" order
If you see your neighbor or a business breaking the "stay at home" order that now applies to all of California, the San Jose Police Department wants you to pick up the phone.
On Friday, San Jose Chief of Police Eddie Garcia along with Mayor Sam Liccardo said residents who see someone or some company breaking the rules of the "stay at home" order should call 311 to alert authorities.
Officials are relying on the public and businesses to follow the rules of the order, which asks residents to shelter in place, unless they need to do "essential" tasks, like picking up food, medicine, working at an "essential" business or caring for family or pets. When residents are outside, top health officials have asked that everyone not living together remain about six feet apart from other people to slow the spread of the novel coronavirus.
So far, the police department has seen 56 violations of the "shelter in place" order issued in the county on Monday, but many of those instances have been due to misunderstandings or confusion. Officers have taken an "educational approach" thus far, but Garcia said Friday that "education is going to turn into enforcement very soon," if residents and businesses do not comply with the order.
Liccardo said residents should not consider it "snitching" if they report a violation.
"It has always been the case that the police department has depended on the eyes and ears of the public," he said.
San Jose city leaders and the police department have also said repeatedly that they would not use the health order as a reason to stop and detain residents they see walking around, meaning they won't assume San Joseans are breaking the law just because they aren't inside their homes.
"It was very important to me that our community members knew that police officers weren't going to be using this as a means of simple detention," Garcia said.
10:45 a.m. March 20: Tax Day can wait
Americans have until July 15 to file and pay their taxes, rather than the typical April 15 deadline, Steven Mnuchin, United States Secretary of the Treasury announced Friday.
He also encouraged residents who are owed refunds to "file now to get your money," in a follow-up Tweet.
At @realDonaldTrump's direction, we are moving Tax Day from April 15 to July 15. All taxpayers and businesses will have this additional time to file and make payments without interest or penalties.

— Steven Mnuchin (@stevenmnuchin1) March 20, 2020
9:45 p.m. March 19: Santa Clara County nurses turn to the public for supplies
The Registered Nurses Professional Association made a plea Thursday for the community to donate safety supplies to protect medical workers against COVID-19.
"We are answering the call to service, but we need the basic tools to do our jobs right, and do them safely," Debbie Chang, a registered nurse and RNPA president said in a statement Thursday. "At this critical moment nurses are turning to our friends and neighbors for help. If you or anyone you know happens to have a surplus of supplies please consider donating to our frontline healthcare professionals."
Specifically, the association says local nurses need:
Masks
Hand sanitizer
Protective googles and face shields
Disinfectant wipes
Infrared thermometers
Shoe covers
Hair covers and surgical caps
Residents and companies who want to make a donation can reach RNPA at (408) 292-6061 or by email at [email protected].
"Today, the ER physicians and I stand with our colleagues in our plea for additional personal protective equipment," said Jeff Chien, medical director for Santa Clara Valley Medical Center's Department of Emergency Medicine. "This equipment makes sure front-line personnel can continue to provide care, but also to prevent the spread of COVID-19 from one patient to another. We appreciate any support that you can offer."
9:30 p.m. March 19: California launches COVID-19 website
California officials this week launched a website dedicated to the state's COVID-19 response, at COVID19.CA.gov.
The site keeps a running tally of the number of people infected, those how have gotten better and those who have died throughout California. It also includes press releases from Gov. Gavin Newsom's office, information about schools, education, employment and taxes as well as tips for residents to avoid getting sick.
9:15 p.m. March 19: California COVID-19 projections raise eyebrows
A recent letter from California Gov. Gavin Newsom to President Donald Trump raised concern Thursday as residents grappled with the number of people state officials are projecting could get sick from the novel coronavirus without serious intervention. At an estimated 56 percent infection rate, 25.5 million Californians would wind up with COVID-19 in the next eight weeks, Newsom estimated in his letter.
On Wednesday during a Facebook livestream, Newsom also told residents the state was modeling scenerios where 20 percent of those infected would need hospitalization. That level of need will require more resources in terms of medical equipment and hospital beds than California has currently, he said. But the state is working to address that shortage by setting aside more than $1 billion to fight the spread of the virus and buying 1,309 trailers as well as hotel and motel rooms to house homeless residents.
The governor has asked Trump and the Department of Defense to deploy the Navy's Mercy hospital ship off the coast of California and to send two mobile hospitals to the state. Officials will also announce tomorrow the purchase of two large hospitals to help with the expected influx of residents needing medical care.
9 p.m. March 19: VTA goes fare-free
The Valley Transit Authority won't be collecting fares on its buses, light rail trains or paratransit services, the agency announced Thursday.
The move comes after VTA decided to tape off the area where its drivers and operators sit, and asked riders to board through rear doors, an effort to slow the spread of COVID-19 to its employees. Only passengers who need to use priority seating or the ramp to get on and off the bus or train can use the front door, the agency said.
"These changes will benefit everyone's wellbeing and help adhere to Public Health recommendations," VTA officials said Thursday.
VTA is also suspending its Rapid 500 route, which serves San Jose Diridon Station to Berryessa Transit Center Starting March 23. The agency is advising riders to take Routes 64A, 64B or the 68 instead.
"Like everyone else in this unique situation, with employees on leave or working from home, we will experience gaps in service," the agency said in a statement Thursday.
Keep up to date on canceled trips here.
Since the operator area will be taped off, there will be no access to the farebox or Clipper Card reader. This means we will not collect fares on buses during this time, nor will we collect fares for light rail and paratransit service either. https://t.co/WXrAfmRSHX pic.twitter.com/X9bKBEI9Lj

— VTA (@VTA) March 19, 2020
7:00 p.m. March 19: Gov. Newsom issues state at home order across California
After Bay Area counties issued shelter in place orders effective Wednesday at midnight, California Gov. Gavin Newsom announced a "stay at home" order for the entire state Thursday.
Already, 21.3 million Californians were impacted by shelter in place orders in cities and counties.
"Now it's time for all of us to recognize as individuals and as a community we need to do more to meet this moment," Newsom said in a Facebook livestream.
The governor said "enforcement comes in many shapes" including regulation and licensing. He clarified that the orders don't mean Californians can never leave the house.
"We're going to keep the grocery stores open," he continued. "We're going to make sure that you're getting critical medical supplies. You can still take your kids outside, practicing common sense and social distancing," adding residents can still walk their dogs or get food at distribution centers, restaurants or drive-thrus. "All those things we will still be able to do."
Essential state and local government functions remain open, including law enforcement and offices providing government programs and services.
There is no immediate end date for the governor's stay at home orders.
Governor Newsom makes a major announcement on California's response to COVID-19 outbreak.

Posted by California Governor on Thursday, March 19, 2020
6:30 p.m. March 19: Another firefighter tests positive for coronavirus, now 11 total, 76 more monitored
Another San Jose firefighter has tested positive for COVID-19, bringing the total to 11 members of the fire department, city officials said Thursday. Another 76 are being monitored for possible exposure.
Numbers have risen in the San Jose Fire Department since Monday, when officials said 10 firefighters had tested positive with 54 others possibly exposed.
The announcement of the latest firefighter testing positive comes after one reserve San Jose police officer was diagnosed with coronavirus, as officials announced earlier Thursday. Between 40 to 50 other members of the police department were potentially exposed and are isolating.
On Thursday, the fire department tweeted one firefighter who tested positive was released from the hospital and is recovering at home. The other 10 firefighters have reported "mild to moderate symptoms," officials said.
Police and other first responders, including firefighters, EMT and other medical staff, in Santa Clara County will now qualify for expedited coronavirus testing if they show symptoms of the virus, the county announced earlier Thursday.
We are pleased to report that our firefighter who was previously hospitalized has been released and continues to recover at home. We are fortunate that among the additional 10 firefighters who have tested positive for COVID-19, most report mild to moderate symptoms.

— San Jose Fire Dept. (@SJFD) March 20, 2020
4:00 p.m. March 19: San Jose reserve police officer tests positive, new fast-tracked testing announced
The first identified case of COVID-19 has cropped up at the San Jose Police Department, as a reserve officer reported that he'd tested positive around March 12.
That officer is one of 40 to 50 officers who were potentially exposed to the virus and are isolating, including those who are detectives in the family violence unit and police reserves who met at an offsite police location.
But it's not all bad news, the San Jose Police Officers Association says.
As the department deals with its first case of coronavirus, new rules have been set into motion that weren't there before, including a self-isolation requirement when an officer comes into contact with the virus — even if they aren't showing any symptoms.
"Weeks ago, we had police officers that were exposed, but if they didn't have symptoms they'd return to work the next day," said Paul Kelly, president of the San Jose Police Officers Association. "We've been pushing and talking to the chief's office and city about it and we are happy to say we are there."
Officers and other first responders, including firefighters, EMT and other medical staff, in Santa Clara County will now qualify for expedited coronavirus testing if they show symptoms of the virus, the county announced Thursday.
That's a needed step to ensure the virus doesn't spread and that non-infected officers can get back to work more quickly, Kelly said.
"All cities should follow suit for the safety of their community and also the safety of police officers and their families," he said.
3:45 p.m. March 19: County waives fees in parks
The Santa Clara County Parks Department is waiving entrance fees at parks for the remainder of the three-week "shelter in place" order, issued Monday.
Notably, some areas of the parks, including playgrounds and picnic sites, will remain closed because they encourage gatherings that are currently prohibited in the county.
The move, announced Thursday, was pushed forward by county supervisors Joe Simitian and Mike Wasserman, who wrote in a memo this week that "sometimes in the midst of significant and challenging circumstances, even small things can help."
Despite the shelter in place order, residents can still leave their homes for essential errands like grocery shopping, visiting the pharmacy or caring for a family member or pet. People can also get outside for some exercise, but are required to stay at least six feet from anyone they are not living with to help slow the spread of the highly contagious coronavirus.
1 p.m. March 19: Santa Clara starts curbside meal pickup for seniors
Starting Friday, March 20, the Santa Clara Senior Center will start providing to-go meals with curbside pickup between 11 a.m. and 12:30 pm. on weekdays for those age 60 and older. To reserve a meal, call 408-615-3170 by noon one day before the planned pick-up.
12:30 p.m. March 19: IBM donates masks to county hospitals
IBM this week sent over 15,000 face masks for the Santa Clara County hospital system, to use for frontline medical staff at O'Connor Hospital, St. Louise Regional Hospital and Santa Clara Valley Medical Center.
The news comes a day after Gov. Gavin Newsom said that some hospitals throughout the state were dangerously low on supplies and resorting to desperate measures to find makeshift protective gear for doctors, nurses and others.
San Jose city leaders contacted local businesses this week asking for supplies to combat the spread of COVID-19, prompting IBM to dig into its stash of unused masks the company purchased last year as the Bay Area filled with hazardous smoke from wildfires to the north, according to a release Thursday.
IBM's Senior Location Manager Laura Guio and Program Director Chris Akey pushed to donate the masks "in less than 24 hours from the call with the mayor," according to a statement by IBM.
11:30 a.m. March 19: DMV cuts back its services
In response to the coronavirus pandemic, the California Department of Motor Vehicles announced Wednesday it's banning walk-in appointments and canceling behind-the-wheel driving tests. The DMV will also reduce its service hours to protect employees and the public.
DMV visits will now be by appointment only, and offices will remain open from 8 a.m. to 5 p.m. on Monday, Tuesday, Thursday and Friday. Wednesday hours are 9 a.m. to 5 p.m. Extended hours and Saturday hours will be canceled.
"Our appointment system will allow us to better manage the flow of people coming to our offices and accommodate social distancing recommendations," the department said in a statement.
10 a.m. March 19: Facebook offers small business grants
Social media giant Facebook is offering $100 million in grants to help small business weather the economic fallout from the coronavirus.
"We know that your business may be experiencing disruptions resulting from the global outbreak of COVID-19," Facebook officials wrote in a blog post announcing the grant funding. "We've heard that a little financial support can go a long way, so we are offering $100M in cash grants and ad credits to help during this challenging time."
Facebook said the cash grants and ad credits will be available for up to 30,000 small businesses in over 30 countries. The money can be used to cover rent, employee salaries or other operational costs.
Anyone interested in applying for funding can sign up for updates here.
9:30 a.m. March 19: California Endowment makes a major donation
The California Endowment this week announced a hefty donation to help the state's most vulnerable residents amid the COVID-19 outbreak.
The grants, totaling $5 million, will help support public health efforts and the social and health services needs of vulnerable Californians, including farm workers, day laborers, homeless residents and undocumented individuals.
"It's especially important we focus our limited resources on the most marginalized and vulnerable regions and populations," said Robert K. Ross, MD, president and CEO of the California Endowment. "These early investments will help protect the public health of all Californians by providing essential health and social services to those too often struggle to get by."
Additional funding will be targeted for regional community partner foundations to distribute to local nonprofits. The goal, officials said, is to reach at-risk residents who face a lack of awareness, language barriers and lack of access to health care. While the Inland Empire and Central Valley have been identified as a priority for the funding, additional dollars will go to Los Angeles County, Orange County, San Diego County and the Bay Area.
10 p.m. March 18: Newsom announces $150M in coronavirus funding for homeless
Gov. Gavin Newsom on Wednesday announced the state had set aside $150 million to tackle the potential spread of COVID-19 among the state's more than 100,000 homeless residents.
Cities and counties will split $100 million to provide shelter and emergency housing, while the remaining $50 million will be spent on 1,309 trailers and leasing hotel and motel rooms, where unhoused residents will have "a door, a key and a lock with as much support we can provide under the circumstances," Newsom said during a Facebook livestream.
The funding aims to head off a mass infection among homeless residents who can't easily self-isolate or protect themselves from infection.
Governor Gavin Newsom provides a COVID-19 update.

Posted by California Governor on Wednesday, March 18, 2020
Newsom laid out several potential models Wednesday night that the state is studying to predict how the virus will spread and the need for hospital beds in the coming weeks. One model, which estimates that 20 percent of those who contract the virus will need hospitalization, suggested the state would need about 19,500 bed — far more than what is currently available.
As of Wednesday night, 598 people statewide had tested positive for the novel coronavirus. Though about 12,500 people have been tested for COVID-19 throughout California, 3,215 of those tests have not yet yielded results, a process that can take up to six days, Newsom said.
But the state is working fast to fill the resources gap as health officials predict the number of cases will rise significantly, he said.
On Friday, Newsom's office will announce the purchase of two "large hospitals" — one in Northern California and one in the southern half of the state.
State officials have also asked the federal government for help by asking the Department of Defense to deploy the Navy's Mercy hospital ship off the coast of California and to send two mobile hospitals to the state. If approved, the ship and the mobile hospitals could add around 2,000 hospital beds, as well as manpower to the state's resources.
Some hospitals are running low on supplies and going to extreme measures, like buying swimming goggles or asking seamstresses to make masks because there's not enough protective gear. Those measure are "not acceptable," Newsom said, noting he's asked the federal government to help provide "massive amounts" of the supplies needed to test and treat patients.
Meanwhile, children will likely not return to class before the summer, the governor said, but won't have to worry about missed tests.  "These kids don't deserve to be tested with all the anxiety, the social and emotional stress associated with these schools shutting down," he said.
4:50 p.m. March 18: DoorDash rolls out initiatives to help workers
In a blog post Wednesday, DoorDash announced a series of changes intended to assist workers, customers and communities in need.
"We're in this together, and as the situation evolves, we'll continue to do everything we can to serve our community," said Tony Xu, CEO and co-founder of the Silicon Valley delivery app, in the post.
He said the international company was providing financial assistance to deliverers and couriers who are diagnosed with COVID-19 or quarantined. The company also plans to ship more than 1 million sets of free hand sanitizer and gloves to workers at DoorDash and Caviar, the company's subsidiary delivery service.
Xu also said the company is changing default delivery methods to a no-contact option to minimize contact by leaving deliveries at the door. But, if customers prefer, they can select to have purchases handed to them.
In efforts to help local businesses, DoorDash rolled out plans for commission relief and marketing support for partnered restaurants. The company projected this could help them generate up to $200 million in sales this year.
Lastly, Xu said DoorDash is working with community organizations to deliver an estimated 1 million pounds of groceries and prepared food. Locally, he said DoorDash is supporting the San Francisco-Marin Food Bank and Fresher Sacramento.
3:15 p.m. March 18: Wag offers discounted pet boarding to first responders, medical personnel
As many businesses in the Bay Area shut their doors due to a far-reaching "shelter in place" order issued by health officials this week, Wag Hotels, a pet boarding company,  remains open and is offering discounts to first responders and medical professionals who need a place to board their pet during long workdays.
The Sacramento-based company has nine locations across California, including Oakland, Redwood City, Sacramento, San Francisco and Santa Clara, and will offer discounts through April 15. The company says it is also ramping up its cleaning protocols during the COVID-19 outbreak.
"We are working to protect our associates and clients with increased cleanings and the implementation of social distancing techniques throughout our hotels," the company said in a news release Wednesday.
3 p.m. March 18: SJSU postpones commencement ceremony
San Jose State University President Mary Papazian announced in a letter Wednesday that the university's Spring graduation commencement would be postponed. It was scheduled for May 20 through May 22.
"Amid the ever evolving COVID-19 pandemic, the California State University has evaluated guidance from the CDC, public health experts and state officials in making this difficult decision system-wide," Papazian said in the letter. "The postponement extends to all college, department and student group celebrations."
But university officials say there will be a celebration of some kind — it's just not clear when. More information will be made available on the university's commencement web page as details are solidified.
"Unfortunately, we do not have clarity on how this health crisis will unfold, so we ask for your patience while we make arrangements to celebrate each of our graduates," Papazian said. "Please, continue to take care of yourselves and those close to you as we all work to stay safe and healthy while finishing the semester."
2:40 p.m. March 18: ACE rail shrinks service
The Altamont Corridor Express, known as the ACE Train, is suspending its Saturday service, reducing train sizes and suspending some routes starting this week, the agency announced Wednesday.
"As the State and Counties along the ACE Service corridor have implemented severe restrictions on non-essential travel, all transit agencies have been asked to reduce service to deal with the drop in ridership and revenue, while also trying to maintain the desired social spacing to prevent the potential spread of Coronavirus (COVID-19) onboard," the agency said in a statement Wednesday.
Ridership on the line, which runs between San Jose and Stockton, has dropped nearly 85 percent in the past week.
As of Thursday, ACE will reduce the number of cars it uses on its lines down to four and five at a time. Starting March 21, ACE will stop its "Saturday Service Pilot Program," but the agency will evaluate when it might bring the service back in the future. ACE Trains 07 and 10, along with the related shuttle services, will be suspended starting March 23 because those routes have been attracting fewer than 40 riders at a time.
For the three round-trips remaining on the line, the agency says that it is providing plenty of soap on its lines and disinfecting the cars at the end of each day by cleaning the handrails, seats, tables, windows and other surfaces often touched by passengers.
1:10 p.m. March 18: Newsom relaxes Brown Act regulations, some San Jose meetings continue on
San Jose lawmakers on Tuesday incorporated a new executive order by Gov. Gavin Newsom relaxing Brown Act requirements to allow for teleconferencing in public meetings without lawmakers having to post where each person is physically located.
The order states that there must still be a physical location where the members of the public can watch the meeting, so San Jose assured that "rooms will be set up for social distancing," though councilmembers may attend virtually. Notably, all council meetings are streamed in real time on the city's website.
San Jose City Council meetings and the Rules and Open Government Committee meetings will continue as planned. The Planning Commission will meet virtually as needed but all other committee, commission and board meetings are canceled through May, city officials said.
12:45 p.m. March 18: Silicon Valley leaders launch Silicon Valley Strong, Apple announces donation
Local government and nonprofit leaders on Wednesday showed up in front of Second Harvest Food Bank in San Jose to launch Silicon Valley Strong, a new "one-stop-shop" for updates, resources and information on the coronavirus.
The webpage, which is being translated into Vietnamese and Spanish, will include details about a new fund to help vulnerable residents get food and other needs met during the COVID-19 outbreak.
"We are here because of course we are valley of great abundance, a valley of great wealth, of talent, of ingenuity, but most importantly a valley of great heart," Liccardo said Wednesday during the news conference. "We may not have shelves that are well-stocked with toilet paper and sanitizer at the moment, but we are a valley of abundance and plenty and we know that at a moment like this when so many are struggling, we need to do more to ensure that all in our community have access to food through this crisis."
The new fund, called San Jose Strong Fund, is being launched by the city and the Silicon Valley Community Foundation. Donations will help residents who are at high-risk of displacement during the outbreak and businesses — particularly small businesses — at risk of closure due to lost sales. It will also benefit nonprofit organizations throughout Silicon Valley.
Already, the fund has one big-name backer: Cupertino-based Apple Inc., which has contributed $1 million.
"Apple has called this region home for over 40 years we feel a profound sense of civic responsibility to ensure that it remains a vibrant place where people can live, build a strong sense of community and obviously have employment," said Mike Foulkes, director of state and local government affairs for the tech titan.
San Jose Strong Fund is the second coronavirus-related fund the Silicon Valley Community Foundation has launched in recent weeks. The first was the Coronavirus Regional Response Fund, which will support organizations from ten Bay Area counties as they each fight the ripple effects of COVID-19. Both funds are accepting donations.
Santa Clara County Supervisor Cindy Chavez appealed to residents and businesses to get involved by visiting www.siliconvalleystrong.org and signing up to help, particularly young and healthy residents wondering how to get involved.
"Come, help us change the world and save lives," she said.
The initiative was launched as nonprofits like Second Harvest are facing major need and fewer resources than before, Leslie Bacho, COO for the food bank, said Wednesday.
"Here at Second Harvest, we have always said that we cannot end hunger alone," she said. "It will take all of us working together, and that has never been more true than today."
11 a.m. March 18: Rapid Response Network taking calls for immigration enforcement amid pandemic
Amid the coronavirus pandemic, the Rapid Response Network in Santa Clara County, a 24-hour hotline for residents to report immigration enforcement actions, is still taking calls. Volunteers and immigration attorneys on the hotline assist people or witnesses.
This comes after the Los Angeles Times followed Immigration and Customs Enforcement officers, with N95 masks at the ready, who detained people suspected of being in the country illegally on Monday.
"If you see or think you see ICE in your community, call 408-290-1144 immediately and Rapid Response volunteers and immigration attorneys will be ready to assist," San Jose's statement said. "We stand with all of our community, regardless of immigration status."
8:55 a.m. March 18: Newsom signs $1B emergency order
Gov. Gavin Newsom has signed emergency legislation that was unanimously passed by state legislators Tuesday to provide up to $1 billion in funding to help the state's efforts in slowing the spread of COVID-19.
"This money will provide more hospital beds and medical equipment to help hospitals deal with the coming surge and it will help protect those who are most at risk," Newsom said. "I am grateful to the Legislature for their quick action."
The emergency funding package includes $500 million, with allowable increases of up to $1 billion to increase hospital bed capacity and medical equipment in the state, support cities to provide beds for their unhoused residents, clean daycare facilities that haven't closed and provide services to those isolating at home as well as hospitals and nursing homes.
Also in the funding package: $100 million to allow schools to maintain funding, though most have shut down and to provide personal protective equipment and cleaning for schools that are still open.
8:30 a.m. March 18: San Jose creates email for business questions
San Jose officials have launched a new email address specifically for businesses looking for answers to their questions during the COVID-19 outbreak. Officials manning the email address, [email protected], can answer questions in multiple languages including English, Spanish, Vietnamese and more, according to Nathan Donato-Weinstein, business development officer for the city.
We now have an email address for business folks to send queries about resources and issues, [email protected] It will be staffed by English, Spanish, and Vietnamese staff speakers and we can serve other languages through contract translators. https://t.co/hIsPtgFfeS

— Stay-at-Home Nate #slowthespread (@408Nate) March 18, 2020
8:15 a.m. March 18: San Jose stops parking enforcement
San Jose has suspended issuing and processing parking citations and fees until April 16, city officials announced Tuesday evening. Residents will also have to wait to contest any tickets until mid-April, according to the announcement. Previously issued tickets can be paid or checked online here.
"Parking officers will not be ticketing for parking violations, or towing abandoned or illegally stored vehicles on city streets," the city's announcement states. "Vehicles parked in an unsafe manner will be referred to the San Jose Police Department."
Other cities, including San Francisco and Oakland, have also suspended some parking enforcement in the wake of a new "shelter in place" order, which went into effect Tuesday.
San Jose this week also suspended its hazardous waste drop-off events and illegal dumping collection services due to COVID-19 health concerns
The parking garages in downtown San Jose will still be open — with limited staffing — to allow residents to access essential services, including take-out food.
8:06 a.m. March 18: Newsom puts National Guard on alert
California Gov. Gavin Newsom announced Tuesday night he'd exercised his role as the state's Commander-in-Chief by placing the state's National Guard on alert to prepare for "humanitarian missions," like distributing food, supporting public safety efforts and "ensuring resiliency of supply lines," according to a news release.
"As Californians make sacrifices over the coming weeks and stay home, we are immensely grateful for medical providers, first-responders and National Guard personnel who are assisting those who are most vulnerable to COVID-19," Newsom said.
8:50 p.m. March 17: San Jose State student diagnosed with COVID-19
San Jose State administrators confirmed Tuesday evening a student tested positive for coronavirus.
The student lived off-campus and is recovering at home, according to Patrick Day, vice president for student affairs, and Dr. Barbara Fu, the acting medical director at the university's student health and wellness center.
"We will remain in touch with this Spartan and support their healthy and safe return to the university," Day and Fu said in an update on San Jose State's website.
Officials said they will determine whether there are others who need to be advised of their contact with the student.
"We realize that this kind of news can create concerns and anxiety in a time of ongoing change…" they said. "This is a challenging time for our university and our world.
#SJSU has confirmed its first case of Novel Coronavirus (COVID-19). The student is off-campus and recovering at home. Read the full message here: https://t.co/IxfNtvXTtl

— San Jose State University (@SJSU) March 18, 2020
5:45 p.m. March 17: Sheriff asks for cooperation in Bay Area health order
After counties across the Bay Area announced a new "shelter in place" order for residents to slow the spread of the novel coronavirus, one of the big outstanding questions was of enforcement: What would happen if some don't comply?
The order is enforceable by law, but the Santa Clara County Sheriff's Office hasn't announced specific fines or punishments for those who do not avoid leaving their homes for reasons other than the exceptions outlined in the order. On Tuesday, the Sheriff's office released a statement asking residents to voluntarily comply.
"During times of crisis, we know that the community looks to law enforcement to provide public safety, guidance and sense of security," the statement said. "Our Office stands in alignment with the 'Shelter in Place' order set by the Santa Clara County Public Health Department and we expect everyone to do their part by voluntarily complying with the order. Let's all continue to work together to keep Santa Clara County safe."
5:30 p.m. March 17: Joint Venture Silicon Valley shifts to matchmaker for businesses, residents 
Joint Venture Silicon Valley announced Tuesday the local thinktank focused on the region's economy would "repurpose and re-deploy" its staff members and resources "in service to the COVID-19 health crisis facing the region."
"Now more than ever the region needs to leverage Joint Venture's data, analysis, convening power and leadership," Russell Hancock, the organization's president and CEO, said in a statement.
Joint Venture released a list of initiatives it would take up for the foreseeable future, including:
Working with newly closed restaurants and suppliers to get surplus food to families
Focus the organizations' Silicon Valley Talent Partnership teams, who work pro bono, to provide communications, strategic planning, data analysis and cybersecurity consulting to organizations that need help forming their coronavirus response
Be a matchmaker for companies to donate extra equipment where it is needed. (For instance, to children who need a laptop for at-home learning)
Appeal to its member base to contribute to the Regional Response Fund, which was set up by the Silicon Valley Community Foundation to assist those who need money during the COVID-19 outbreak
The group also intends to work on broadband and communications infrastructure and work with member companies, including Accenture, to "deploy civic technology."
Finally, Joint Venture has volunteered its data powerhouse, known as The Silicon Valley Institute for Regional Studies, to gather, analyze and model information on the virus' long-term economic impact as well as study ways for the region to speed up economic recovery after COVID-19 is deemed under control.
5 p.m. March 17: Comcast offers free WiFi, no disconnects or late fees in response to COVID-19
Comcast has announced its plan to "keep Americans connected to the internet" during the fast-spreading coronavirus pandemic.
"During this extraordinary time, it is vital that as many Americans as possible stay connected to the internet – for education, work, and personal health reasons," Dave Watson, Comcast Cable chief executive officer, said in a statement. "Our employees also live and work in virtually every community we serve, and we all share the same belief that it's our company's responsibility to step up and help out."
Comcast said it will offer:
Free WiFi hotspots: Xfinity WiFi hotspots will now be available across the country for free, including for non-Xfinity customers. A map of the hotspots can be found here.
Unlimited data: All Comcast customers will get unlimited data for no additional charge for the next 60 days. "With so many people working and educating from home, we want our customers to access the internet without thinking about data plans," the company said.
No disconnects or late fees: Those who cannot pay their Comcast bill can call the internet service provider to avoid being disconnected and to avoid late fees.
Free home internet for low-income families: New low-income customers can get a free 60-day trial of the company's "Internet Essentials" service, a product generally available to low-income households for $9.95 a month. The company is also increasing the speed of that service permanently.
4 p.m. March 17: Transit measure gets pushed back
The novel coronavirus has set back a transit measure that local leaders were pushing to get on the November 2020 ballot, the groups behind the measure announced Tuesday.
The Silicon Valley Leadership Group, the Bay Area Council and urban planning thinktank SPUR, have been the primary backers of the initiative, known as FASTER Bay Area, and had even explored combining the measure with another tax measure to raise money for affordable housing in the region. But FASTER Bay Area needed the support — and a vote — of the state Legislature to appear on the 2020 ballot, an effort that Sen. Jim Beall (D-San Jose) had been championing.
The novel coronavirus has set that plan off track, the group said Tuesday.
"This was already an extremely tight timeline, especially as FASTER is proposing a wide variety of transformative policy changes," the group said in a statement. "With the massive amount of focus that we will need on COVID-19, we were concerned that the critical yet complex elements that are core to FASTER's mission … were no longer possible in this timeframe."
But FASTER Bay Area isn't going away. The silver lining in the delay is that it will give the groups pushing for the measure "more time to work with the Bay Area's transit operators, elected officials, stakeholders and the broader public," according to the statement.
The proposed measure aimed to add a new sales tax in the Bay Area that would raise an estimated $100 billion over the next 40 years to fund a variety of transit improvements, expansions and to coordinate schedules between the disparate transit providers in the broader Bay Area. Earlier this year, the group mulled trying to combine the measure with an affordable housing measure called Bay Area Housing For All, backed by a slew of nonprofit and housing organizations.
That housing measure has already received the votes it needed in the Legislature to appear on the ballot in November, and those working on the measure told San José Spotlight last month they were dedicated to getting the measure in front of voters this year.
"As we look ahead we remain committed to working together towards a network that is truly seamless, fast, frequent and reliable enough to get people out of their cars; a network that is built based on outcomes that best serve the customers," the FASTER Bay Area statement said.
12:30 p.m. March 17: Santa Clara County halts inmate visits
The Santa Clara County Sheriff's Office is temporarily suspending all social visits to inmates at its main jail, at 150 W. Hedding St. in San Jose, and the Elmwood Correctional Complex, at 701 S. Abel St. in Milpitas. The suspension started this morning and will continue until April 7, after county health officials from across the Bay Area ordered a "shelter in place" order for the next three weeks.
"The Sheriff's Office values visitation as an essential part of our jail operations, but at this time, the health and wellness of all those who work, live, and visit in our facilities must be protected," a statement by the sheriff's office reads. "We will continue to ensure the safety and security of the people who work in our facilities and the continuation of access to medical and mental health services for the inmate population."
Instead of in-person visits, the Sheriff's office is working with Global Tel Link to offer inmates two 5-minute calls weekly. Inmates will be able to order additional minutes through Aramark.
The Sheriff's Office said Tuesday that they've seen no confirmed cases of COVID-19 inside the jail facilities, but there are currently three inmates who are in a 14-day isolation period after coming into contact with a visitor to the jail who had the virus. Those inmates are not showing signs or symptoms of the virus.
11 p.m. March 16: Gov. Gavin Newsom issues order to protect renters
California Gov. Gavin Newsom on Monday issued an executive order aimed at protecting renters by allowing local governments to halt evictions due to non-payment of rent because of the coronavirus, a move San Jose made last week.
The order is meant to "clarify any of the legal ambiguity of actions that have already been taken in Los Angeles, San Jose and San Francisco," Newsom said. "And we broaden an understanding of the capacity of local government to move in a similar direction — which we encourage — over the course of the next days and weeks to protect those who have lost their job, their health has been impacted, the income has been impacted, due to health related costs."
As of Monday night, 392 people had tested positive for COVID-19 across the state and six people had died due to the virus, though Santa Clara County has been hit the hardest, Newsom said.
The direction issued Monday is in effect for both businesses and renters until May 31. The state is also working with housing authorities and banks to help prevent foreclosure in the near-term as well as utility companies — including phone companies — to ensure people can keep those "critical services," as companies shut down or reduce hours for workers, Newsom added.
The order doesn't allow people to stop paying rent or other bills, but can help with near-term financial concerns by renters, the governor said during a  news conference.
California is working to ramp up testing capacity by thousands of tests per day, including through a new partnership with Alphabet-owned Verily, which launched a screening and testing pilot this week to allow high-risk residents in Santa Clara and San Mateo counties to make an appointment and get tested for the virus. Newsom did not say how many people had been tested for the virus across the state so far.
Meanwhile, Newsom said California is looking at more than 900 hotels across the state to secure rooms for homeless people. Two hotels, totaling 390 rooms near the Oakland airport, were leased by the state on Monday to provide private rooms for the city's unhoused population.
"We will overwhelm ourselves if we don't move with real urgency in this space," Newsom said. "I want people to know that is happening."
7:00 p.m. March 16: County death toll rises to four
Santa Clara County has now counted four deaths as a result of coronavirus.
According to the County Public Health Department Monday evening, the latest two deaths were both adult men who died Sunday. One man was in his 80s and one in his 50s, and they were hospitalized March 7 and 12, respectively.
6:30 p.m. March 16: Santa Clara officer tests positive, city implements closures
One Santa Clara police officer has tested positive for COVID-19. The unidentified officer last worked on March 9 and has been self-isolating at home since that date. The officer will continue to isolate for 14 days and is expected to make a full recovery, city officials said Monday afternoon.
Meanwhile, the city declared a state of emergency on March 11 and on Tuesday, the City Council will ratify that declaration.
"We're taking these actions to slow the spread of the coronavirus and to help reduce exposure to those most at risk for serious illness," Santa Clara Mayor Lisa Gillmor said in a video announcement Monday.
The city has closed all libraries and community centers, and canceled all city events. Starting Wednesday, Santa Clara will provide only essential public services, including police, fire, electric utilities, water and sewer services, as well as trash and recycling pickups. All meetings — except for council and Stadium Authority meetings — are also cancelled through April.
Separately, officials have also suspended service disconnections for unpaid electric and water utilities for both residential and commercial customers in the city.
2 p.m. March 16: San Jose announces facility closures as it escalates its pandemic response
San Jose announced closures of several facilities effective Tuesday as it escalated its pandemic response plan, according to a Monday report from the city's Emergency Operations Center. The following city facilities will be closed until further notice:
City Hall will be closed to the public

City public libraries and community centers

San Jose Animal Care Center

Happy Hollow Park and Zoo

Lake Cunningham Action Sports Park

Boards, commissions and committee meetings will be canceled or postponed

The Development Services Permit Center's office will be closed but staff are available
Facilities including Mineta San Jose International Airport, fire and police departments, municipal water and wastewater, as well as utilities will continue operating. The City Council meeting is still scheduled for Tuesday, with social distancing policies in place.
1:36 p.m. March 16: Bay Area counties announce "shelter in place" order 
Six Bay Area counties, including Santa Clara County, issued an order for residents to shelter in place on Monday, requesting residents to stay home as much as possible for the next three weeks and stay at least 6 feet from other people when they do go out.
The order begins at 12:01 a.m. Tuesday morning. The counties affected are Santa Clara, San Mateo, San Francisco, Marin, Contra Costa, Alameda and the city of Berkeley. The areas represent a core part of the Bay Area with a combined population of more than 6.7 million people.
"The whole idea behind this is to have people remain in small, stable groups and to limit mixing to the greatest degree possible," Cody said.
All businesses are required to implement work from home policies or cease "nonessential" operations, and all public and private gatherings not in a private residence are prohibited except in specific situations, which county officials said they will expand on later Monday.
Health care operations, businesses that provide food, shelter or social services; grocery and convenience stores; pharmacies; daycares; gas stations; banks; and laundry businesses will be allowed to remain open alongside legal, safety and essential government functions. Mass transit will remain open, but should only be used for essential activities, county officials urged. Delivery services will also be allowed to operate.
"We know that Santa Clara County is the epicenter of this outbreak in the Bay Area and we know that COVID-19 is spreading rapidly," Cody said. "I recognize that this is unprecedented, and if I thought last Friday's announcement was hard, this one is exponentially harder. But we must come together to do this."
Santa Clara officials on Friday banned events of more than 100 people and closed public schools — a decision that drew an emotional response from Cody as she made the announcement last week, acknowledging that the order would put a strain on residents.
Homeless people are exempt from the order, but will be encouraged to find shelter if possible, health officials said Monday.
"We must move aggressively. This is not the moment for half-measures. History will not forgive us for waiting an hour more," San Jose Mayor Sam Liccardo said during Monday's news conference.
Enforcement of the shelter in place order will be up to each jurisdiction, and will take some time implement, officials said.
Other county health officials stood in solidarity with Cody Monday during the news conference, underlining the message that the region would not slow the spread of the virus unless each county worked together to implement the same rules.
"In San Francisco, we've had three core goals from the very beginning: one is to protect the public, but especially the most vulnerable populations and to protect our health care system and our health care workers that we need to keep healthy so they can take care of us," San Francisco Health Officer Dr. Tomas Aragon said Monday. "The way we are going to do this is by reducing community spread of this virus. Sheltering in place is a core strategy."
11:45 a.m. March 16: Bascom Community Center event volunteer tests positive, more firefighters test positive
San Jose officials were informed that a volunteer at the Battle of Bay Power Soccer event, held on March 7 at Bascom Community Center, tested positive for COVID-19. The volunteer was asymptomatic then, officials said.
City officials are following county guidance to stop the spread of COVID-19. The Bascom Center will undergo deep cleaning.
Meanwhile, more San Jose firefighters have tested positive for COVID-19. So far, 10 have tested positive, up from eight over the weekend. An additional 57 who may have been exposed are being monitored.
Firefighters will continue using enhanced personal protective equipment, or PPE, which includes masks, gloves, goggles and gowns, according to city officials.
"Community members we make contact with should not be alarmed when seeing this PPE in use, as it is intended to avoid potential exposures to the public and our members," city officials said. "The Fire Department is maintaining normal resource levels."
11:30 a.m. March 16: Gilroy mayor says one person dies from COVID-19, another sick
While Santa Clara County officials haven't yet confirmed, Gilroy's mayor announced on social media one person has died from COVID-19, with another person sick. On Facebook late Sunday, Mayor Roland Velasco said he learned of two elderly people contracting the illness, adding both cases were confirmed by the Centers for Disease Control and Prevention. He encouraged community members play a vital role in slowing spread through social distancing measures and following Santa Clara County Public Health Department guidelines.
"Please take care of yourselves," Velasco wrote. "Lastly, don't panic. We will get through this."
On Monday morning, county public health officials said there are currently two deaths with 114 confirmed cases.
11:30 a.m. March 16: Local colleges suspend in-person operations
San Jose City College, Evergreen Valley College, the Milpitas College Extension, and the San Jose Evergreen Community College District Office will suspend all in-person operations and services starting Tuesday through April 3, the school district announced over the weekend.
Almost all employees for the colleges and the district office will work remotely for the next few weeks, except for those who "provide essential services that cannot be delivered remotely," according to SJECCD.
The district had already suspended in-person classes at the two colleges last week, but had anticipated resuming those classes in an online format this week "to the extent that it is possible." Now, science and other lab courses will also be moved to a "distance learning format," or be suspended until April 3, according to the college district.
"While there are zero reported cases of COVID-19 among students or employees to date, the switch to online instructional delivery is being made out of an abundance of caution," Ryan Brown, a spokesperson for the district said in a statement over the weekend.
11 a.m. March 16: School districts provide meals to students despite cancellations 
Students can still get free meals from most schools, despite the rash of cancellations that were announced throughout last week.
East Side Union High School District Superintendent Chris Funk announced on Twitter the district will provide bagged lunches at all ESUHSD schools to anyone under 18 years old from 12 p.m. to 1 p.m.
"For many of our students, (school) is a safe place to go during the day when their parents work, and for many, getting two meals a day is sometimes their best meal of the day," Funk told San José Spotlight. "We just want to ensure that by closing our schools, we didn't take away that one safety net."
The San José Unified School District is providing breakfast and lunch, starting Mar. 17, until schools are back in session, to anyone under 18 years old from 9 a.m. to 11 a.m. at ten locations. See locations by clicking here.
The Milpitas Unified School District is providing both breakfast and lunch, starting today through Apr. 3, at all MUSD school cafeterias between 8:30 a.m. to 1 p.m. Students need to be present to receive the meals.
11 a.m. March 16: Caltrain reduces train service amid ridership declines
Caltrain officials announced Friday they will limit service in response to declining ridership as a result of the coronavirus outbreak.
Effective Tuesday, the regional commuter train will no longer feature Baby Bullet Service — the express train between San Francisco and San Jose — during morning and afternoon peak service.
Local and limited service will continue to operate as scheduled, as will off–peak service, including midday and weekend service, officials said. They may implement additional service changes as they assess the overall impact of reduced ridership to operations, too. 
One-way and day pass ticket sales have declined by approximately 75% from their levels two weeks ago, according to Caltrain officials.
10:30 a.m. March 16: San Pedro Square Market closes as county, state issue new guidelines
The popular San Jose food hall, San Pedro Square Market, announced over the weekend that it would close for an undisclosed amount of time due to Santa Clara County restrictions.
On Friday, county officials banned events of more than 100 people and put restrictions on gatherings between 35 and 100 people. Retail establishments were excluded from those requirements, but more restrictions have been issued at the state level.
California Gov. Gavin Newsom also issued new direction over the weekend aimed at slowing the spread of the novel coronavirus in the state, including temporarily shutting down bars and issuing recommendation that anyone older than 65 or with chronic health issues — two high-risk groups for the virus — self-isolate.
"We are directing that all bars, nightclubs, wineries, brewpubs and like be closed in the state of California we believe that this is a nonessential function in our state and we believe that it is appropriate under the circumstances to move in that direction," Newsom said over the weekend.
When it comes to restaurants, some have suggested that restaurants also be closed, Newsom said, but he didn't recommend full closures. Instead the governor asked restaurants to halve the number of people allowed inside their establishments at one time to allow for "social distancing."
Newsom added that he has concerns about access to food for those who can't prepare their own food. Restaurants with delivery can help gap, he said, particularly for the more than 5.3 million seniors aged 65 and older in the state, a group he said the state is prioritizing when it comes to protecting resident health.
"We are prioritizing their safety because of their unique vulnerabilities to this virus," he said "We also are prioritizing those with chronic conditions and prioritizing the homeless."
9:30 a.m. March 16: Santa Clara County closes "nonessential services"
Santa Clara County officials announced Monday the closure of all "nonessential" services to help slow the spread of COVID-19.
The news comes as Gov. Gavin Newsom over the weekend called for the closure of bars, pubs and wineries across the state, and called on individuals 65 and older and other high-risk populations to isolate in their homes.
"We are facing an historically difficult challenge," said County Executive Jeff Smith in a statement. "COVID-19 is something we haven't seen before. We must respond in real time with thoughtful, aggressive action to protect the public and our employees.  County departments will continue to provide essential services, but now is the time to avoid non-essential interactions in our county facilities."
Smith said "essential services" are defined as those necessary to protect the health, safety and welfare of the community. The county's hospitals and health clinics will remain open. Law enforcement and public safety services will continue as usual.
"We're at a critical moment. We need to act swiftly to flatten the curve of COVID-19 in order to keep our healthcare delivery system from becoming overwhelmed," Cody said. "The paradox is this: to come together as a community and protect each other, we need to physically stay apart for a while."
Many county departments will operate with reduced services to minimize in-person contacts, Smith added. County libraries will be closed through at least April 12. Officials are encouraging residents to conduct county business and access services online or by phone.
6:15 p.m. March 15: Homeless residents receive showers and wash stations
On Sunday evening, the city of San Jose announced its partnership with WeHOPE, a Bay Area homeless service provider, to install more than 40 wash stations and 40 portable toilets between designated sites and encampments. Wash stations and designated sites will be complemented with case management support and hygienic education, along with food, water and supplies distribution. In addition, the city funded a mobile health vehicle to provide virtual doctor's appointments.
"We are grateful to partners like WeHOPE who continue to keep our most vulnerable residents' health and safety as a top priority," said San Jose Mayor Sam Liccardo in a statement. "This is a time for our community to stay strong; San Jose Strong."
The announcement comes after a San José Spotlight story Sunday highlighted the lack of resources at some local homeless encampments.
12 p.m. March 14: VTA temporarily shrinks service
Valley Transit Authority will suspend its school trip services and reduce capacity — going from two or three cars to only one car at a time — on its normal light rail lines starting March 16. The decision is a direct response to Santa Clara County's order to close schools for the next three weeks, the agency said in a statement Friday afternoon.
"We will continue to analyze ridership data to identify trends and will be making decisions on whether a change in the level of service is warranted and to what degree," the statement reads. "This will be a large area of focus for VTA going forward to ensure we are responding appropriately to match our resources with the most effective level of service."
The VTA also rolled out new measures to clean and disinfect buses, light rail trains and stations to stop the spread of the virus in Santa Clara County.
5:52 p.m. March 13: Second death from COVID-19
Santa Clara Public Health Department officials announced late Friday the second death from the novel coronavirus. The woman was in her 80s and had been hospitalized since March 9, they said.
"The Public Health Department is saddened to share this news and expresses its condolences to her family," officials said in the announcement.
County officials said they continue to work with the CDC and California Department of Public Health as the coronavirus pandemic continues to evolve.
5:15 p.m. March 13: Who does the ban on gatherings apply to?
County officials have banned public and private gatherings of more than 100 people and put strict restrictions on gatherings of 35 to 100 people. But information posted Friday by Santa Clara County outlines exactly who will and wont be affected by the ban. The information also offers new tips for employers.
What is a "gathering?" According to Santa Clara County, it is "any event or convening that brings together people in a single room or single space at the same time, such as an auditorium, stadium, arena, conference room, meeting hall, cafeteria, theater, restaurant, bar, or any other confined indoor or confined outdoor space."
But that definition does not include normal operations for transit — including the airport. It also doesn't include offices, classrooms, medical offices, hospitals or clinics. The new ban also will not apply to retail, pharmacy or grocery stores, because though the county acknowledges that many people may be present in those spaces "it is unusual for them to be within arm's length of one another."
The county has also said it is employers' responsibility to "make it more feasible for their employees to work in ways that minimize close contact with large numbers of people."  County officials are encouraging employers to take the following precautions to slow the spread of COVID-19:
Ensure employees who are sick do not come to work.
Suspend nonessential employee travel.
Minimize the number of employees working within arm's length of one another.
Cancel all large in-person meetings and conferences, or hold them via telephone or video conference.
Many of the largest companies in the region have already implemented work from home measures, including Facebook, Google and Apple. Even so, some third-party contractors for big tech companies have not yet been given the green light to skip the office, according to recent reports.
3:45 p.m. March 13: Eight SJ firefighters test positive, lawmakers demand answers
A total of eight San Jose firefighters have tested positive for coronavirus as of Friday afternoon. Two fire stations as well as the local fire training center have undergone deep cleaning to prevent the spread of the virus, according to San Jose firefighters Union spokesperson Sean Lovens. Fire Stations 9 and 31 are the two that have been cleaned in San Jose, Lovens confirmed.
The number of confirmed cases among local firefighters has doubled in the last day, but notably, symptoms can take between two and 14 days to appear after infection and public health officials have warned that the number of confirmed cases is expected to rise in the near-term as they implement new, stringent measures to slow the spread of the infection.
Meanwhile, San Jose Councilman Raul Peralez on Friday published a memo asking how first responders and essential city personnel were being protected and if the city has a backup plan if the virus spreads widely among those groups.
"As we are seeing the continuous spread of COVID-19, any loss in first responders and other essential personnel will be felt heavily by our residents," Peralez said. "Whether it may be an uptick in crime, slower response to medical emergencies, or the potential failure of our most basic infrastructure, these are realities that other places around the world such as Italy are already grappling with. While alarming, we need to have a frank discussion on how to keep those tasked with our city's essential services, healthy and abled to stay on the job."
San Jose Firefighters posted on Facebook Friday that firefighters will be outfitted with new protective gear when responding to situations where they suspect a person has been infected by COVID-19.
"When you dial 911 for help because you or a family member are sick and the complaint is similar to signs and symptoms of COVID-19, San Jose Fire Fighters will be showing up looking slightly different," San Jose Firefighters posted online. "Please don't be alarmed at our added level of protection. This personal protective equipment is the recommended level by the County and CDC and is meant to protect everyone."
2 p.m. March 13: Facebook offers $20M for COVID-19 relief efforts
Facebook founder Mark Zuckerberg on Friday announced $20 million in matching funds to support relief efforts globally for the novel coronavirus. Of that, $10 million will go toward the United Nations Foundation and the World Health Organization's new COVID-19 Solidarity Response Fund and Facebook fundraiser. The other half of the money will go to the Centers for Disease Control (CDC) Foundation, which will also launch a Facebook fundraiser in the coming weeks.
"It's critical that global and national health organizations leading the response efforts have the financial support needed in rapidly emerging response needs," a spokesperson for the Menlo Park-based company told San José Spotlight on Friday. "Following major crises, like COVID-19, our community always steps up to help. Because this is a health crisis, it's not as easy for people to know how or where to help."
Facebook officials said 100 percent of the money raised to combat the virus on both Facebook and Instagram — which Facebook owns — will go to the organizations the money is meant to benefit.
Earlier this week, Facebook COO Sheryl Sandberg and fiance Tom Bernthal announced a $1 million matching donation to San Jose-based Second Harvest of Silicon Valley to assist families who need food while schools and workplaces close.
"For the 22 million kids who rely on free and reduced price meals nationwide, a school closure is more than an inconvenience: it's an emergency," Sandberg said in a Facebook post this week. "The issue of food security has never been more important in every neighborhood. In the Bay Area alone, about 400,000 kids are fed by local schools, and they need our help."
Facebook has also announced it has launched a Business Resource Hub for small businesses affected by the virus and said it will take down misinformation posted on the platform related to COVID-19. The company has prohibited ads that "create panic" over the virus and offered the WHO free ads for the organization's response to the pandemic.
12:30 p.m. March 13: Trump declares a national emergency
President Donald Trump announced Friday he is declaring a national emergency, which could open up access to $50 billion in funding. The action also waives laws to allow tele-health to allow remote doctor visits and hospital check-ins.
Trump also announced that the FDA approved a new test for the virus. The president expects a half a million additional tests will be available "early next week" and five million new tests within a month. Google is helping develop a website to determine whether a test is warranted, Trump added.
"We want to make sure those who need a test can get it safely, quickly and conveniently," Trump said.
12:30 p.m. March 13: Fourth TSA agent tests positive, two inmates quarantined
County officials on Friday confirmed a fourth TSA officer in San Jose had tested positive for the novel coronavirus and that two county inmates are currently being quarantined.
No other information has been released about the fourth TSA officer who has tested positive, though San Jose officials on Thursday released information about when the other three agents who last worked at the San Jose International Airport (see below).
The new cases at the airport "reflects the TSA workers being in positions where they have contact with large number of members of the public," Cody said.
Meanwhile, the two county inmates who are being quarantined came into contact with the virus when a person from outside the facility came in to interview them. Those two individuals are not currently showing any signs of infection, said Santa Clara County Sheriff Laurie Smith
All non-essential gatherings have been halted at the jail and personnel are taking precautions to prevent the spread of the virus inside, including starting discussions about electronic monitoring of people outside of the facility or pushing back reporting dates for people sentenced to serve time, if that is determined to be a safe option, Smith said.
12:15 p.m. March 13: County bans gatherings over 100 people, schools close
Schools in Santa Clara County will close to student attendance after today for three weeks, until April 3, county officials announced Friday.
"I urge families and schools to work together. We acknowledge that there is much that is not yet known," Mary Ann Dewan, Santa Clara County superintendent of schools, said during a news conference Friday morning. "Schools play an essential role in our society and returning to normal operations promotes continuity. The safety and well-being of our students and staff are our top priority."
Essential employees will continue to show up for work in the districts and teachers will be on paid, on-call status during that time. School officials are looking into ways to allow for remote or online learning during the shut-down.
County officials also announced that gatherings of more than 100 people — both private and public — are officially banned, a significant jump from an order on Monday to ban gatherings of 1,000 people or more. Gatherings of 35 to 100 people are allowed, but only if the organizers follow specific requirements, including:
Ensuring people are able to stay about 6 feet apart from one another during the gathering
Hand hygiene and sanitation is available on-site
Organizers must discourage anyone who is sick or at high-risk from attending and have a way to monitor those things
Events that cost money must allow people cancel with a refund
Hosts must follow the county and CDC's guidance in cleaning before, during and after the events
"These decision are hard to make," Cody said Friday, visibly emotional during the news conference. "We are balancing the public health need to slow the spread of infection with the significant impact we know these actions will have on the lives of our residents. We believe these actions are necessary to protect the well-being of our community during one of the most historic public health challenges of our time."
San Jose Mayor Sam Liccardo responded to the announcement Friday, saying the region has been left with "little choice," but to implement the measures.
"In the absence of adequate resources in the U.S. for testing that would enable local communities to mitigate the spread of COVID-19, we are left with little choice but to shut schools and manage as best we can the very substantial disruption to our families and communities," he said.
11 a.m. March 13: Workers demand paid sick leave amid coronavirus
San Jose leaders gathered at City Hall on Friday morning to call for a paid sick leave policy amid the coronavirus pandemic.
Santa Clara County has among the most confirmed cases of COVID-19, officials said, yet no city in its county has a paid sick leave policy. That results in some of Silicon Valley's lowest-wage employees reporting to work despite being ill — potentially spreading the highly-contagious virus.
California has a 24-hour sick leave mandate, but some local lawmakers say it's not enough.
"We must address the basic need for paid time off for these employees," said East Side Councilmember Magdalena Carrasco. "Seventy-three percent of private industry workers had access to paid sick leave in 2019. Just 30 percent of private industry workers with the lowest 10 percent wages had access to paid sick leave. In other words, our poorest are at the greatest disadvantage."
Her council colleague, Sylvia Arenas, added that not all San Jose workers have the ability to work remotely. "As I'm thinking back, growing up in the East Side, my father was an hourly worker at a restaurant," she said. "We would've lost our home. And I can see many of our families will face the same challenges."
Maria Ruiz, a longtime McDonald's employee, said the restaurant chain hasn't done much to keep workers safe amid the pandemic. Getting sick days, she added, has been difficult and many workers are showing up to work with signs of illness.
"We're being left in the dark," Ruiz said through a Spanish language translator. "We've been running out to buy hand sanitizer to protect ourselves and our customers."
The proposal, which mirrors that of the city of San Diego, calls for accruing up to 80 hours of paid sick time a year. The San Jose proposal also allows workers to access additional sick time equal to their regular hours during a 14-day period amid a public health emergency.
Top Silicon Valley business leaders on Friday said they oppose the paid sick leave proposal. While they acknowledged the need to help employees amid the crisis, they said there's a better approach.
"Requiring paid sick leave for all businesses in the city of San Jose will only add gas to the fire in accelerating an economic recession and would especially hurt small businesses, who cannot bear the burden of additional costs," said Matt Mahood, president and CEO of The SVO. "If small businesses are required to provide paid sick leave, then this would lead to lost jobs, shuttered businesses and would ultimately hurt working families even more."
The proposal will go to the council's Rules and Open Government Committee on March 18 and possibly the full City Council on March 24.
8:30 a.m. March 13: Silver Creek High School student quarantined
District leaders late Thursday confirmed that a student at Silver Creek High School in San Jose has come into "primary contact with an individual who has contracted" the coronavirus. The student has been quarantined.
"Although the student has not exhibited any symptoms, the student has been quarantined until cleared by their physician," wrote East Side Union High School District Superintendent Chris Funk in an email obtained by San José Spotlight. "To-date, there have been no confirmed staff or student that has contracted the Novel Coronavirus at Silver Creek High School."
Funk said in the email the school would undergo a "deep cleaning" Thursday night, moving evening activities to another site or canceling them altogether. He promised the cleaning would result in a "spotless and germ-free facility" by focusing on countertops, doorknobs, restrooms, classrooms and common meeting areas.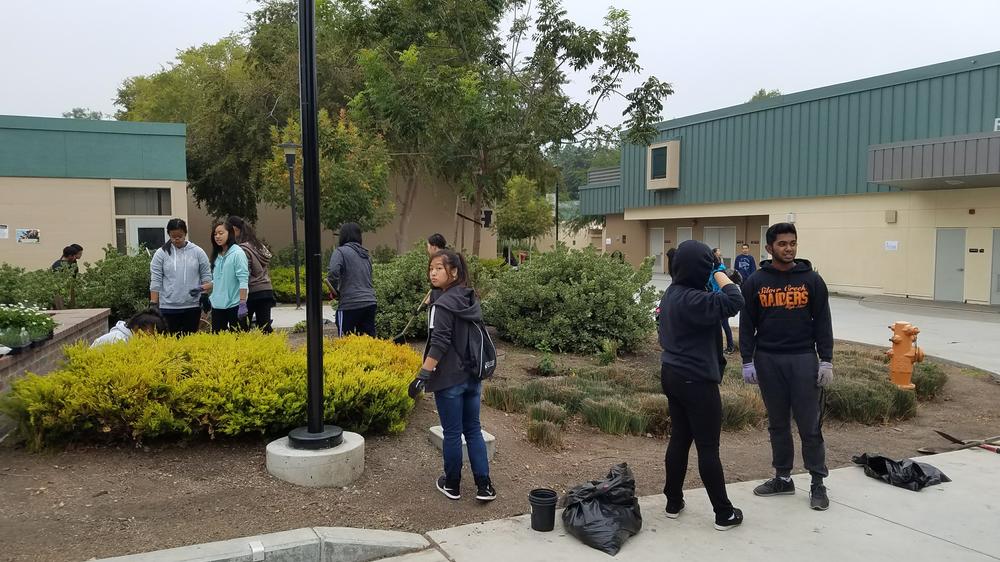 But some parents expressed concern and alarm that Santa Clara County's public schools — including Silver Creek High — have remained open as universities and other institutions move all instruction to online and state leaders have called for banning gatherings of 250 people or more.
In a March 11 letter from Funk, the superintendent said public agencies, such as the county's public health and office of education departments, have not recommended closing schools because students are not considered at high-risk of contracting or spreading the virus.
He said students who don't show up to class because of coronavirus will receive "unexcused absences," though administrators would not take truancy actions or disenroll students.
Funk could not immediately be reached for comment Friday morning.
6 p.m. March 12: Cortese requests emergency funding for schools
Santa Clara County Supervisor Dave Cortese on Thursday also urged California Gov. Gavin Newsom to create a state-controlled fund to cover potential losses for "non-basic aid" schools, or schools that have funding based on the average daily attendance by students. Some parents are opting to pull their children out of classes in fear of catching the virus, which could affect funding for those schools, he said.
He also asked the governor to temporarily waive the requirement that students must physically be in the classroom for schools to qualify for such aid from the state, instead allowing for online and remote schoolwork to count when it comes to daily attendance.
"Our Public Health Department has taken unprecedented steps to slow the spread of COVID-19 and especially protect those who are most vulnerable to severe illness," Cortese said. "As this situation develops, we will continue take proactive steps to serve our community safely and effectively. Each of us have a role to play."
Earlier in the week, Cortese pushed for countywide public and private events to be capped at 200 people, down from the county's previous limit of 1,000 people approved on Monday. He said he has been approached by groups set to host events of 400 to 600 people that are concerned about the spread of the virus.
"Many of these groups cannot void contracts or recoup deposits without a government order. This adds to the pressure to go forward with some of these planned events," Cortese wrote to Santa Clara County Executive Jeff Smith. "The sooner we can make this adjustment the better we can reduce risk and resolve confusion about the need to cancel such events."
4:12 p.m. March 12: Cirque du Soleil cancels shows
Cirque du Soleil officials announced they will not perform AXEL at the SAP Center from March 24 to March 28 due to the coronavirus and the state's ban on public gatherings of 250 people or more.
All ticket holders for AXEL in San Jose will receive information on the next steps. Those who purchased tickets through Ticketmaster will automatically be refunded.
"The touring division at Cirque du Soleil will be working to reschedule these dates in the upcoming weeks," officials said in a news release. "Although this situation results from circumstances beyond their control, Cirque du Soleil and SAP Center Management apologize for any inconvenience this cancellation may cause."
3:40 p.m. March 12: San Jose firefighters face illness
San Jose officials announced Thursday that four firefighters have tested positive for COVID-19, and two are home in isolation. Nearly 80 firefighters have been restricted from work and many of their family members have tested positive for the virus, according to the San Jose Fire Fighters Union.
"As firefighters, we commit our careers and lives to serving the public in their time of need," Sean Kaldor, president of IAFF Local 230, said in a statement Thursday. "Responding to the COVID-19 pandemic as it grows among our residents is an unprecedented challenge, and we are up to that challenge. But it is also taking a tremendous toll on us as we fall ill and support our ill family members."
3 p.m. March 12: Cities declare emergencies
Both Mountain View and Santa Clara have declared emergencies aimed at stemming the spread of COVID-19.
"This proclamation will help ensure the City's continuity of essential operations in response to this emerging public health threat," Santa Clara officials said in a release Thursday. "As of March 11, 2020, the City of Santa Clara Emergency Operations Center (EOC) has partially activated to increase the City's ability to maintain situational awareness and coordinate public information for this rapidly evolving situation."
The declarations included announcements of various closures or changes in public events and services that would normally draw crowds.
1:29 p.m. March 12: TSA confirms San Jose Airport cases
Transportation Security Administration officials at the San Jose International Airport are monitoring the outbreak because three employees tested positive for the coronavirus.
The officers who tested positive include people who have worked closely with travelers, including those who check travel documents, operate X-ray screening and handle carry-on luggage. San Jose officials on Thursday released details about where the officers worked in late February and early March.
12:34 p.m. March 12: Winchester Mystery House closes for rest of month
Meanwhile, private organizations are also making the call to shut down or cancel events. The Winchester Mystery House, an iconic tourist attraction, has shut down for the rest of the month "in an abundance of caution and for the safety and well-being of its visitors and staff," the organization announced.
Flashlight tours previously scheduled this month have been rescheduled to mid-May
4:57 p.m. March 11: Opera San Jose shows canceled
Opera San Jose canceled all of its upcoming performances at the California Theater and has launched the Opera San Jose Artist and Musicians Relief Fund to help the artists who will lose out on work.
"As an incubator for world-class operatic talent, Opera San Josè's mission is rooted in the support and development of the artists who make the Bay Area their home," Khori Dastoor, OSJ's general director said in a statement. "We hope patrons will donate the cost of their canceled tickets and/or make additional contributions to help create this emergency cash reserve that we will draw from in the months ahead to provide support to our musicians, singers, carpenters, stitchers, designers, and other hourly company members that make our productions possible and will be deeply affected by COVID-19."