More than three years after Google set its sights on San Jose, a major milestone occurred Wednesday for its plan to build a massive campus in the city's urban core.
The San Jose Planning Commission unanimously approved Google's proposed 80-acre campus at its evening meeting—moving the city's largest land use project another step forward.
"I believe (Google) when they say they're here for the long-haul," Planning Commissioner Deborah Torrens said. "That's the kind of private partner that we need."
Five commissioners voted to approve the Downtown West project—Google's plan for its mixed-use transit village. Planning Commissioners Justin Lardinois and Rolando Bonilla recused themselves due to potential conflicts of interest. Lardinois is a former Google engineer, and Bonilla's employer has a business relationship with Google outside of San Jose.
Planning Commissioner Pierluigi Oliverio expressed cautious optimism about Google's proposal, and said he had concerns that the tech giant wouldn't meet the 7.3 million square-foot target for office development. Falling short of this goal could exacerbate the city's jobs-housing imbalance.
The commission also approved the city's Diridon Station Area Plan, which would increase building height limits and allow for up to 13,519 units of housing, a quarter of which would be affordable. The Google project is a key part of that plan.
Dozens of residents tuned in to the virtual meeting to support Google's proposal, most of them lauding the tech giant's plans to build homes and de-emphasize car traffic.
"As a downtown resident and mother to a precious little girl, I want to see a vibrant community," said Karen Philbrick, executive director of the Mineta Transportation Institute and columnist for San José Spotlight. "Urban lifestyles are changing… we do not want more parking that promotes the use of single-occupancy vehicles."
The proposed project features 4,000 to 5,900 housing units, 7.3 million square feet of office space, 15 acres of parks and a 30,000-50,000 square foot community center near Diridon Station in downtown San Jose. Google has also offered the city four plots of land to build about 800 affordable housing units and will pay an estimated $87 million in commercial linkage fees, a per-square-foot fee on office and industrial buildings to fund affordable housing.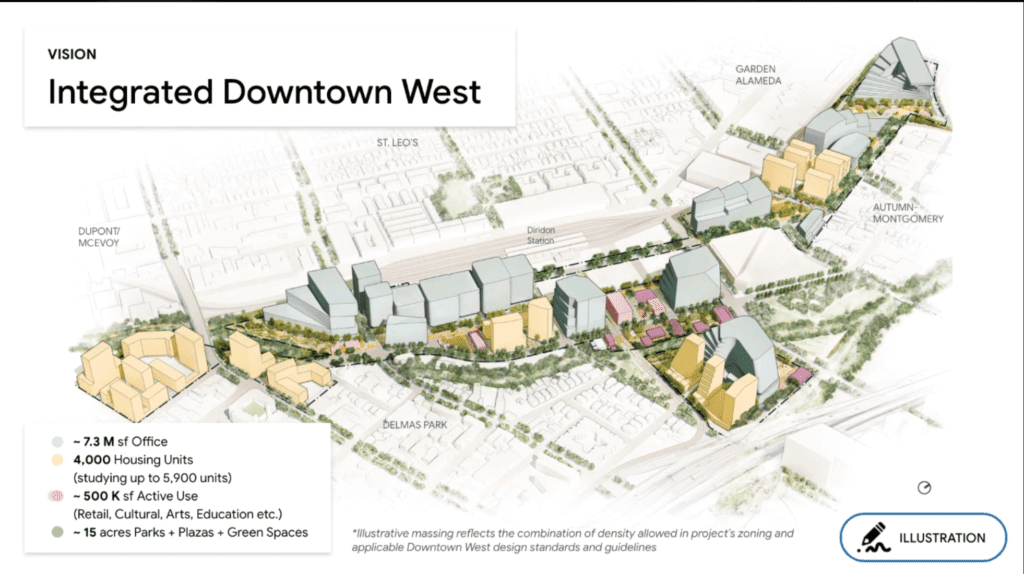 News around the tech giant's proposal has accelerated in recent months as the project nears its final hearing before the San Jose City Council, tentatively scheduled for May 25.
Since Google unveiled its vision for the project last year, there have been numerous developments, including a key hearing at the Santa Clara County Airport Land Use Commission on Dec. 16.
The airport commission voted against both the Google proposal and the city's Diridon Station Area Plan, saying the plans do not adhere to the county's height and noise standards for buildings near Mineta San Jose International Airport.
Because the airport commission voted against both plans, the City Council needs a two-thirds majority vote in favor of the proposal to override the airport commission.
Some residents worry the tech giant's plans could drive up rents and exacerbate gentrification and displacement in an already pricey Silicon Valley. The company promised $200 million worth of community benefits in its nearly 500-page development plan, including $150 million to a community fund. Grants issued by the fund would work toward preserving existing affordable housing in the area, increasing services for homeless residents and bolstering protections for low-income renters.
"Google has listened to the concerns of the Diridon Area Neighborhood Group (DANG)," said Kathy Sutherland, a founding member of DANG, prior to the commission meeting. "I feel very fortunate that there is a big master developer, because if that entire site was being developed by different people, it wouldn't have that thoughtful look at it as a whole."
Salvador "Chava" Bustamante, executive director of Latinos United for a New America, suggested that the unallocated $20 million in community benefits be put into the community fund.
"The community fund portion of the community benefits agreement is particularly important," Bustamante said, citing the fact that the fund would be administered by community members rather than by city or Google employees. "It has been years in the making, and we look forward to continuing to work together."
One of the most vocal opponents of the project is the San Jose Sharks, which said the project could force the NHL team out of San Jose. Team officials are demanding the city nearly double the parking spots in the plan to 4,800 to provide access to nearby SAP Center where the Sharks play. The team doubled down on its critique this weekend, urging fans to voice concerns to the Planning Commission and the City Council.
Silicon Valley Transit Users founder Eugene Bradley said other large cities across the U.S. emphasize transit use in their city centers.
"It is past time for San Jose to move its downtown area more into the 20th century," Bradley said. "Not just people who have a car."
Jocelin Hernandez, a founding member of the South Bay Community Land Trust, said the Google project is not a "done deal," and that more can be done to ensure greater housing affordability.
"At the end of the day, we're being thrown crumbs," Hernandez said. "I hope we can continue to organize and challenge ourselves and seek a transformative and decommodified development… that can only happen when we actually give community complete control."
Contact Sonya Herrera at [email protected] or follow @SMHsoftware on Twitter.