A long line of cars waited at Hunger at Home's headquarters Wednesday morning to receive a family meal and a bag of groceries, which can mean the difference between feeding their families and going hungry.
Hundreds of cars have come each day to the food bank on Berger Drive in San Jose since the coronavirus pandemic pushed local and state leaders to issue a stay at home order that has shuttered businesses and left many out of work. On Wednesday, the organization was expecting more than 500 cars.
"Anybody who's waited in this line for four hours is hungry," said Hunger at Home's CEO Ewell Sterner. "One day we had more than 1,000 cars and we fed every one of them. One lady with kids in the car said they hadn't eaten for two days. The kids were crying, but after seeing the food, they were so happy."
Before coronavirus, Hunger at Home worked as a conduit, distributing food from corporate partners like Levi's Stadium, Fairmont San Jose and San Jose Convention Center to nonprofits like Loaves & Fishes, Second Harvest Food Bank of Silicon Valley and HomeFirst.
Following Gov. Gavin Newsom's stay at home order, Hunger at Home also started feeding furloughed hospitality and entertainment workers from Unite Here Locals 19 and 134. Most of them earned minimum wage from the same companies that had donated excess food to Hunger at Home.
"There were tens of thousands of new food-insecure people that no one was looking out for…people with empty wallets, empty refrigerators and empty stomachs," said Dinari Brown, Hunger at Home's COO and former executive chef for the San Francisco 49ers.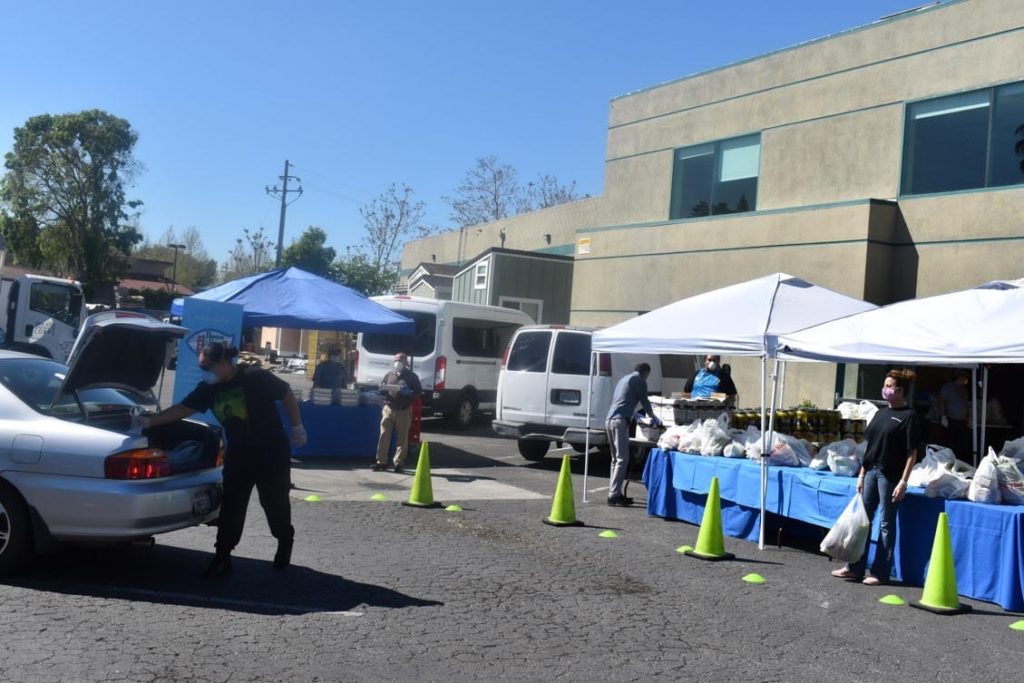 Union worker Tho Do directed the cars snaking around the buildings on Berger Drive. She said she felt heartbroken seeing them, but was also filled with gratitude that Hunger at Home is providing meals for the union members.
"It's touching that so many people need it," Do said. "They come back every week. They make nothing."
Since March 19, Hunger at Home has distributed over 150,000 meals. With more funding, Sterner said the organization could scale as many as 100,000 meals a day.
"Once COVID-19 hit, we had to flex," Sterner said. "We had so much product because events were canceled. Facebook, Nvidia and Intuit had huge storerooms full of food."
With the closing of restaurants, Testarossa Winery and others offered food in addition to distributors like Sysco Foodservice, Anchor and VegiWorks. Trucks arrived with 15 pallets at a time full of perishables like fruit and yogurt.
Sandra Dailey, chef and owner of Sandi's Cobbler Cups and More, ran a concession stand selling Cajun cuisine at Levi's Stadium for five years, until the coronavirus brought her business to a crashing halt. She's joined Hunger at Home as a volunteer to help make meals.
"Someone picking up food told me they didn't know where their next meal was coming from," she said. "It makes you feel that you're really doing the right thing for people in need."
The chefs meet daily to plan the menu depending on what is donated, from lasagna made with fresh vegetables to spaghetti with bacon, salami and zucchini or pasta topped with seafood.
"We're working with some amazing chefs producing amazing meals," Dailey said. "It's not your normal peanut butter and jelly sandwiches when you have executive chefs here from major hotels and restaurants."
Wednesday's grocery bags included fresh pineapple, romaine, celery, carrots, pepperoncinis, artichokes, eggs, falafel and humus. With the delivery of 70,000 pounds of liquid eggs, Dailey decided to make mini-quiches; 600 of them to be exact. She'll sprinkle some newly delivered parsley on top.
Chef Paul John Bernhardt previously cooked for Diablo Valley College and Levi's Stadium's high-end clubs, but said he is motivated to help Hunger at Home by "so many people who are suffering economically because of the coronavirus."
Bernhardt said he is working as hard and as fast as he can to keep up with donations: 250 pounds of cooked mushrooms and 500 pounds of Brussels sprouts.
However, overall donations have slowed significantly, especially for protein. While the organization has been in talks with the city and county for funding, it has yet to receive any. Hunger at Home is currently surviving on its operating budget and private, corporate and foundation donations.
"If we don't receive more funding, we will have to stop producing meals," Brown said. "We will be forced to abandon the majority of the thousands of newly food insecure individuals and families that have been receiving prepared meals and grocery items from us."
The company would also like to compensate their volunteers, many of whom are laid off and work countless hours.
"We do it because of the need," Sterner said. "You see how grateful they are. It makes my heart happy."
To donate to Hunger at Home, contact them at www.hungerathome.org, or mail donations to 1560 Berger Drive, San Jose, CA 95112.
Contact Lorraine Gabbert at [email protected]