San José Spotlight's inaugural all-day political festival PolitiBeat, a first for the region, brought together dozens of leaders in government, education, media and sports to discuss the successes and challenges facing San Jose and Silicon Valley.
Held last Saturday at the iconic Hammer Theatre in downtown San Jose, PolitiBeat offered more than 150 attendees the chance to hear directly from local, state and federal officials on equity in education, reviving San Jose's downtown, major sporting events, diversity in media, congressional civil rights battles, gun safety and universal basic income programs, among other topics.
The event also served as a fundraiser for San José Spotlight, the first nonprofit digital newsroom in Silicon Valley, with more than 20 sponsors supporting the festival.
During "The Capitol Report," with state Assemblymembers Marc Berman, Alex Lee and Evan Low and state Sen. Aisha Wahab, freshman Wahab said she is already facing recall efforts and death threats because of bills she carries forward, including one to outlaw caste discrimination, which opponents framed as controversial—though she disagrees.
"I think the state of California needs to stand firm and say we oppose any type of discrimination. There is no real argument to support any type of discrimination, right?" Wahab said. "And people are upset because the moment you take a little bit of power away from those individuals that have been abusing it, you face the backlash that I face."
During a discussion about "The Business of Sports," Zaileen Janmohamed, president and CEO of Bay Area 2026, the region's host committee for Super Bowl 60 and FIFA World Cup, addressed lessons learned from the Super Bowl hosted in Santa Clara in 2016, including the need to more intentionally include the South Bay.
"One of the areas of focus for me is going to be around economic empowerment and small business growth. So as long as I can work with different city officials on how to do that, my plan is to bring that to the table wherever we go," Janmohamed said.
Asked if the San Jose Sharks are considering leaving downtown or San Jose, Team President Jonathan Becher said they don't want to leave, though Google's major Downtown West project and other infrastructure plans downtown have raised concerns for the team about parking, stadium access and fan experiences.
But Becher noted that for now, it isn't an issue.
"Good news, bad news, Google is on pause," Becher said. "We've grown up here, we'd love to stay here, we have zero intention to move unless we get evicted."
Legendary journalist Soledad O'Brien, PolitiBeat's keynote speaker and special guest, spoke about the need for diversity in media, and how news organizations seeking to build trust in communities can't expect that to happen overnight.
"You just have to be trustworthy and you have to be trustworthy over a long period of time," O'Brien said. "You have to show up in people's neighborhoods. You have to apologize when you get stuff wrong. You have to consistently want to talk to people and want to figure out what their story is, from their point of view. It's a lot of work."
During the "Congressional Roundtable" with Reps. Zoe Lofgren, Anna Eshoo and Jimmy Panetta, the congressmembers emphasized the power of voting as a means to fight discriminatory laws against groups including LGBTQ groups, and to shift policy on gun control.
Lofgren noted elected Democratic lawmakers need to be "truth tellers," and highlight what Republicans are doing when they go to Washington.
"​​People in other districts may not understand that the person they're electing pretends to be one person at home and goes to Washington and loses their mind," she said. "We have Republican members of the House, who pretend that they are for civil rights, that they're for letting women make their own health care decisions, and then they go to Washington and vote to take away those freedoms."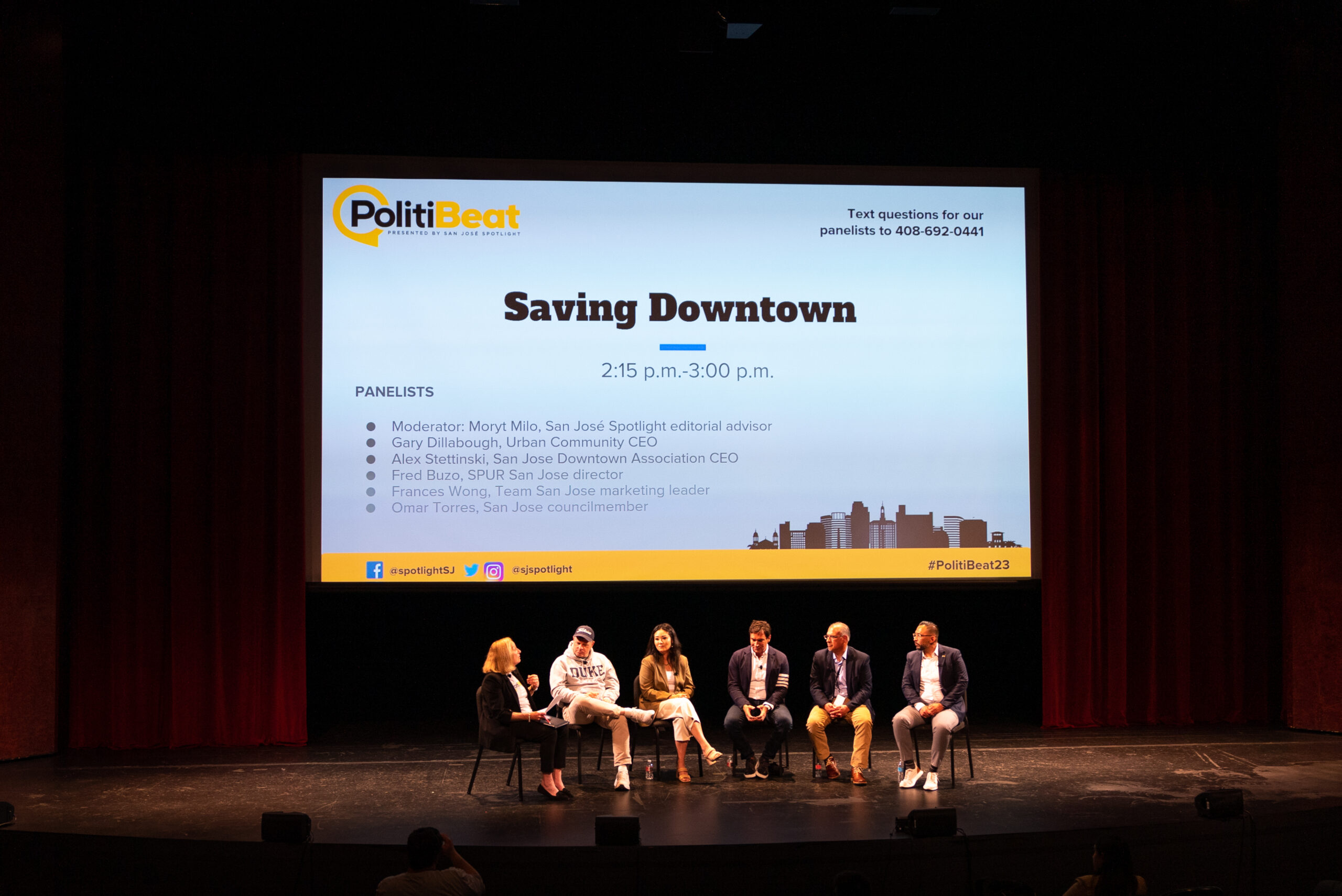 In a conversation about reviving downtown, Frances Wong, marketing director for visitors bureau Team San Jose, said the organization spent about $1.2 million coming out of the pandemic to target people with search ads in other cities and states who were considering traveling to the area.
"I'm proud to say that $1.2 million spent has actually created a 30-1 ratio of return on investment for the city and then a four to one investment in taxes and fees," Wong said.
Several San Jose superintendents spoke about the need to change the way resources are allocated from the state to ensure all schools are funded at the same level to start, with more resources dedicated to districts with higher proportions of disadvantaged students.
San Jose Mayor Matt Mahan participated in a fireside chat, talking about his first six months in office, coming into power with a divided council and his efforts on addressing homelessness.
State Sen. Dave Cortese, Mountain View Councilmember Margaret Abe-Koga, Santa Clara County Supervisor Susan Ellenberg and Destination: Home Chief Program Officer Chad Bojorquez talked about the success of recent guaranteed basic income programs in the county and upcoming efforts to significantly expand them to thousands of people.
For more information about PolitiBeat, including a full agenda of all the panels and speakers and photos, visit the event website.
Contact Joseph Geha at [email protected] or @josephgeha16 on Twitter.