Berryessa Flea Market vendors are popping up outside San Jose City Hall. Their booths are loaded with Mexican candy, artisanal crafts and produce, welcoming city employees, residents and councilmembers to peruse colorful stalls and ask questions.
The event marks a new location for vendors to sell goods outside the flea market grounds. It's a first-of-its-kind collaboration between the city and vendors known as the Plaza Azul Farmer's Market. The three-month trial will take place every Tuesday from noon to 3 p.m. The marketplace's objective is to supplement income lost from decreasing flea market sales and to increase awareness and support for the flea market while it is still in business.
Cayetano Araujo has sold food at the flea market for 29 years and is glad for a new opportunity.
"It's a good thing for what (we're) currently going through with the Berryessa Flea Market, for (us) to be able to sell things on the side, bring home money and then also be out in public, in the community," Araujo told San José Spotlight in Spanish through a translator.
The Office of Economic Development funded permits for 20 vendors, and the Berryessa Flea Market Vendors Association selected participating vendors on a volunteer basis. About eight vendors participated in the market's inaugural opening yesterday.
The Berryessa Flea Market, which will eventually be downsized and replaced by the Berryessa BART Urban Village project, has been steadily losing sales tax revenue after a peak in 2013. Roberto Gonzalez, president of the Berryessa Flea Market Vendors Association and one of 11 advisory group members, said he is encouraged by the exposure sellers will receive at Plaza Azul.
"It's really helpful because vendors are getting that experience, that exposure to the other crowds, like another customer base here," he told San José Spotlight.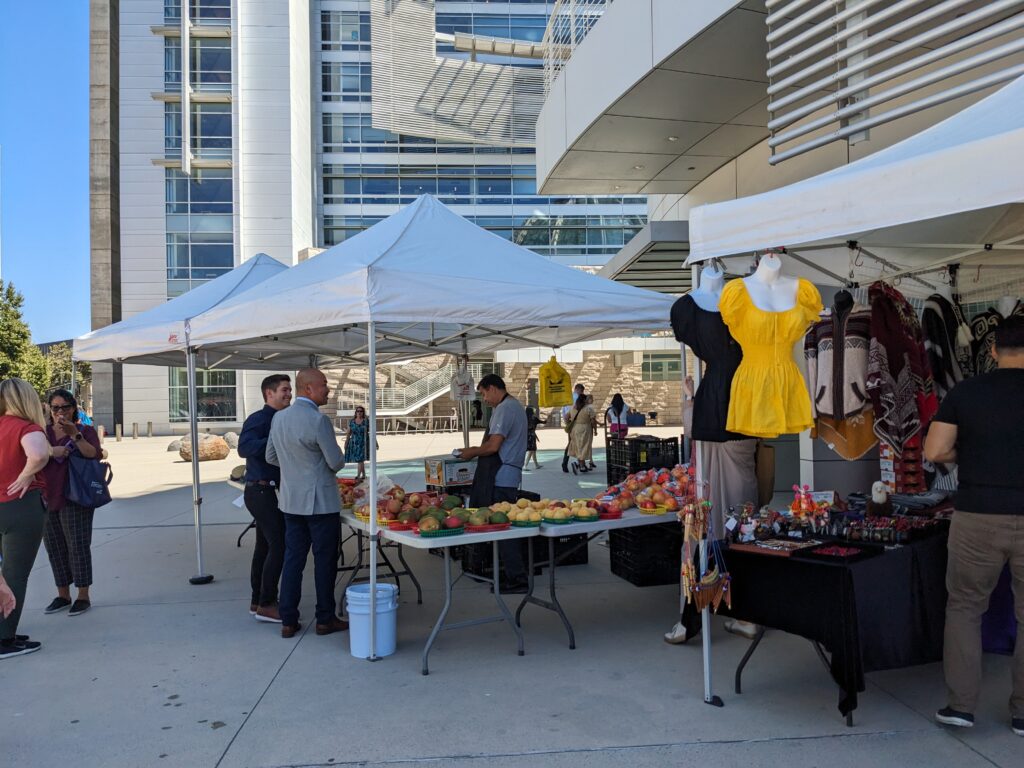 Downtown Councilmembers Omar Torres and Dev Davis coordinated the event as an attempt to increase Blue Zones in San Jose—a project formed to expand the consumption of healthy foods—and attract more residents to support surrounding downtown businesses.
"City Hall's a beautiful space, but at times sometimes underutilized," Torres told San José Spotlight. "It's very important to make sure that we have vibrancy every single day in downtown San Jose."
Torres said he would like the Plaza Azul concept to develop into a brick- and-mortar location in the downtown.
Vendors will rotate weekly once the market reaches a maximum capacity of 20 sellers. If interest grows among vendors and Plaza Azul is successful, Gonzalez said the association could consider increasing the cap.
"It's a learning experience," he said. "I think we have a really good diverse mix of vendors, and hopefully we're able to promote it even more and get more buy-in from vendors."
Contact Annalise Freimarck at [email protected] or follow @annalise_ellen on Twitter.