An effort to recall the top elected officials in the county is starting—but organizers are still gathering volunteers before hitting the streets to canvas for signatures.
Jeff Roberts, a Santa Clara County resident inspired by the campaign to recall Gov. Gavin Newsom, is trying a similar strategy to remove the entire Board of Supervisors for imposing restrictions on businesses and places of worship during the pandemic.
Roberts and three other residents opposed to COVID-19 vaccines launched the Committee to Support the Recall of Santa Clara County at the end of July. The committee made its announcement at the members' place of worship, Calvary Chapel, which racked up close to $2 million in fines during the pandemic for ignoring county guidance on not holding indoor gatherings.
Many county residents have railed against COVID-19 mandates during the pandemic, such as social distancing and indoor mask mandates, with some businesses flouting the rules and accumulating fines.
The committee wants to recall all five county supervisors, and members claim immunization mandates and capacity restrictions are a violation of the freedom to choose one's own health care. But the clock doesn't start ticking to gather signatures until the committee submits its intent to recall to the county Registrar of Voters.
"We're waiting to get a full team on board and that means making sure that we have a legal team," Roberts, vice president of operations for the committee, told San José Spotlight. "It's just such a political thing, but for me it really became personal."
Roberts said his breaking point came when his employer began asking about his COVID-19 immunization status in June. Roberts, a mechanical engineer, said the same question came up every two weeks per a now-phased out mandate—and every time he had the same answer.
"The county required all employers to start surveying employees every two weeks. You can understand what they're trying to do," Roberts said. "They're trying to make sure you are out of a job in the future and that you feel the pressure politically to concede."
Roberts didn't have trouble convincing Albert Benavides, who said he attended the Calvary Chapel more frequently to support pastor Mike McClure after the county hit him with fines for resuming indoor services in May 2020.
"I have a feeling a lot of people supportive of the recall of the Board of Supervisors are also supportive of recalling Gavin Newsom," Benavides told San José Spotlight.
Now that the committee has officially launched, the group can begin accepting donations on its website. The site, which is still being developed, shows an image of Supervisor Otto Lee with accompanying text stating the county "systematically destroyed the lives and businesses of hundreds of thousands of county residents" with its response to the pandemic.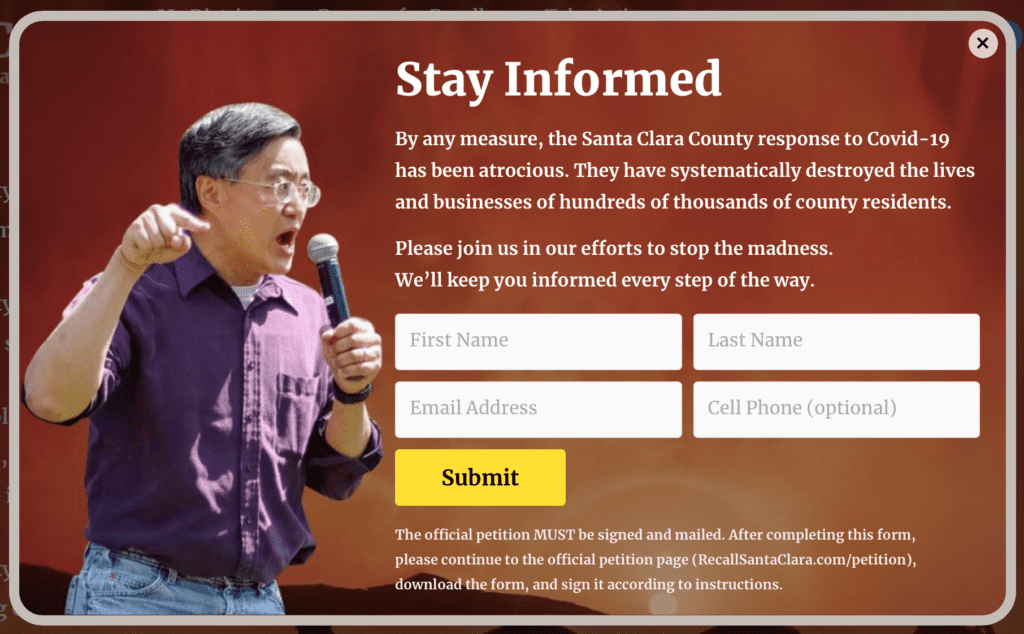 Lee told San José Spotlight the recall campaign used an image that captured his anger during an April 10 rally in Cupertino against Asian American and Pacific Islander hate.
"What's disappointing is they either took the picture out of context because I look angry, or they chose this picture because I'm Asian—or because I'm an immigrant, then that we just can't stand (for)," he said. The other four supervisors either declined to comment or were not immediately available.
Roberts said he has no doubt the support for a recall effort exists. The challenge lies in gathering 130,000 signatures in 160 days for five individual petitions, one for each supervisor. As of Wednesday, the committee has not started canvassing for signatures.
"If we had 300 to 500 volunteers and a full team and legal team onboard, then I think we're going to have everything we need to submit these (petitions) to the county Registrar of Voters for approval," he said.
Contact Vicente Vera at [email protected] or follow him @vicentejvera on Twitter.