As San Jose businesses struggle during the coronavirus pandemic, artists are finding new ways to help them survive.
Safely Social San Jose, a grassroots campaign to empower businesses, is partnering with the School of Visual Philosophy on the Alameda, San Jose Jazz in the SoFA District and San Jose Taiko in Japantown to create economic recovery and development in their districts.
The idea is to use visual art like murals and window displays to stimulate foot traffic into local businesses. So far, it's been launched on the Alameda with floral tapestries adorning the windows of Crema Coffee, a mural of a paper airplanes set in flight at Cafe Rosalina and a charming woodland scene in the window of Recycle Books.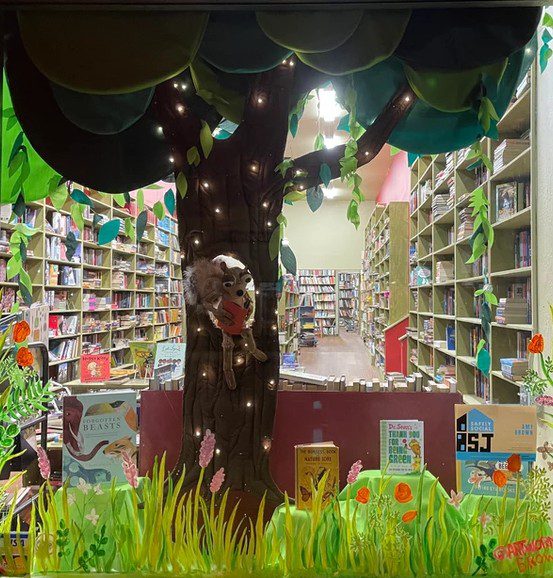 Dana Harris Seeger and Yori Seeger, co-owners of the School of Visual Philosophy, came up with the idea after participating in Councilmember Raul Peralez's downtown recovery task force. Now, they're piloting the initiative with businesses on the Alameda and about $10,000 in funding from the Knight Foundation for materials, staff and marketing.
"A year ago, during a time when there was so much divisiveness…my office was eager to bring people together through the task force to explore ways to support our businesses," Peralez told San José Spotlight. "To hear that this has now evolved in an organic way for the community to come together and continually support one another reaffirms the importance of why I had started the task force in the first place."
Wanting to draw customers but not crowds, the group decided to hold window design competitions and an interactive scavenger hunt. Working in partnership with the Alameda Business Association and the Shasta/Hanchett Park Neighborhood Association, 10 businesses were paired with 10 artists to create storefront window displays to attract visitors and showcase local talent.
The window displays will be up through April 16. 

The winner of the competition will receive a solo show at the School of Visual Philosophy. The scavenger hunt was designed to get people out, spending money and getting to know the Alameda as a neighborhood, Harris Seeger said.

Although the events are lighthearted, their purpose is to bring people back safely to patronize local businesses.

"During this time…we as business owners are faced with the challenge of offering a safe environment for our customers and employees, while still trying to stay afloat," Harris Seeger said.

Safely Social San Jose leverages artists' and arts organizations' relationships with their communities to help their respective neighborhoods think collectively, make socially responsible choices and feel safe in shared space, said Wisa Uemura, executive director of San Jose Taiko.

Harris Seeger said she hopes the campaign will be a confidence booster for customers and businesses alike in understanding how businesses can safely reopen.

Cindy Ahola, co-founder of Community Cycles of California, a bike shop on the Alameda which provide vocational training to people facing barriers to employment, said involving the arts, with everything from music to visual arts, creates a fun environment that motivates people to come back again.
Residents can access GPS coordinates and business-related clues for the scavenger hunt through the Eventzee App, joining with code: SSSJ. Points are earned by taking selfies and artistic photos inside the businesses. Stickers can be collected at participating stores and prizes include a "Visit the Alameda" T-shirt and gift certificates.
Contact Lorraine Gabbert at [email protected]