San Jose City Hall is beefing up its security in light of employee harassment.
Last week, the city installed metal detectors in the lobby of the North Tower—requiring all who enter to be screened by detectors and security wands. The plan was initially approved in February 2022 at a cost of more than $1 million. It was unveiled just weeks after an employee was followed and harassed after hours around the new year, employees said.
Councilmember David Cohen said employee harassment is nothing new, but concerns are heightened at City Hall.
"I'm not a huge fan of this, but I also understand the fact that many people sometimes feel uncomfortable, especially with the increased shootings and governments can often be a target. So we just want to be cautious," Cohen told San José Spotlight. "There have been comments made at council meetings by people that border on the line of threatening and staff have told me they have been scared."
There are several ways to enter City Hall, but visitors are now required to enter from the North Tower front entrance at Fifth and Santa Clara streets or the parking garage elevators. City employees will use the designated staff entrance through the North Tower lobby and be required to visibly wear their ID. The new security measures also include increased security guards.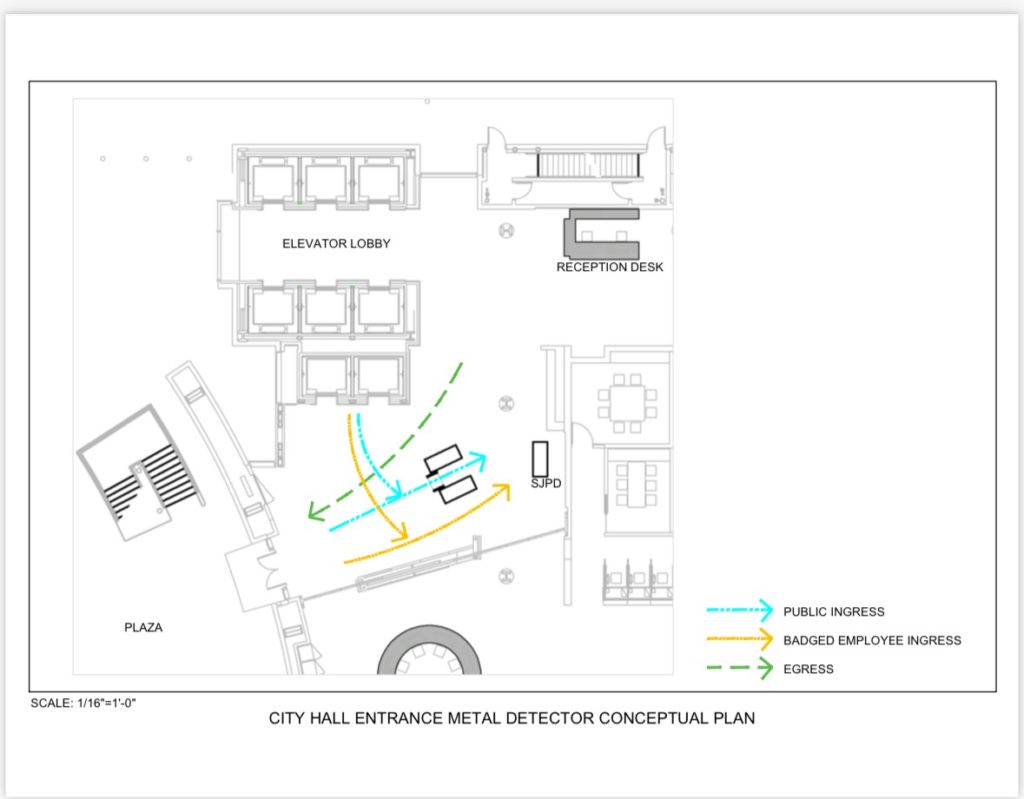 Security and San Jose police officers will cover City Hall from 8 a.m. to 5 p.m. and a third party security company will monitor the area from 6 p.m. to 6 a.m. and on the weekends. City hall employees also have access to a walking escort to safely transport them to the parking garage from 5:30 p.m. to 9:30 p.m.
The city has toyed with the idea of increasing security for years because easy access throughout the building has made some employees feel unsafe. When former Councilmember Johnny Khamis introduced the idea in 2019, it was met with immense backlash.
Lam Nguyen, chief of staff for Cohen, said it makes sense for security to increase in 2023 because gun violence and frustrations with government officials have increased.
"At the council meetings there are already metal detectors," Nguyen told San José Spotlight. "So we're just extending the current security program to cover City Hall, given the number of people that go there on a daily basis."
The metal detectors are just the beginning. An internal email obtained by San José Spotlight shows the city plans to add enhanced lighting, signage, security cameras and infrastructure upgrades in the near future.
The San Jose City Council will vote on improvements Tuesday, as well as a $9 million contract to change the security provider for San Jose Mineta International Airport and departments like transportation and public works.
Councilmembers Peter Ortiz and Omar Torres are concerned the new security guards may not be qualified to work at the airport. They're urging their colleagues to rebid for another security company.
"Our security guard agreements are one of the city's most crucial and biggest contracts that we award. We rely on them to provide services to multiple departments, most of which are outward facing, including our libraries system, and even here in City Hall," Ortiz and Torres wrote in a memo.
Contact Jana Kadah at [email protected] or @Jana_Kadah on Twitter.