A lawyer contacted San Jose about several clients living in substandard housing conditions. City officials dragged their feet, allowing the tenants to live in squalor for more than a month — before abruptly kicking them out.
San Jose code enforcement officers on Thursday forced 15 to 20 people, including several children, to leave several mobile homes on Santa Teresa Boulevard near Spina Farms in South San Jose.
Cheryl Wessling, spokesperson for the city planning department, told San José Spotlight there were significant electrical, gas and plumbing violations that posed an imminent hazard to the occupants, including extension cords used as permanent wiring and propane tanks providing gas to the units.
The city's abrupt move comes as a shock to attorney Tom Skinner, who first notified the code enforcement department about the property's conditions.
Skinner, who represents several tenants, said a resident from the lot contacted him earlier this year about a rat infestation on the property. He learned the manager of the cluster of mobile homes ignored other dangerous conditions in the units, and that they were substandard and illegal. San José Spotlight was unable to reach the manager.
Skinner's solution was to seek a notice of violation from the city in May. The notice would allow tenants to receive relocation payments from their landlord under San Jose's Tenant Protection Ordinance. Even if the landlord refused to pay, the notice would give tenants time to prepare to move, and they could pursue a claim in civil court.
But that didn't happen. Instead, after inspecting the units in late May and again on June 3, officials waited more than 40 days before taking action. Skinner repeatedly asked the office when they intended to issue a notice of violation, warning the inspectors that his clients were being harassed by the property manager.
Inspectors reassured Skinner in June they planned to issue a notice, according to Skinner and emails reviewed by San José Spotlight. In other emails, Skinner pleaded with code enforcement to issue the notice because of the alleged harassment.
Instead, code enforcement officials showed up late Thursday with condemnation notices on several of the units, ordering the tenants to vacate immediately. The tenants had no permanent place to go.
Skinner, who used to serve on San Jose's Appeals Hearing Board, was dumbfounded.
"I've never seen it before," Skinner told San José Spotlight. He questioned why city officials waited 40 days after their second inspection to condemn the homes if lives were truly at risk.
Wessling told San José Spotlight that code enforcement had to review the violations with the Building Division. She added that the city is obligated to act immediately when an imminent hazard is identified.
"In some emergency situations, such as a sewage or gas leak, issuing a notice of violation is not possible," she said.
The city's decision to condemn the housing units without lining up emergency shelter has severely disrupted the lives of the tenants.
Yesenia Cruz Amaya has lived in a trailer on the lot since 2001. She was not forced by the city to leave her property, but she witnessed her neighbors being evicted. Amaya sobbed as she described listening to her neighbors packing their things until 4 a.m. on Thursday.
"(We) were aware (we) would have to move, but we didn't know it would happen in an instant," Amaya said through a Spanish translator, adding that her children cried when they learned their friends had to leave. "They kicked them out like dogs."
Skinner said city staff provided his clients with two emergency phone numbers for housing. The number for Sacred Heart Community Service didn't work, and the Red Cross informed them that they couldn't help. Joanna Molina, a legal assistant at Skinner's firm, secured emergency housing vouchers from the Santa Clara County Office of Supportive Housing for Thursday night and through the weekend.
The tenants have no idea where they'll go after that.
Johnny Mercado Ramirez said he, his wife Gisella and their nine-year-old son received vouchers, but they don't know where they'll live after that. As he packed his family's belongings, Ramirez told San José Spotlight how being forced to leave his home with no notice placed enormous stress on his family.
"We don't know where to go, what to do—nothing," he said, speaking through a Spanish translator.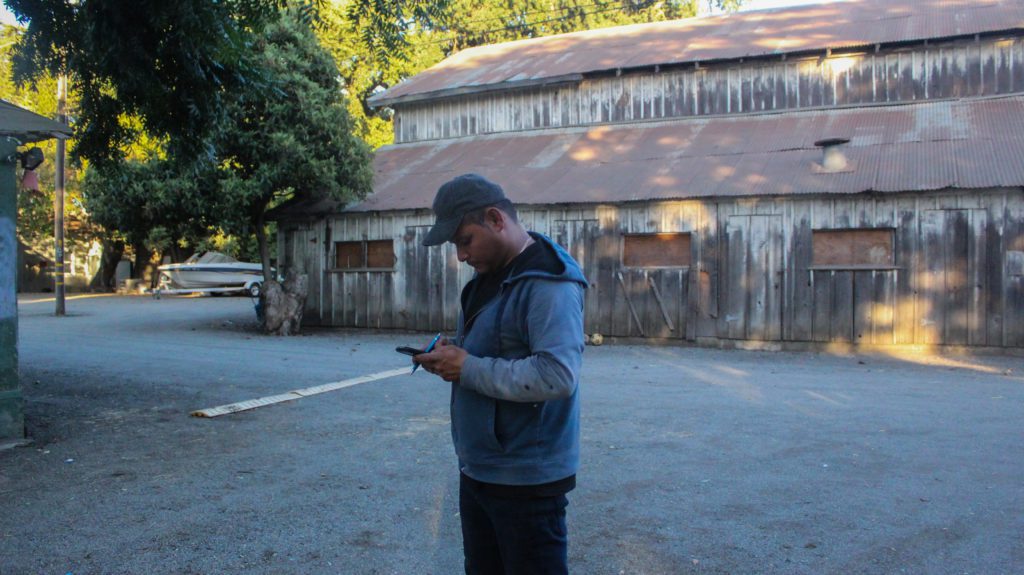 Uriel Camorlinga is another displaced tenant.
He moved into a mobile home on the property about a decade ago and worked at Spina Farms. His home lacked insulation, and he noticed exposed electrical wires and gas lines. He complained to the property owners about these problems, but said they failed to fix anything. He eventually stopped trying.
Camorlinga found housing with a friend in Morgan Hill, but he's worried about being a burden to the people giving him shelter. His options are limited because he has no savings. He needs to send money to his three children in Mexico, but now he faces the strain of paying for a new home.
"(I'm) hoping some good will come out of this," Camorlinga said.
Skinner said his firm, Skinner Law Group APC, has tentative plans to file a lawsuit against the owners next week to recover damages, but is still working to identify them.
The address of the lot where the mobile homes sit revealed an assortment of LLCs and individuals who own a stake of the property, including Donald Benson of the Benson Group and William Foster and Gretchan Foster of EMC7, LLC.
Members of the group appear to be in the process of developing 126 acres of land that includes the lot where the tenants lived, according to a Feb. 2020 letter they sent to a city task force.
Contact Eli Wolfe at [email protected] or @EliWolfe4 on Twitter.