Reflecting on scores of fired rubber rounds, hundreds of deployed officers, 180 arrests and several viral videos, San Jose Police Chief Eddie Garcia doubled down Thursday on his officers' use of force this past week during mostly peaceful protests sparked by the police killing of George Floyd in Minneapolis.
San Jose was the first Bay Area city to host a protest Friday against police brutality and racial injustice in the wake of Floyd's death, but Garcia said those events turned to "blankets of chaos" as some in the crowd used the occasion to destroy the city and incite violence.
"The protests aren't being met with force. The violence against our police officers is what's being met with force," Garcia said at a news conference Thursday. "This police department is using force in response to a crowd's behavior."
He was joined by San Jose Mayor Sam Liccardo, City Manager Dave Sykes and Capt. Jason Dwyer, commander of special operations, to discuss the protests and allegations of police misconduct, hours after the citywide curfew meant to curtail incidents was lifted.
Garcia admitted the department made mistakes, condemning the actions of Officer Jared Yuen, who was filmed licking his lips and verbally provoking protesters, but vowed to investigate the entire department's interactions and use-of-force by reviewing footage from body cams, drones and public videos.
"I don't need to have five minutes of that video to tell you that Yuen was unprofessional, and that's not going to tolerated," Garcia said, adding that most of the 1,200 citizen complaints filed were about Yuen. "But when you see force incidents where all you're getting are the last five to 10 seconds, you can't necessarily base everything on that. You have to look at the totality of what occurred in most cases."
While hundreds of clips showing police enforcement from the past days – in San Jose and across the country – have dominated social media, Garcia said people likely only see police responses in these videos and should look at the whole picture, claiming attendees have narrow awareness of the situation.
Garcia said the actions were against "agitators" in crowds, who attacked officers "absorbing the collective rage of generations."
A stream of comments on the live streamed press conference disagreed, however, writing that the protests and marches turned chaotic only after police intervention and instigation.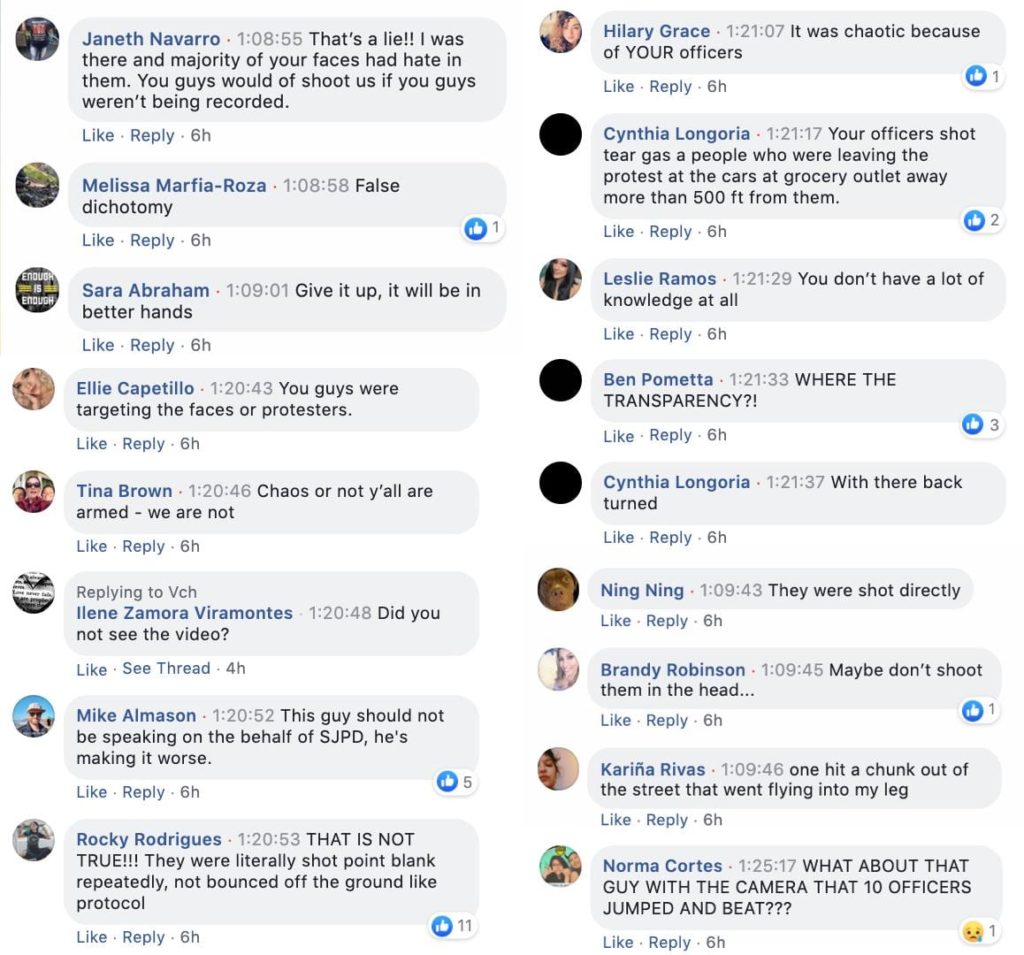 Garcia provided a detailed timeline of the protests, recounting how hundreds marched through downtown San Jose Friday and eventually blocking traffic on Highway 101. He said protesters hurled rocks, bottles, sticks and chunks of asphalt at officers, prompting the use-of-force authorization, which included spraying tear gas and firing rubber rounds.
Three hours later, a "Code 30" was called, which indicates officers need help in an emergency, summoning all units to the crowd.
According to Dwyer, the use of force was authorized to allow officers to defend themselves against the "chaos raining down" and prevent San Jose from burning, similar to Minneapolis' multitude of structure fires.
"When my boots hit the ground at Seventh and Santa Clara, I stepped into a war zone. That is not hyperbole, that is not in any way embellishment," said Dwyer said, who was struck by a rock. "I've been a cop for 21 years, spent about half that time in special operations, but I can tell you I've never seen anything like that … If that entire crowd would have turned on those officers, they would have been overrun. It would have been a done deal."
Some protesters on Seventh Street said the first set of rounds were fired when an officer was knocked out by a punch after he forcibly threw a protester's phone.
Dozens of residents documented their bruises, welts and cuts from the rubber rounds. While Dwyer said the rounds were skipped off the ground, multiple videos show officers aiming directly at crowds, including Yuen.
Y'all remember the psycho cop in 2️⃣2️⃣ out of San Jose?

Licking his lips at the thought of shooting people, then yelling "SHUT UP BITCH!" to a protestor?

Here's street-level vid showing SJPD fired the first shot

— T. Greg Doucette (@greg_doucette) June 4, 2020
Dwyer acknowledged use of force never looks good, but said officers had no choice.
"If you subtract those things from the equation, then what's left? We have archaic skirmish lines of police officers with 42-inch hardwood batons," Dwyer said. "You tell me which one's going to look worse: people rubbing their eyes and coughing, or officers striking individuals with batons, breaking bones and God knows how many other injuries?"
Liccardo said people exploited peaceful protests to bring violence and damage to the city, but affirmed his support of the right to assemble and express "righteous outrage." Liccardo this week joined mayors from across the country, including Santa Clara Mayor Lisa Gillmor, in signing a pledge by Barack Obama to address police violence and use-of-force policies.
"We are going to do all we can to both keep the city safe and ensure there is a safe space for all our residents to express their first amendment rights to protest against racism, against police brutality in this nation," Liccardo said. "We're hearing very clearly the cries for reform throughout the country – and yes, in our own department – because we are committed to continuous improvement here at the San Jose Police Department."
Contact Katie Lauer at [email protected] or follow @_katielauer on Twitter.