As America grapples with systemic racism, injustice and racial inequality, the Juneteenth ceremony Friday at San Jose City Hall was like no other.
Nearly one hundred people gathered in downtown San Jose to honor black lives and commemorate the end of slavery. This year's ceremony included calls to defund police and end police violence in the wake of the death of George Floyd.
Assemblymember Ash Kalra, who in 2016 became the first Indian-American elected to the state Legislature, acknowledged his privilege — regardless of the color of his skin.
"All of us have privilege in a way that the black community has not been given privilege," he said. "So, we must use whatever privilege we have to uplift the black community, so that they can finally be given the promise of equality that the constitution guarantees."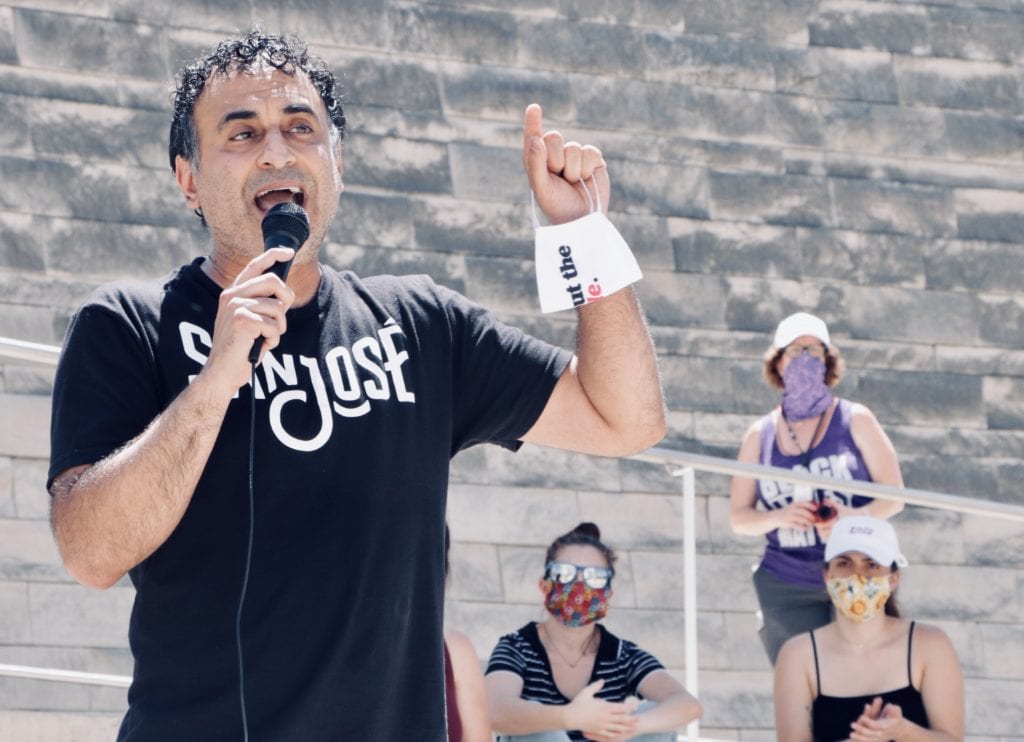 About 70 people showed up outside City Hall in 90-plus-degree weather.
With the recent death of Floyd and ensuing Black Lives Matter protests worldwide, some of the event organizers said this year's Juneteenth was also a call to action.
"I think George Floyd's death was the last straw," said organizer Kiana Simmons. "It didn't change the topic of racism, but it made enough people speak up against it… I feel like this community is finally being accepted and recognized, not just here, but globally."
Simmons, 22, said she has attended protests everyday in San Jose for the past three weeks.
Organizers of the Juneteenth ceremony focused on three core demands: Defunding of the police, investing in black communities and demanding Donald Trump's resignation.
"We have written letters to our city councilmembers, our mayors and our county supervisors," said Adia Hoag, the lead organizer. "These are areas we need to defund and reinvest back into our communities and, of course, we wanted Trump to resign like yesterday."
Hoag emphasized that "defunding" the police doesn't mean wiping out the department completely, but rather reallocating money from the police budget to other agencies to handle social services and certain calls, such as those involving homeless people and mental crises.
She said this was the first time San Jose City Hall hosted a Juneteenth ceremony.
There were a handful of stations at the event for crafting signs, registering to vote and signing petitions. One of the signs read, "Juneteenth: America's 2nd Day of Independence."
Organizers said Juneteeth doesn't receive the praise it deserves and highlighted that it isn't recognized by three U.S. states.
"I feel like this memorable day has never been acknowledged before and I think today's message is, 'Yes. This is a holiday," Simmons said.
This year, there's an effort led by Santa Clara County Supervisor Dave Cortese to make Juneteenth, which commemorates the end of slavery in the U.S., a countywide holiday beginning on June 19, 2021.
Juneteenth is the oldest nationally celebrated commemoration of the ending of slavery in the United States.
"While slavery was abolished 157 years ago, there is still a lot of work to be done toward overcoming its legacy by ending the violence and injustice against people of color," Cortese said in a statement. "Designating Juneteenth as a County holiday would be a way to reflect on how far we've come but also realize how far we have to go."
In Kalra's speech, he called out schools and billion-dollar corporations while he said students in east San Jose have a "next-to-zero" chance in working for the wealthiest companies in the world — even the conglomerates that exist in Silicon Valley.
"When Walmart, the largest private employer in the nation, has a Black Lives Matter commercial, ask them why they pay poverty wages and why their workers have to be subsidized by us for health care," Kalra said.
I'll livetweet the Juneteenth March from Santa Clara to San Jose for @SJSpotlight . The march is organized by local HS students from the South Bay Black Coalition. pic.twitter.com/PI25v5WlQF

— trân nguyễn (@nguyenntrann) June 19, 2020
Later Friday afternoon, hundreds of people showed up in Santa Clara for a student-led rally and peacefully marched down The Alameda to San Jose State University in celebration. The march, organized by local high school students from the South Bay Black Coalition, called for solidarity, co-founder Shay Franco Clausen said before the march.
Marchers walked 4 miles down The Alameda dancing to music and chanting, "No justice; no peace," and "Tell me what democracy looks like. This is what democracy looks like."
Sitting on her father's shoulder, Shayo, 6, joined in the chant, "Say her name: Breonna Taylor."
Shayo and her father, Quam, marched with their family and friends. Quam said Shayo cares about the cause, though she might not understand all the context.
"It's good to be a part of an effort that is shedding light on the reality of a lot of Black and Brown folks," Quam said. "(This protest) feels like this is now a movement supported by the majority. You see young, old, babies; they are all out here."
The march ended at SJSU's Olympic Black Power Statue, where organizers and speakers spoke, sang and thanked the crowd for a peaceful event.
Kayla Allender, who is from Arizona, said she joined the march in the South Bay on Friday to fight for changes.
"It hits me hard to see so many people out here fighting for Black and Brown lives," Allender said.
Contact Luke Johnson at [email protected] and follow @Scoop_Johnson on Twitter. Contact Tran Nguyen at [email protected] or follow @nguyenntrann on Twitter.