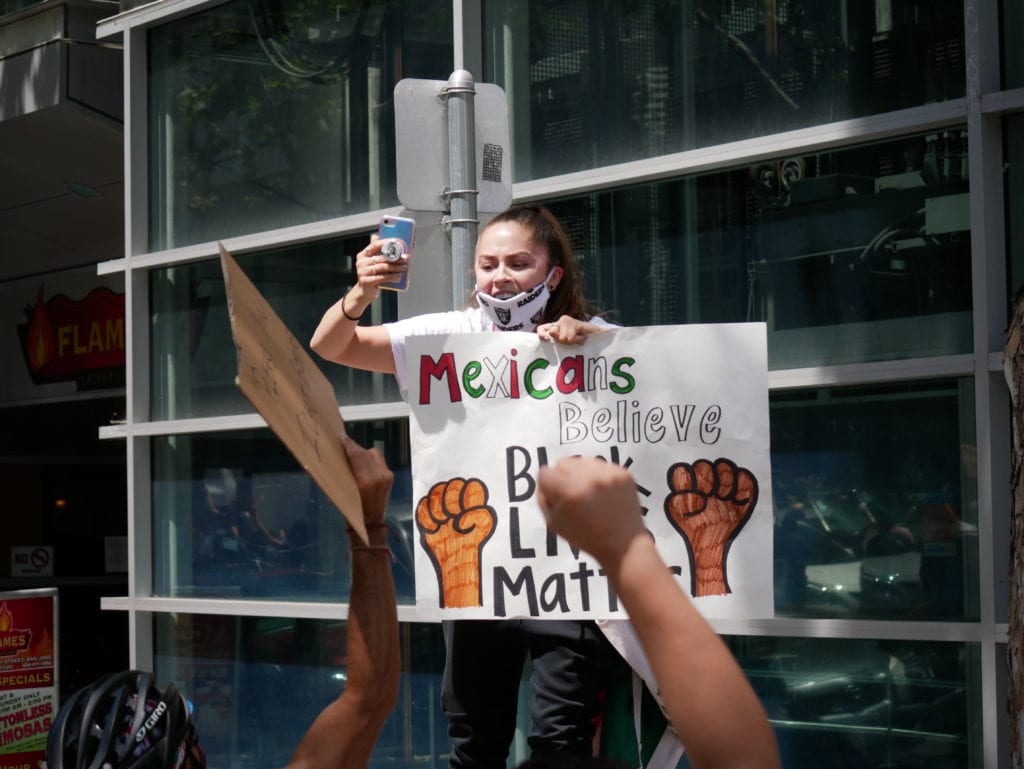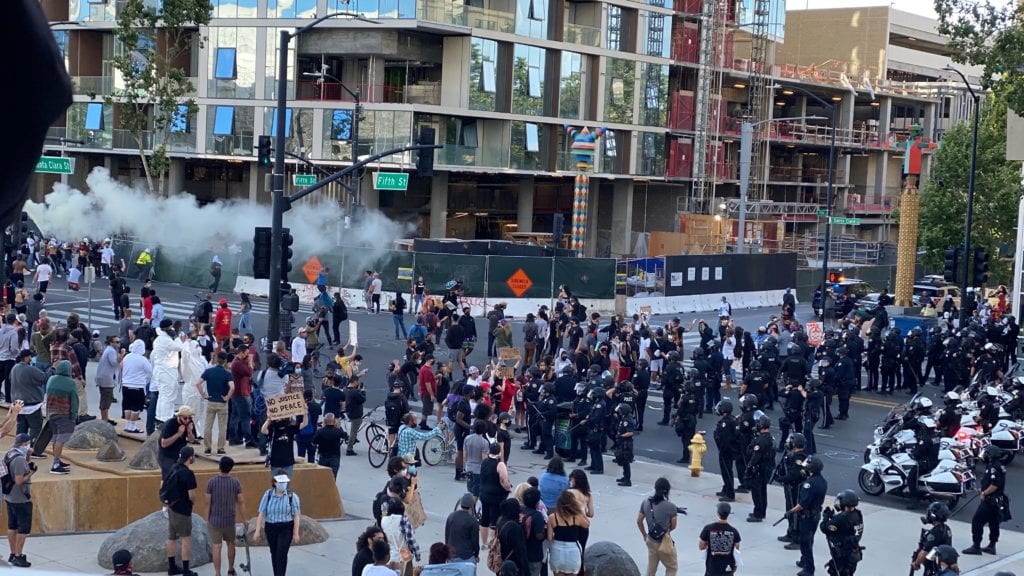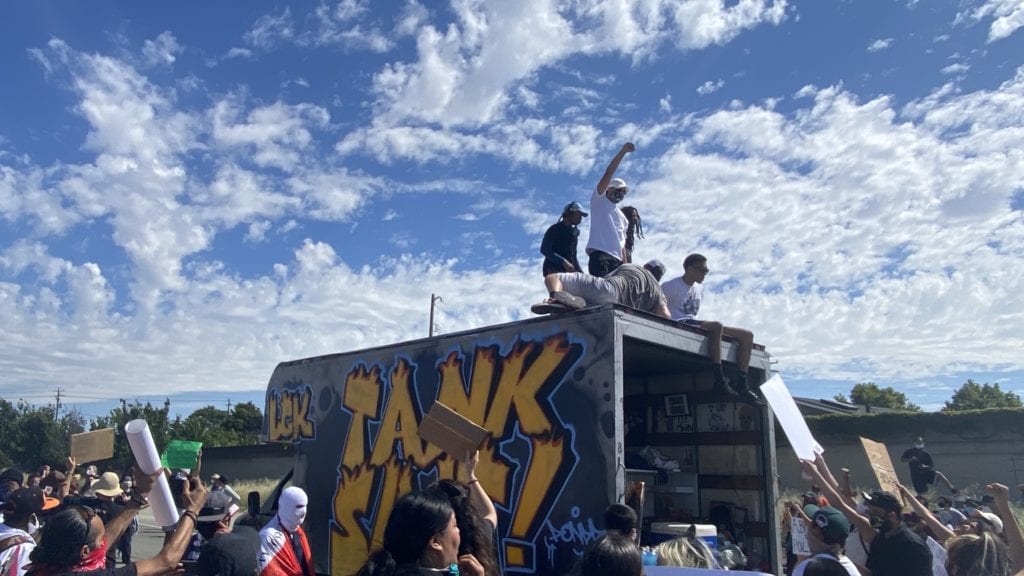 Hundreds of protesters marched miles from San Jose City Hall down Santa Clara Street to Highway 101, in the wake of the killing of an unarmed black man in Minneapolis earlier this week.
The protest led to San Jose police officers spraying tear gas and firing rubber rounds to break up the crowd. As tensions rose, an SUV rammed through the crowd, protesters threw rocks and water bottles at police officers, set off small fires and some broke into a construction site near City Hall. One officer was hurt by an unknown object hurled at him.
People of all ages carried signs, chanted through face masks and pumped their fists in the air as they blocked both directions of traffic on Highway 101 for nearly an hour. As two helicopters and drones flew overhead, authorities were redirecting traffic headed north.
"I'm fighting for my friends who are black and all the black lives that have been lost," said Daniella Acosta, 17. "I'm on the fence about (people marching on the highway), especially because the people who are out here are working class, but we need to get our voices heard."
The protest in San Jose broke out after Minneapolis resident George Floyd was killed Monday after an officer handcuffed him and knelt on his neck for nine minutes, despite Floyd pleading he couldn't breathe.
The police officer who pressed his knee into Floyd's neck, Derek Chauvin, has been arrested and charged with third-degree murder and manslaughter.
Floyd's death has sparked a reckoning over police killings of black people, leading to protests across the country from Minnesota to New York, Denver, Chicago and Oakland.
Protesters this week looted dozens of businesses in the Twin Cities and burned development projects to the ground. Police officers, sheriff's deputies and members of the National Guard have swarmed the city and authorities enacted a 8 p.m. curfew in Minneapolis Friday.
Hundreds of protesters are marching across Downtown San Jose and chanting through masks, in the wake of Minneapolis resident George Floyd's death.@SJSpotlight pic.twitter.com/j1dnhcWx99

— Katie Lauer (@_katielauer) May 29, 2020
Once San Jose police officers arrived near the crowd close to 4 p.m. to hold a line, the crowd changed its route. "We've already outsmarted them, they're late," one protester announced over a megaphone. "We're out, let's go to City Hall."
The youth-led movement wove through downtown San Jose, looped around Cesar Chavez Plaza and unloaded down the southbound on-ramp. A majority of cars, semi-trucks and bystanders watching the march signaled support, honking their horns along with chants and waving thumbs-ups through open windows.
"We've seen this happen almost everywhere," Casandra Perea, 17, said. "Racism isn't new, it's just being recorded."
Elizabeth Anderson, 26, said she came to the protest because what happened to Floyd happens more often than it's filmed. Being mixed race, Anderson said, she's used to getting singled out for her black features.
"The whole reason why I'm here is to make a difference, because it's one thing to post on something online, but it's another thing to understand that you physically have to show that you're making a difference," she said. "There's so many people here united, there's so many different colors and backgrounds."
Tensions grew after police held a line at the intersection of Santa Clara and 7th St., leading protesters to start throwing rocks and water bottles, escalating the demonstration and striking a police officer.
Other protesters started several minor fires and a handful vandalized cars, smashed windows and spray painted streets.
After an officer was hit around 5 p.m. with an unknown object, the surrounding officers fired tear gas and rubber rounds into the crowd. The officer's injuries are minor, authorities said. A handful of arrests were made.
Reacting to the tension that broke out, Anderson said she isn't surprised.
"If the police don't try to make it peaceful, it's just not going to help," she said. "I didn't go out to the freeway, because I don't trust SJPD."
San Jose police officers were joined by Santa Clara County Sheriff's deputies as they held the line on Santa Clara Street and sectioned off groups outside City Hall in effort to break up the protest. But as officers continued to fire rubber bullets, set off ear-piercing blasts and spray tear gas, one group of protesters broke into a construction site across from City Hall.
Gary Elder, 46, told San José Spotlight he was struck by officers after he was jostled between protesters and police. Once on the ground, he said police jumped on him, beat him with batons, ripped his shirt and took his phone before letting him go.
"They jumped on top of us to attack us, saying we weren't moving, but we were all tangled up… so then they jumped on top of me and (started) hitting me with a baton," Elder said.
An SUV barrelled through a crowd during the protest, running over two people and knocking down demonstrators.
My cousin just sent me this video of an SUV running over people in downtown San Jose today pic.twitter.com/F8bdoo2kNb

— Marlee (@grrrrrrrrrrl) May 30, 2020
The Santa Clara County Sheriff's Office tweeted late Friday that a deputy was involved in an officer-involved shooting near 6th Street and Santa Clara Street, though it's unclear if the incident is related to the demonstration.
The Mercury News reported the sheriff's deputy fired shots at the fleeing SUV. It's unclear if the driver was hurt.
By 7 p.m. Friday, the San Jose City Hall plaza had been cleared by authorities. The crowd appeared to thin out, but protesters continued to arrive, chant and congregate in the area.
San Jose officials this week condemned the actions of the Minneapolis Police Department.
"Not going hide behind 'not being there,'" tweeted San Jose Police Chief Eddie Garcia. "I'd be one of the first to condemn anyone had I seen similar happen to one of my brother/ sister officers. What I saw happen to George Floyd disturbed me and is not consistent with the goal of our mission. The act of one, impacts us all."
Not going hide behind "not being there." I'd be one of the first to condemn anyone had I seen similar happen to one of my brother/ sister officers. What I saw happen to George Floyd disturbed me and is not consistent with the goal of our mission. The act of one, impacts us all.

— Chief Eddie Garcia (@sjpdchief) May 27, 2020
Garcia added that these types of incidents are the reason communities of color lack a trust in law enforcement.
Mayor Sam Liccardo, a former criminal prosecutor, tweeted earlier this week that he would "clear his desk" immediately to charge the officer who killed Floyd.
"The righteous demands for #justice and long-overdue reckoning over the atrocious homicide of #GeorgeFloyd must not be distorted or overshadowed by anyone's call for violence —whether by rioters or by @realDonaldTrump." Liccardo tweeted Friday.
Hours after the protest broke out, the mayor released another statement Friday saying anger and peaceful protest "will always be appropriate responses to injustice; violence will never be."
"San Jose is united in outrage over the atrocious crime committed in Minneapolis and in sadness over George Floyd's horrible death," Liccardo added. "SJPD will take a measured approach in facilitating peaceful protest, but there will be no tolerance of violence to our people or damage to our city."
Contact Katie Lauer at [email protected] or follow @_katielauer on Twitter.