The Sacred Heart Community Service Clothes Closet quietly reopened Monday after 19 months due to the COVID-19 pandemic.
The program provides registered members with free clothing, which they can pick up twice a month at the nonprofit located at 1381 S. First St. in San Jose. For many it's the only affordable way to get a warm coat, pair of shoes or fresh socks.
"At the start of the pandemic, we had some tough choices to make about which programs we could keep going and which ones we had to pause to mitigate risk," Demone Carter, Sacred Heart's director of community engagement, told San José Spotlight.
Initially little was known about how  COVID 19 was transmitted and survived on surfaces. The Clothes Closet closed for safety reasons since the nonprofit has no facilities to wash or steam-clean clothing. While closed, the nonprofit decided to remodel the area used for clothing distribution—and needed to restock inventory afterward. This contributed to the delayed reopening.
A few days prior to this month's reopening, Sacred Heart announced its plans on social media, but not on its website or through its email newsletter for fear it would be overwhelmed with customers and clothing donations. Staff also had concerns about not having enough volunteers and donations to meet the need, Carter said.
Most of the members who arrived Monday waited in line for food service before the center opened at 9 a.m. They stood under heat lamps and tents in the pouring rain. Few knew about the Clothes Closet reopening until they saw a sign in the building.
Sacred Heart serves anywhere from 300-400 families per day, Carter told San José Spotlight, and in the past many relied on the Clothes Closet for help, as well.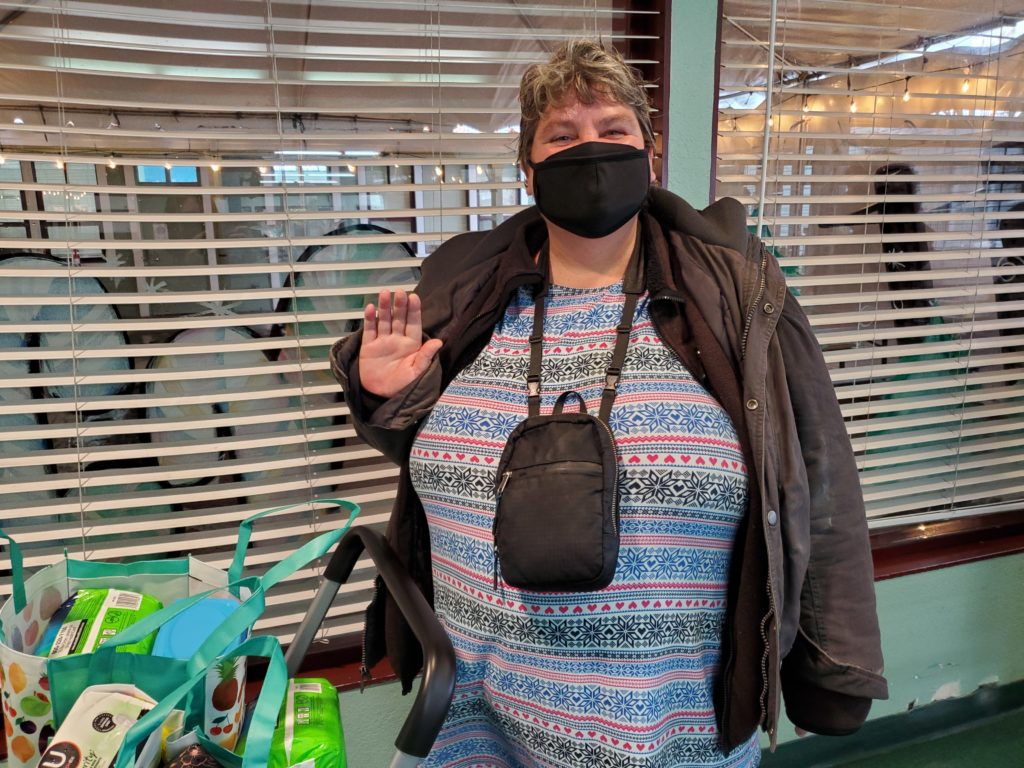 A much-needed program
Robin, who declined to provide her last name because of the stigma often associated with services like Sacred Heart, was one of the first in line for clothing at the soft opening. She searched for coats and shoes. During the Clothes Closet closure, Robin, who is in her 60s, said her only other option for getting clothing was to "beg for money."
Before the closure, Robin brought home clothes for all 10 people in her household, which is an independent living facility. Robin regularly receives food from Sacred Heart, available to members once per week.
"I love it here, they are No. 1," she told San José Spotlight. "They have nice stuff here and everyone is sweet and understanding, so I just keep coming."
Sacred Heart members are allotted five articles of clothing, one pair of shoes and two accessories per family member, as well as one blanket and one pack of socks per family.
Each customer has 10 minutes to shop and five minutes to checkout, which involves having their items counted and the visit recorded in their account.
The nonprofit gutted its former computer lab to make a new, smaller home for its clothing program. The former Clothes Closet, an annex off the warehouse, featured a bookshelf and glass display counters where customers could find stuffed animals, accessories and linens. The new checkout area is made up of multiple tables, and there is no longer any room for a bookshelf.
"Now it looks more like a retail store where you would go clothes shopping," Carter said. Sacred Heart staff try to give members a retail experience, and often refer to them as "customers."
John Tenayuca, an entrepreneur and author from Texas, learned about Sacred Heart's services from his uncle. He said the pandemic exacerbated his financial difficulties, which began four years ago and forced him to sell his condo.
"I'm concerned about finding size XL in the Clothes Closet," said 63-year-old Tenayuca as he waited in line.
Longtime volunteer Mike Caban said sizes XL and up are difficult to come by, and usually have to be kept in the back room because of scarcity. Members looking for those sizes have to ask volunteers.
Since most Sacred Heart members didn't know about the reopening, the line was small for much of the day and volunteer groups did not have much work to do.
Blankets went fast, and most customers searched for coats. Carter said coats, blankets and men's business attire for job interviews are the most needed items.
"We are asking donors to bring items that are in good condition and wash them," he said. "We value our members, so we don't want anyone bringing anything they wouldn't personally wear."
Sacred Heart Community Service is open Monday through Thursday from 9 a.m. to 4 p.m.
Contact Kristen Pizzo at [email protected]